Bulgaria - Balkan Mountains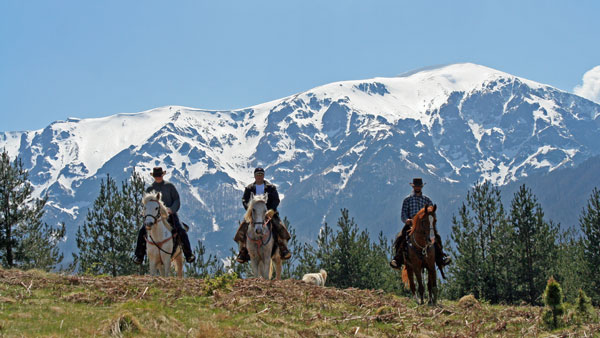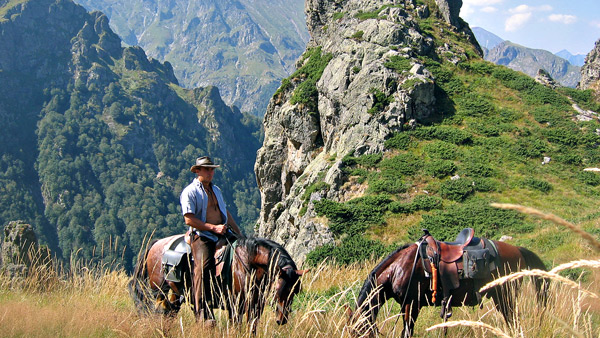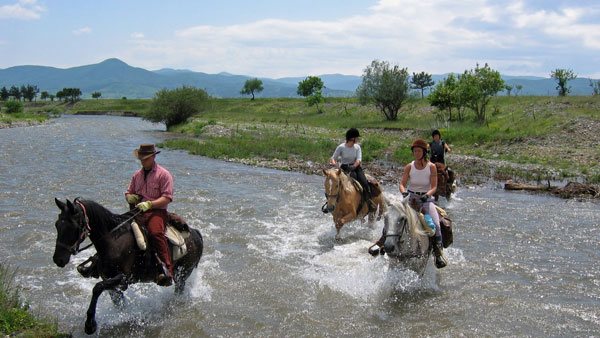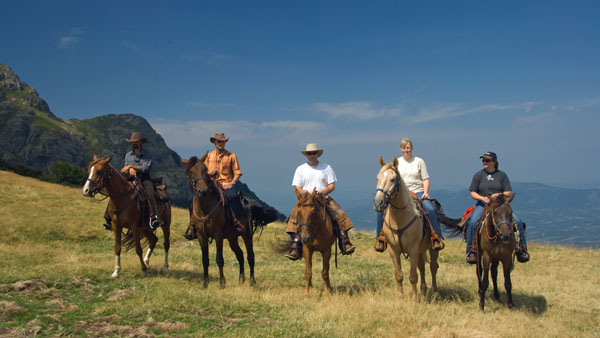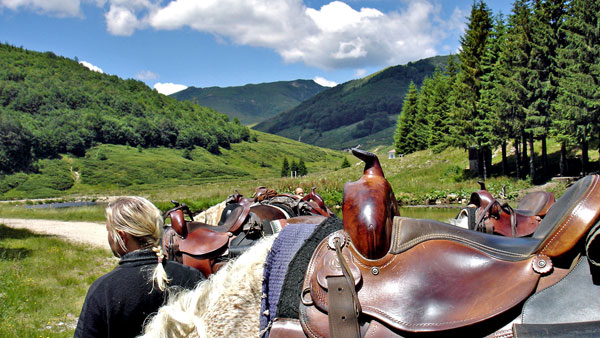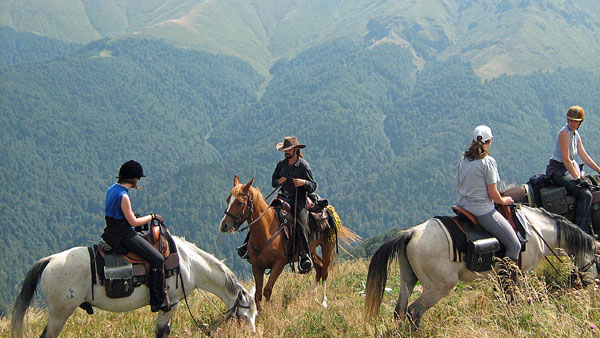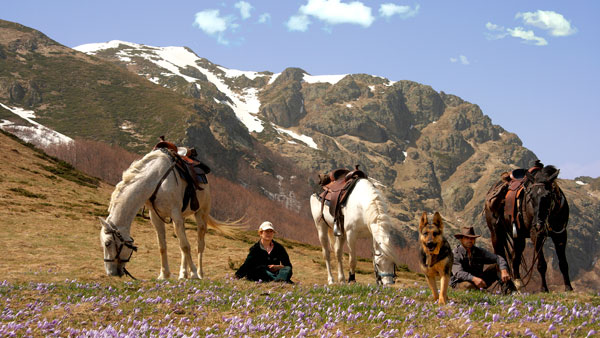 Trail Rides in the 'Bulgarian Switzerland'
In the central Bulgarian Mountains lies the village of Apriltsi. This is where the sealed roads end and wheel tracks lead up into the mountains and where your adventure awaits. This beautiful area is called the Bulgarian Switzerland and has been an inspiration for many artists throughout the years and it is also here that your hosts, Reni and Toshko, have their lodge. You can choose between several different trail rides or staying in Apriltsi the whole week and ride in the fantastic countryside. All rides are arranged by the same team with the same horses.
Click on the links below for the different rides available.
Accommodation and Food
Riding in Apriltsi: You usually spend each night in Apriltsi. The house has a cozy little garden with a barbeque grill and a fantastic view. You will stay in double rooms with en suite shower and toilet. There is towel and bed linen.
The food is based on Bulgarian cuisine and is of good quality and generous. Breakfast and dinner are served in the lodge. Lunch is picnics that are sometimes carried in saddle packs or driven out by Reni.
Trail Ride over the Balkan Mountains and Singing Rocks: You will share a double room with a shower and toilet in the lodgings in Apriltsi. On the other nights in rooms with 2-3 beds and a common shower/toilet. The accommodation standard in the mountain cabins is simple and varies in quality.
There is bed linen in each room and towels in most accomodations, but it can be good to bring a quick-drying towel.
The food is based on Bulgarian cuisine and is of good quality and generous. Breakfast and dinner is eaten in the cabins or on the terrace, lunch is often sandwiches. Your luggage is transported by car. If there are only 1-2 riders booked, your luggage will instead be carried by packhorse.
The Riding Center
The riding center is situated in the little village of Apriltsi, located in the central Balkan Mountains, which run from west to east and divide the country in two. On the outskirts of the village there are about 30 horses of which 25 are used for riding.
The riding center 'Balkan' consists of paddocks of approximately 10 hectares and this is where all the horses have their home, are trained and cared for year round. The surroundings are incredibly beautiful and there is even a small western bar where you can buy something to drink and sit and enjoy the view.
Apriltsi sits in a fantastic area that with good reason is called Bulgaria's Switzerland. Many working artists have settled in the village including musicians, painters and authors. There are approx. 5,000 inhabitants and there is both a school and a bank. However, there is no passing traffic as, quite simply, you cannot go any further. Where Apriltsi end, so ends the asphalt and only simple wheel tracks lead on up into the mountains. It is here that your adventure starts.
Horses
You will ride mainly East Bulgarian horses or these crossed with Arabians. The East Bulgarian horses are known for being thoughtful and wise and in combination with the Arabs' strength and stamina they manage the task extremely well.
The saddles are in the Western style and of good quality.
The horses have an average height at the withers of approx. 160 cm (63 in). There are around 30 horses of which 25 are used for riding.
The maximum weight for riders is 95-100 kg (210-220 lb)
Climate



Travel Information
Ability description: Trail Ride Level 2-3 >>
Included in the price: All programs include 7 nights, 5-6 days riding, full board (excl. beverages), transfer.
Not included: Flights, insurance, beverages and extras not mentioned.
Travel: Book flight/rental car >> We help you book your flight if you wish.
Fly to Sofia.

Transfer: Book in advance with HorseXplore.
From: Sofia airport, 180 km (110 miles), about 3 hours drive to the riding center.
Time: Depending on the latest guest arriving and the earliest guest departing. Arrival to Sofia airport latest at 6.00 pm and flight on departure day flight after 12.00 pm.
Price: Included at the times above, other times 150 EUR/car/one way, max. 3 persons. Paid at location.
Single room: Will not be charged if we find a rider willing to share a room (f/f or m/m). If room mate is not found the add fee is 50 EUR. The fee is not a guarantee to a single room throughout the trail. Fee for single occupancy when available per night 15 EUR and to be confirmed separately.
Climate: it is usually warm during summer with variable weather associated with the mountain climate. Spring comes earlier than Northern Europe. Up in the mountains it can be a little cooler. Fall starts at the end of October.
Currency: Bulgarian Lev (BGN).

Credit card: The riding centre do not accept credit cards. It is best to change to BGN at the airport.

Tipping: Not required but appreciated.
Wifi: Yes in some accomodations.

Group size: We guarantee the departures. As soon as the ride is confirmed and you have recieved the confirmation you can book and issue the flight. If only 1 or 2 riders are booked on a trail we will use pack horse instead of luggage transport by car.
Misc.:
Riding equipment to borrow: No
Saddle bag available: Yes
Special diet: Inform when booking. For vegetarians we kindly ask you to inform if the rider is eating milk and egg products and if the rider is eating fish.
Hair dryer: No
Feedback from our travellers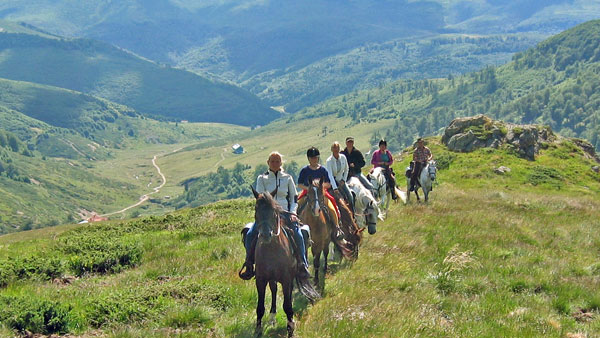 This trail ride combines Apriltsi's beautiful location with riding over two mountain chains staying overnight along the way. The ride follows the ancient paths that for centuries have linked northern and southern Bulgaria. You will ride along the old paths and roads that for centuries have linked southern and northern Bulgaria. From the little ....
Read more »
From
EUR 1,095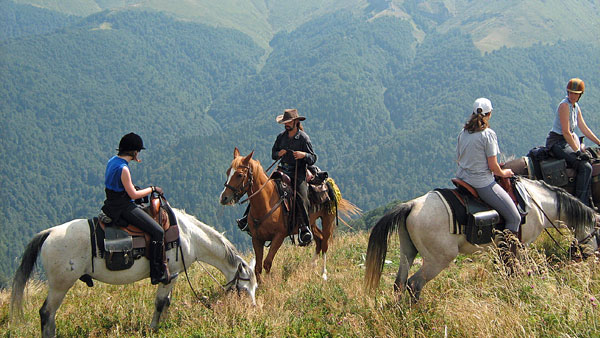 In the eastern part of the Balkan Mountains National Park is a nature reserve of more than 1,700 hectares (4,200 acres) with wide variety of wildlife. For centuries, this area has been known by the name given to the amazing rock formations that almost 'sing' in the wind. This is home to a number of unusual animals such as the mountain goat, ....
Read more »
From
EUR 1,095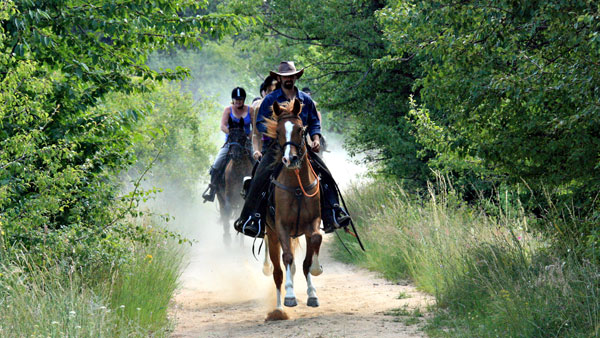 This week of riding offers a variety of riding experiences in a small riding group with the farm as the base. From here, there are many natural trail ride destinations including the Maragidik and Vidima waterfall, a little monastery or the charming mountain villages. There are several stretches suitable for fast-paced riding. You will ride up to 30 ....
Read more »
From
EUR 885