Azores, Faial - New Year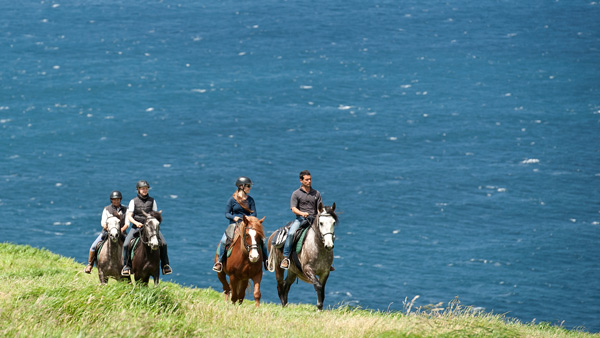 New Year on Faial 27 December 2019 - 03 January 2020
Experience the Azorean winter high. Enjoy the incredible nature in the sub-tropical winter. Relaxed horse-trails on a dreamlike island. Unwind in the cozy horseman's lodge in front of the open fireplace. Experience the firework in the Bay of Horta. The whole variety of the Azores Island Faial you will discover on this special end of the year Horse-Trail.
During our Happy New Year - Trail 2019/20 …in the middle of the Atlantic we discover this unique island. Thousands of miles away from home we celebrate Happy New Year in the Atlantic. The preliminary itinerary is the following:
7 nights, 5 days ridning, 4-5 hours riding/day.
1st Day: Traveler defined day of arrival
2nd Day: Trail to the old lighthouse Farol da Ribeirinha
3rd Day: Trail to the mystic area of Capelo
4th Day: Trail to the sleeping volcano of Capelinhos
5th Day: Sailors-Town Horta and Happy New Year (no riding)
6th Day: Trail to the Fajã Bay
7th Day: Trail to the old whale watching point Vigia dos Cedros
8th Day: Departure Day
Read more travel information here: