Spain, Catalonia - Extreme trail, short week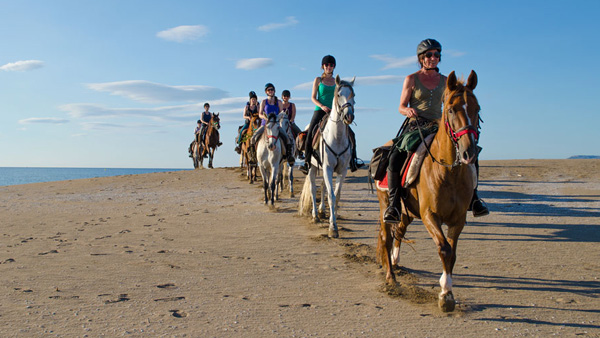 From Wednesday night to Sunday afternoon. A long horse-riding weekend through inner Costa Brava. Four complete days of riding and nature. For riders who want more than just tourism but not yet at competition level, we present this trail of 5-7 hours riding per day and an increased pace, and up to 50 km in one day adding up to a total of 170 km in 4 days. We ride along paths, plains and beaches of the Alt Empordà region, with prolonged canters, combined with nights in Besalú and Sant Pere Pescador, where we can enjoy some nightlife. Another novelty is that this trail takes place from Thursday to Sunday.
5 DAYS / 4 NIGHTS – 170km – 5/7 HOURS x 4 DAYS RIDING
Vilafreser - Besalú - Vilaür - Gulf of Rosas - Vilafreser
"For athletic type and highly experienced riders"
Program
DAY 1 WELCOME TO CATALONIA
You will arrive at the farmhouse at end of afternoon and you will meet Catalonia Horse Trails team. During dinner we will go over the week's program. You will be told about the special characteristics of our Arabian and crossed Anglo Arabian trail horses, fit for "endurance". You will be given an opportunity for a one-to-one conversation designed to find every rider their perfect horse. Then, you can enjoy a fantastic and cheerful dinner!
DAY 2 TO BESALÚ, MEDIEVAL VILLAGE
After breakfast and preparing the horses, we will leave the farmhouse through tracks surrounded by Mediterranean forest. The mountain creeks offer amazing views of prairies and meadows. We will then reach Fluvià River, near the village of Bàscara with its famous hippodrome, where we will test our gallop. On our way we will find country cottages and churches, all surrounded by olive groves and cereal fields. Then, we will cross Crespià, a town surrounded by large prairies. Once in Besalú, we will spend the night at the nice hotel.
DAY 3 BESALÚ - CRESPIA - VILAFRESER
Besalú, a medieval walled village, the ancient capital, is a jewel of Romanesque architecture set between two rivers. The squares, stone cut pillars and cool shady arched passageways are a wonder to be hold. The atmosphere of this ancient medieval village is unique with its spectacular bridge and Romanesque architecture. From Besalú and with different route, we will head back to Masía La Palma to picnic. We will ride through more mountainous tracks this time before heading the start point at the farmhouse.
DAY 4 TO SEAFRONT
We will start our trail going down to Baix Empordà. In spite of being a prosperous area, it still conserves the traditional rural and village way of life. The paths and tracks have not been asphalted nor has the countryside been fenced off so there is an unlimited combination of paths and bridleways to explore. Every hour we pass another beautiful village, castle, church, arches, tunnels, old wooden doors with wrought iron knockers. Leaving St Miquel de Flúvia, we'll have our daily picnic in a kermes oak forest, and then we'll continue along Gulf of Rosas paths, through Riumors to Sant Pere Pescador. Our Hotel is in front of the beach.
DAY 5 THE BEACH OF ROSES
Today is nice day in the saddle. The long beach ride awaits us, plenty of galloping and trotting before arriving to Sant Martí d'Empuries, where we will have breakfast and coffee to recover energy. A scenic little world set in one of the most beautiful bays in the Mediterranean, the Gulf of Rosas. Surrounded by areas of authentic natural beauty Sant Marti d'Empuries is located near the famous ruins, with the same name, of the first Iberian Peninsula Greek city and keeps a perfect balance between land and sea, between the greens and yellows of its orchards and the blue and gold of the village´s extensive beaches and historic past. We will then head to the farmhouse, end of our trail, where we will wash and leave in paddocks our horses for a deserved rest.
Farewells and goodbyes before leaving for the airport at 16h00-16h30 …. ¡Hasta pronto amigos!
Map