Croatia, Split - Krka Trail Ride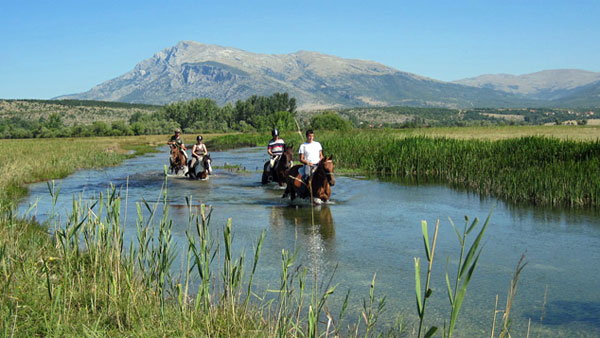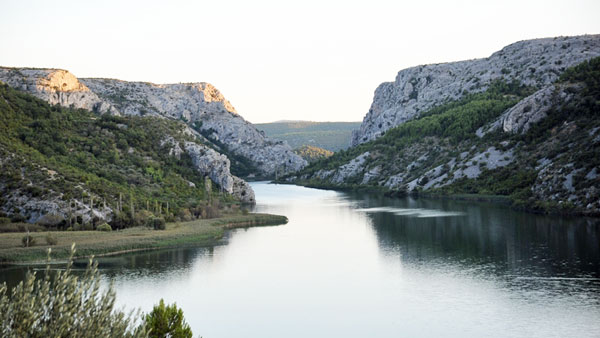 Choose a fantastic trail ride where you explore Croatia's wild and untouched natural beauty.
Dijana and Bosko welcome you to their ranch located about 3 km (2 miles) from the town of Sinj and about 45 km (28 miles) from Split. They offer a trail ride that are ideal for riders who want to get to know the wild and untouched Croatian wilderness, but also a fixed-location program and riding lessons for children and beginners. The 2-hectare (4 acre) estate includes green space to stroll around in, its own winery and a restaurant serving local food.

Program
If you want to explore Croatia's wild and unspoiled landscape, the Krka trail ride is perfect. At the start of the ride, you will get to see Dalmatia's small and romantic villages. The landscape is amazing, with lots of small springs where you can take a refreshing dip. You will pass impressive mountain peaks such as Dinara and Svilaja which are said to watch over riders as they pass through the wide pastures and forests. You then come to the Cetina River that winds its way through the landscape. You will follow the river to the Peruka Lake and get to know the old romantic towns of Vrlika and Drnis. Once you have passed Drnis, you come to Krka National Park. You will enjoy the beautiful Krka River's seven natural waterfalls and the Park's rich and diverse flora and fauna. In Krka there are many cultural and historical monuments ranging from pre-history right up to the present day.
You will stay four nights on the farm and three nights at other attractive accommodation.
Preliminary day-by-day program
Saturday
Arrive during the day. If you want, you can visit the city of Sinj. Then you get to know the other guests and horses. You eat dinner together every night and drink wine from the estate's own winery.

Sunday
After breakfast, it is time for a test ride to see if you and your horse are compatible. It is possible to change horses before you start the trail ride. You gallop across the fields of Sinj and then on to the river where you can swim with your horse, if the weather permits. After this, you return to the farm and have lunch.

Monday
After breakfast, you prepare for the long ride. You follow the river Cetina over the meadows that are made for galloping. You are then treated to a picnic lunch by the river. After lunch, the ride continues up on a plateau called Bitelic. You ride on the old cobbled roads from Roman times and enjoy the view of the Dinara and Svilaja Mountains that surround you. You pass through the old village of Vucipolje and then ride on to Lake Peruca where you can swim with your horse. After a short break, you will leave the horses and be driven back to the farm by car, about 20 minutes, where you will eat dinner.

Tuesday
After breakfast you are driven back to the horses where you saddle up and the ride continues along the lake's shore. After a bit of trotting and a few long gallops across beautiful meadows, you come to the small town of Vrlika where there is an old fort with a rich history. You will leave the horses here and drive back to your accommodation for the night.

Wednesday
After breakfast, you ride through Vrlika and climb up into the mountains to the village of Maovice. At the top, you take a short break and can admire the beautiful views of the river, meadows and mountains before descending for lunch. After lunch, there will be more chances trot and gallop across meadows and through the vineyards to the town of Drnis. When you have unsaddled the horses, you go to your motel in town. After a shower and some rest, you will be met at a restaurant nearby where you can taste Croatian cuisine with local wine.

Thursday
After a good night's sleep, you continue your ride to the Krka National Park. A few gallops and you will come to the small village Bristane where you eat lunch at an agro-tourism farm that prepares local food and schnapps flavored with lemon, orange and grapefruit. Once you have taken care of the horses, you will take a boat to the island of Visovac, which is considered one of the most important historic sites in Croatia. Since 1445, it has been the site of a Franciscan Monastery, Our Lady of Mercy and the Church of Our Lady of Visova. The monastery has an archaeological collection, and a library with valuable old books and manuscripts.
After you have seen the island of Visovac you continue your sightseeing tour. You can then swim in the river and enjoy the beautiful surroundings and waterfalls along the river. The mill in Roski Slap is an interesting and valuable ethnographic landmark in Dalmatia. After your sightseeing, you go back to the village of Bristane and eat dinner together with the owners of the farm.

Friday
In the morning, you continue your ride to a canyon by the Čikola River with stretches for both trotting and galloping on the way. You descend into the canyon that is the most beautiful place in the national park. You will pass a sixteenth century fort named Kljucica. On the right side, you will see the Čikola River flowing into Lake Visovak, which surrounded by huge cliffs and abundant flowers. You continue the ride to the point where you will cross the Čikola River. Now you begin to climb up the canyon and once out of the canyon, you will eat lunch.
Your ride then continues to the villages of Goris and Konjevrate and Skradinski, the entrance of the Krka National Park. It is also the end of this amazing ride. You unsaddle the horses and they are driven back to the farm. Meanwhile, there is more sightseeing for you to do. Skradinski Buk is the longest and most visited waterfall along the Krka RIver. There is a network of trails that take you around the falls. At the bottom you can swim in the crystal clear water.
Also of interest is the renovated water mill. You will see how to grind flour, wive clothes, horseshoe forging and prepared food in an old-fashioned kitchen etc.

Saturday
After breakfast you prepare for departure to Split airport.
(Subject to change depending on local circumstances.)
Accomodation
A total of 7 nights including 4 nights at the farm in double / triple rooms with shower / toilet and 3 nights at agro-tourism farm / motels in double triple rooms with shower / toilet. One night there is a shared shower / toilet. There are no single rooms.
Safe deposit box: No
A/C: Yes
Hair Dryer: Yes
Towels and sheets: Yes
Fridge: Not in rooms.
Climate
Most of Croatia has a continental climate with hot summers and cold, snowy winters. The coastal area has a typical Mediterranean climate with mild wet winters and warm sunny summers. Statistically speaking, Croatia is one of the sunniest countries in Europe.



Travel Information
Ability description: Trail ride, level 2-3 >>
Included in the price: 7 nights, 6 days riding, full board incl. soft drinks and wine & beer with meals.
Not included: Flights, transfers, national parc fee (approx. 350 Kuna), insurance, drinks and extras not mentioned.
Travel: Book flight/rental car >>
Fly to Split.
Transfer: Book in advance with HorseXplore and pay on spot.
From Split airport to riding center, 40 minutes.
Price: 50 EUR/person return.

Single room: Not available.
Horseback Riding: Long rides with 4-6 hours riding/day.
The horses: About 20 horses, the Arab crossings, Lipizzaner, Holsteiner, Croatian- and Bosnian horses.
Currency: Kuna, HRK
Credit card: Not accepted at riding center, but you can pay with euros. ATM 3 km away.
Tipping: Not required but appreciated.
Wifi: Yes
Group size: Minimum 4, max. 9 riders.
Age limit: 12 yars old
Closest village: 2,5 km
Beach: 20 minutes by car.
Pool: No
Misc.
Riding equipment to borrow: Helmet
Saddle bag available: No
Special diet: Inform when booking.
Feedback from our travellers