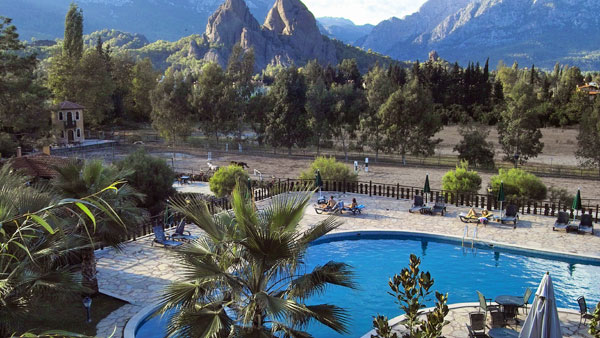 If you want some more time for the beach and pool, but still want to ride a few hours each day, this trip suits you.
This program is designed for those who want to spend more time swimming, in the sun, at the beaches and sightseeing, but still want to be able to ride every day.
On arrival, you will be served a welcome drink, and you will be given information about the horse riding center and the weekly schedules. You get to meet the horses, and take test ride in the ring or head out on a ride. After that you can relax and have a good time, and maybe take a dip in the pool. Lunch and dinner can be purchased on location.
On the other days, you will ride about 2-3 hours per day. Your English-speaking riding guide will be happy to show you the beautiful surroundings.
When you are not riding, you can relax by the lovely swimming pool, or go to the beach with the free shuttle bus that departs once a day. There are also plenty of shops, restaurants and bars at Kemer, about 10 minutes by car from the riding center. If you have a rental car, the staff will be happy to point out local points of interest for you to visit.