Italy, Sardinia Monte Ferru - Wild Sardinia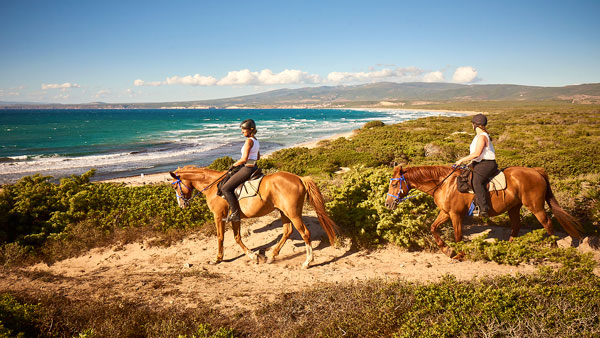 Trail WILD – a new riding package to experience the wild side of Sardinia (only for fit riders). The package includes a lot of riding hours. It is a selection of highlights for riders, it will be an unforgettable experience! Lunches at special places. Lodging and dinners at the riding centre.
Program
Preliminary day-by-day program
Day 1. Arrival in the afternoon. You meet the other guests and and get an overview of the week ahead before dinner is served at around 8.00 pm.
Day . 2. Today you meet at the stables after breakfast for an introductory ride of about 3 hours in the surrounding area. You will see grazing sheep, typical Sardinian stonewalls, cork tree forests and get to try your first gallop. You come back to the farm in time for lunch and you can then enjoy some free time in the afternoon.
Day 3. Start riding from the riding centre and going to Agriturismo Eliches Ottiosus in the Mountains of Monti Ferru. Lunch at the village San Leonardo
Riding: 7 – 8 hours

Day. 4. Riding in the beautiful landscape of the mountains Monti Ferru. Morning excursion: 3 hours. Lunch at Agriturismo Eliches Ottiosus. Afternoon excursion: 3 hours.
Total riding: 6 hours
Day 5. Departure at Eliches Ottiosus in the mountains, going to the fields near the sea (near the town Putzu Idu). Riding from the mountains to the sea. Lunch at the originial shepherd's place of Cazzeddu (near S'Archittu).
Riding hours: 7 – 8 hours

Day 6. Starting from the horse place near Putzu Idu and going to the town San Giovanni, from there to the laguna "Stagno di Cabras". Beautiful tour along the coastline, seeing flamingos at the laguna. Lunch: Pack lunch when stopping with the horses for a break.
Riding hours: 6 hours

Day 7. Starting in the morning at the horse place near Putzu Idu and riding to the big massive cliffs of "Capo Mannu". Breath taking views.
Lunch at the owners' house at the sea.
Riding hours: 4,5 hours
Day 8. Breakfast and departure.