United States, Idaho - Horsedrive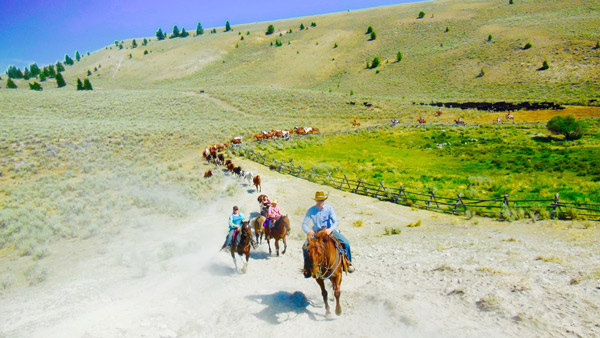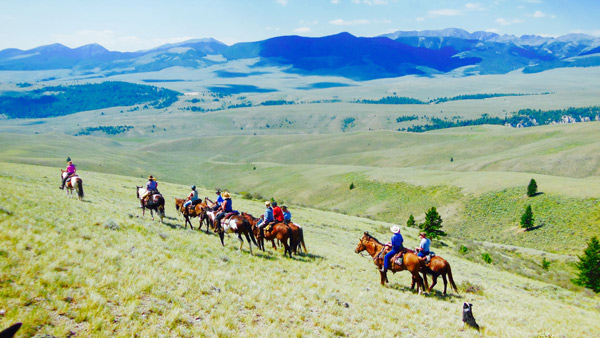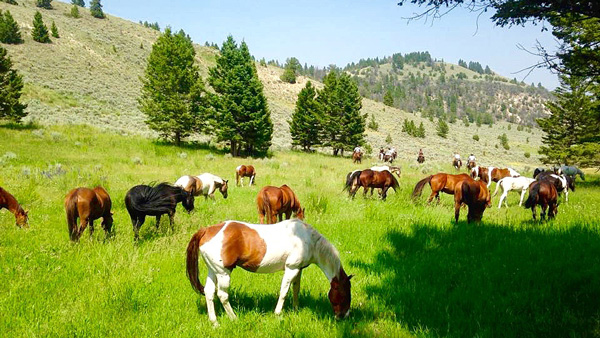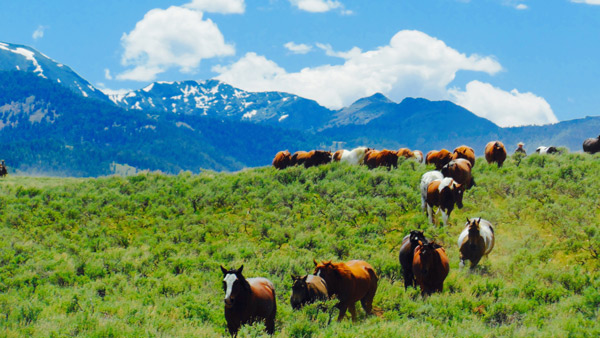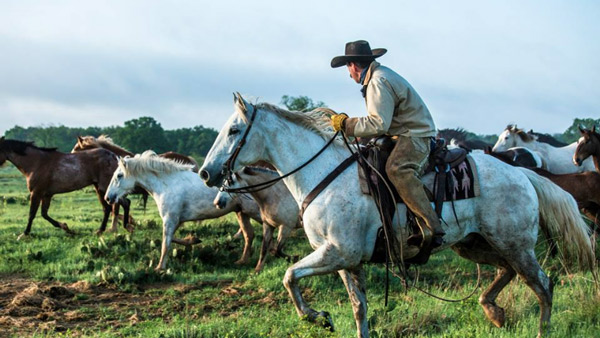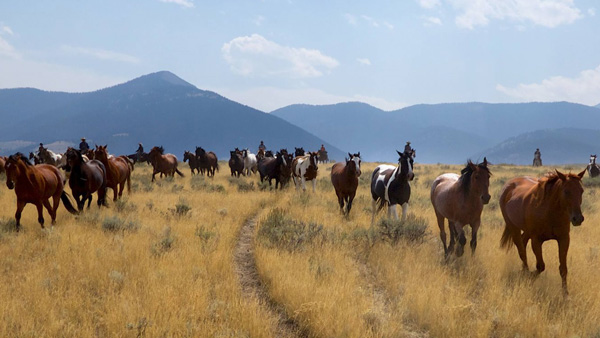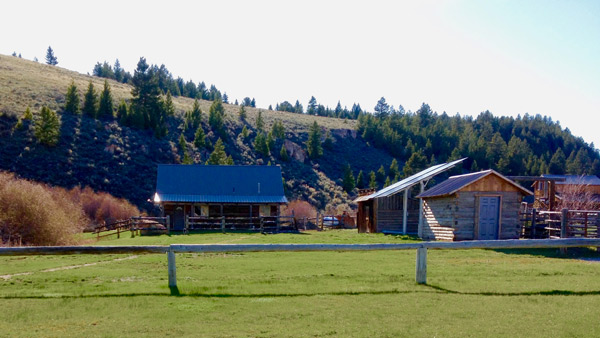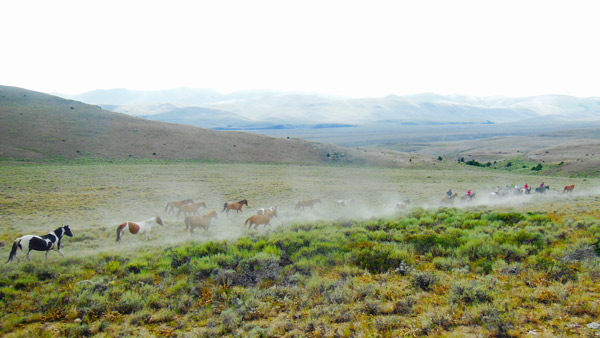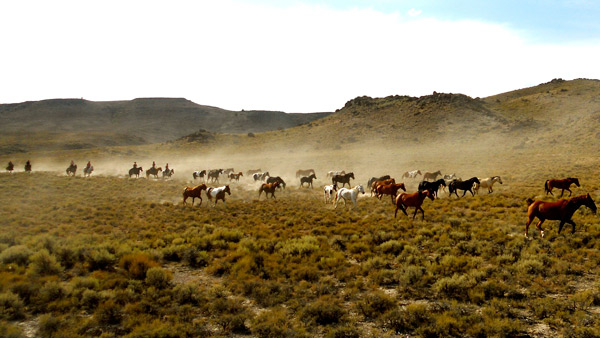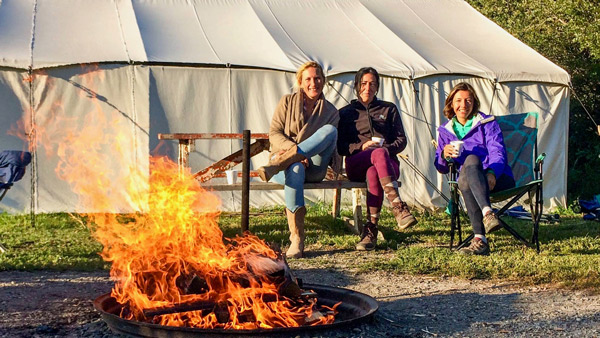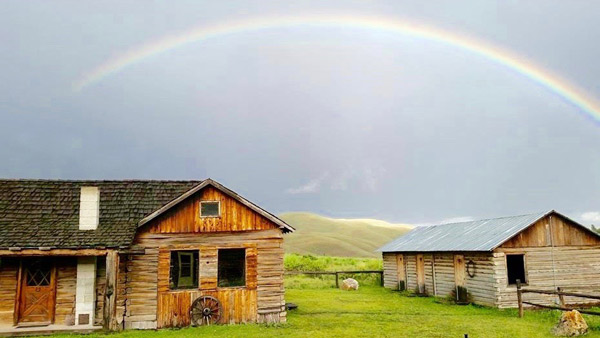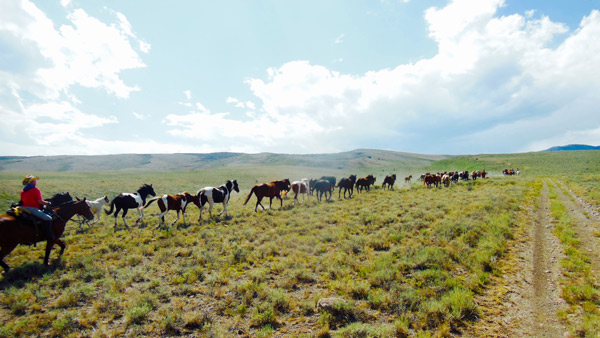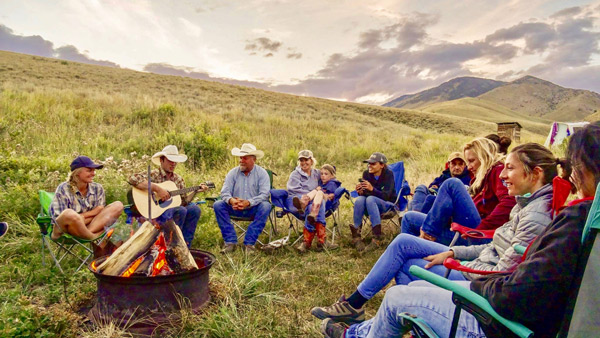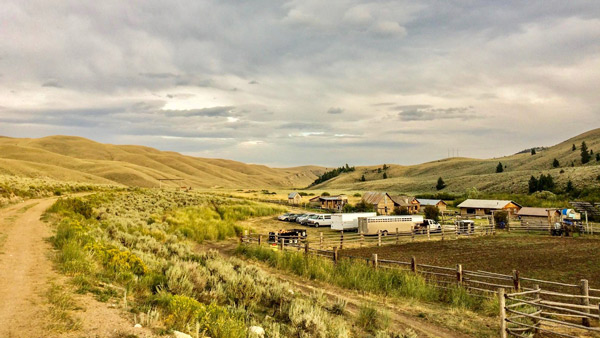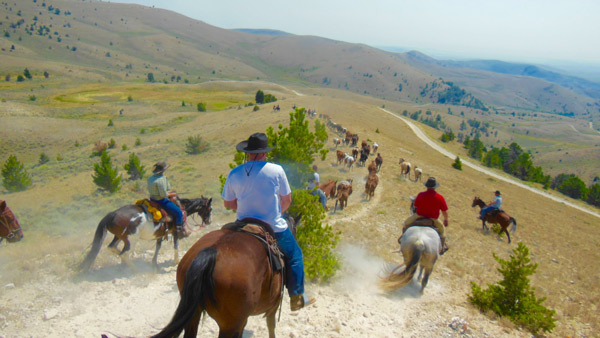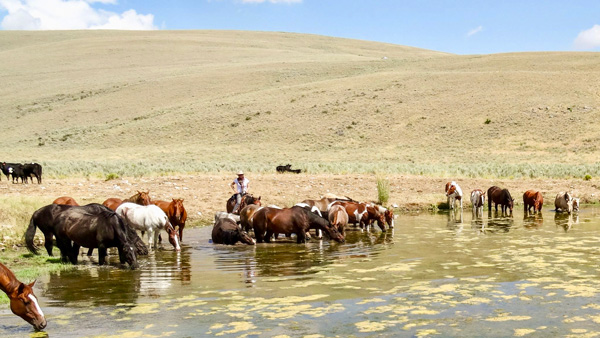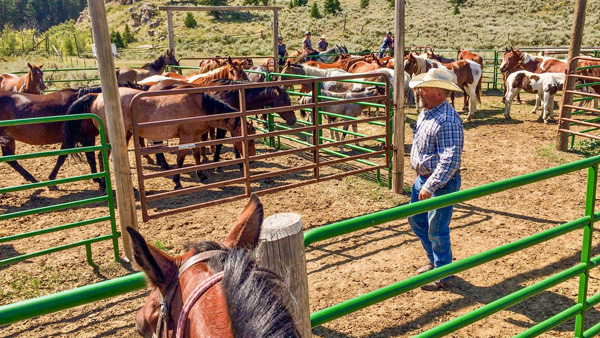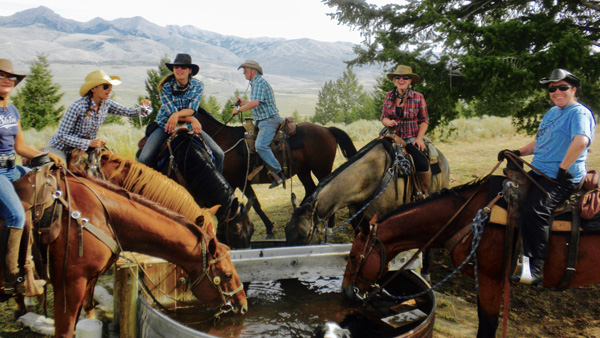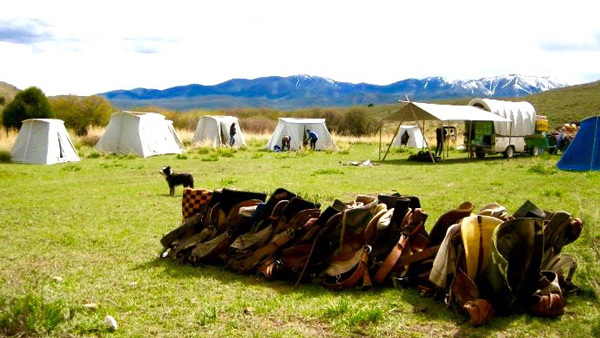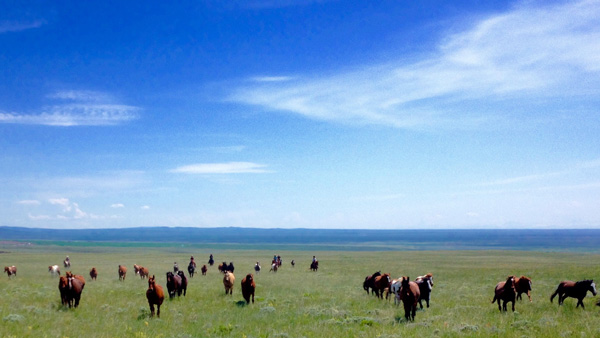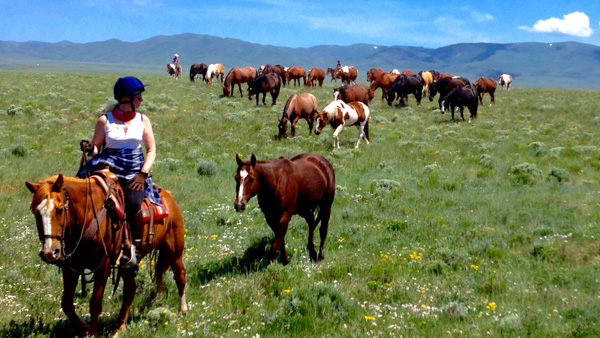 This horse drive is one of the toughest and yet most rewarding adventures you will ever have on horseback. With the help of your horse and other guests, together you will herd around 40 horses for nearly 20 miles each day. This drive is for those looking for a real authentic, fast paced, American horse drive.
The ranch is located in the beautiful Idaho mountains near the continental divide and has been run by the same family for sixty years. They have been hosting guests from all around the world and are most known for there popular horse drives. Cowboying is what they know, love, and do best.
You will ride in an area of natural beauty with abundant wildlife including elk, bald headed eagles, coyotes and ground hogs. In the mornings you will awake to the smell of fresh coffee brewing over the fire and sizzling hot cakes on the griddle! Life just doesn't get any better than this!
During the day we round-up and drive the horses through desert canyon country and explore the fascinating countryside. At the end of the day there will not be a more welcome sight than riding over the ridge with the herd of horses, and spotting the chuck wagon and camp waiting for us. Dinner is cooked over the open fire, a perfect end to another perfect day, with a hot and delicious meal, new friends and lots of stories and laughter about the day's adventures! You will no doubt be ready to retire for the evening afterward to your tent or sleep under the stars if you wish, it's exhilarating!

During the drive you will ride into two beautiful campsites that feature rustic outdoor accommodations including both a natural warm spring and a cold Idahoan creek to bathe in. Following you along the drive is a wagon carrying all the ingredients to some of the best over-the-fire cowboy cooked meals.
If you're looking for a fast paced cowboy adventure filled with hard working fun, this is just the thing for you.
Accommodation and Food
Located next to the Targhee National Forest along the Great continental divide sits the ranch where your holiday starts and ends. Accommodation is simple and remains true to the cowboy way of life. There is no electricity at the ranch and rooms are lit by gas lanterns. There are 5 bunkhouse rooms each sleeping 2 guests and there are a further 2 cabins which sleep 3 in each. There is an outside shower with hot water and an outhouse containing the toilet facilities. The bathroom facilities are shared between the guests. All bedrooms are shared and it is not possible to pay a single supplement to ensure a private room.
On the horse drive you will camp each night, bathing in natural springs and eating hearty meals around the campfire before retiring to your tent or to sleep under the bright starry night.

There is no wifi, phone signal, or anything else to that extant at the ranch, it's the greatest place on earth to disconnect from the world and truly enjoy the American West!

Meals are a hearty cowboy affair with pancakes, eggs, bacon and hash browns to start the day!
The trip is vehicle backed up, so you will be met at night with your luggage. Some luggage can be left safely at the ranch too.
Vegetarian or other dietary requirements can be accommodated with advanced notice. Please contact HorseXplore with requests.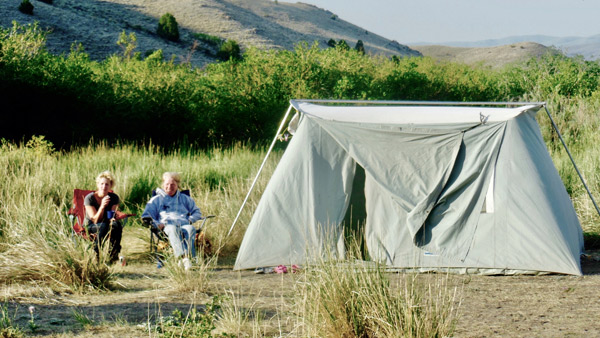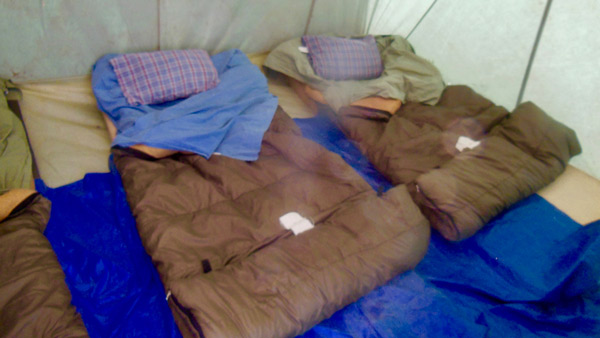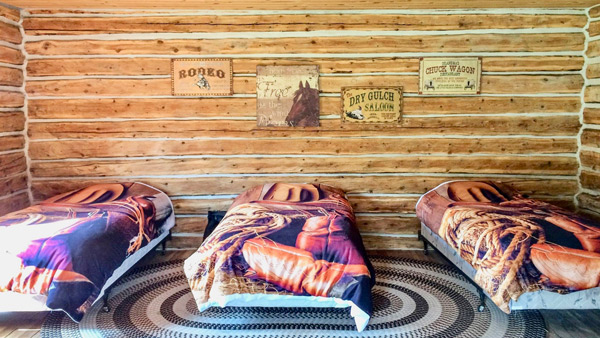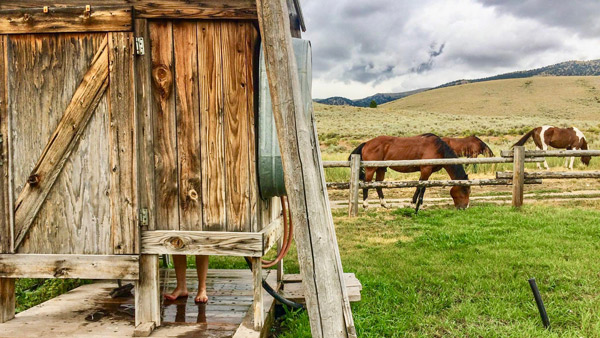 Horses and riding
There are around 100 working horses on the ranch which have been bred from Mustang and Quarter Horses. They are well trained, sensible horses whilst at the same time forward going and independent. Western tack is utilised and you will be shown how to tack-up and ride Western if you have not done so before. The horses are used to being ridden in spurs. There are saddle bags on site. Bring your own helmet.
Rider requirements
For the horse drives riders need to be comfortable at walk, trot and canter and be fit enough to spend 6-8 hours in the saddle on riding days. A sense of adventure and flexibility is also required as anything goes on a horse drive; you could be faced with a variety of weather, terrain and experiences and when on the drive, nights are spent in basic camps under the stars. Riders are expected to help groom and tack up their own horses, as well as assist in meal preparation.
It does not matter if you have not ridden Western before; indeed your hosts believe that having the discipline of riding English style will help you to quickly learn the Western way of riding. There is a chance to ride Western style before you go out on the drive.
Program
Program
Sample Itinerary -Subject to changes
Day 1(Sunday):You will arrive at the ranch on Sunday evening for a welcome dinner and introduction to the family, crew and other guests. You will be accommodated for the night in a cabin or bunk room.
Day 2 (Monday): Meet your mount, riding instructions, spend the day riding through mountain terrain (making sure every rider is confident at a walk, trot, and lope.) We want you to trust your horse completely before leaving for the horse drive. Spend the night at the ranch again for dinner and overnight.
Day 3 (Tuesday): Hearty breakfast and then pack our bedrolls in the chuck wagon, round up and saddle the horses, load them in the horse trailer and head for Deep Creek. We will round-up and drive the horses 20 plus miles through desert canyon country. We stop for our picnic lunch in the canyon among the fragrant sage brush. At the end of the day we will end up at the warm springs and truthfully there is not a more welcome sight than riding over that last ridge with a herd of horses, and spotting the chuck wagon and camp. You're going to be very tired and dirty after a long day of riding! The natural warm spring here is the perfect spot to take a nice relaxing bath (if you have biodegradable soap, all the better!). Look closely in the water... the water is so mild that there are guppy fish swimming in there with you! We will end the day with a hot delicious meal and lots of stories of the day's adventure. You will be ready to retire for the evening to your nice tent or even sleep under the stars if you wish!
Day 4 (Wednesday): You will awake to the smell of coffee brewing over the fire and hot cakes on the griddle! Life just doesn't get any better than this! If you would like, after breakfast you can take "another quick dip in the spring." We will help you break camp, catch the horses, and be on our way for our second day of moving the horse herd. This day will have the challenge of heading through the hills that are more forested than yesterday's desert canyon route. Don't lose the horses in those trees! Sometimes like to hide! We stop for the picnic lunch by a watering hole for the herd and get a quick rest in before heading onward again. Camp tonight is along a pretty little glacier creek - absolutely nothing like the welcoming warm springs you had yesterday, but on a hot, hot summer's day in mid July or August you will find it extremely refreshing! Another hearty cowboy meal and overnight.
Day 5 (Thursday): Awake to the sounds of the horses near by grazing, coffee brewing over the fire and the smell of bacon sizzling! We have traveled over 40 miles and are now in some beautiful back country. You have got to see this! We will leave the her behind and take a day off to rest them and do a little exploring on our own. Less work, and more play! There is an absolutely beautiful mountain lake just 6 miles from camp, and with abundant wildlife around we might just get a close look at a moose, elk or even a bear. Another great adventure is just around the corner, and today we will be sure to find it! Dinner will be cooked over the open fire to put an end to a perfect day of trail riding with our new friends. Night at same camp as yesterday.

Day 6 (Friday): After a whole day off with nothing to do, those horses are ready and anxious to get going again, so after another great breakfast, we will help break camp, gather and saddle our horses, round up the herd and get them headed to their final destination - the ranch! This is another great day of riding and moving horses through some of the most beautiful countryside and a pretty picnic lunch stop. By now you definitely know what you are doing and feel confident doing it. You are a cowboy!! There are some great gallops today if you are game! You will arrive back to the ranch in late afternoon ready for that hot outdoor shower, a cold drink and a warm cookie, rewards for a job well done! After a little relaxation time, we will sort out one of the colts and work with him for a short time before dinner. This requires a little help from some of our newest cowboys (of course only if you want to). This is very interesting and you will be able to see how we introduce the saddle, and turn this young colt into a working ranch horse. We will end the day with a farewell dinner, lots of stories and a good nights rest in your cabin.
Day 7 (Saturday): By now you have rode many miles and go back with memories for a lifetime. When you return to the fast paced life of the city you will close your eyes, smell the coffee and the fresh mountain air, see yourself riding through the beautiful mountain ranges of Medicine Lodge Idaho, and this will get you through until we see you next time!
During the May trip dates we drive 80 to 100 head of horses from the winter to the summer pastures - on all other dates we drive around 40 horses.
Travel Information
Ability description: Trail Ride Level 3.
Included in the price 2019: 6 nights accommodation, 5 days riding, full board including soft drinks, juices, tea / coffee, local taxes, 10% gratuites.
Included in the price 2020: 5 nights accommodation, 4 days riding, full board including soft drinks, juices, tea / coffee, local taxes, 10% gratuites.

Not included: Flights, transfers, alcohol is not provided at the ranch but you are welcome to take your own along for the week, the transfer will stop at a store where you can purchase alcohol and bring it with you to the ranch , insurance, voluntary gratuities.

Travel: Fly to Idaho Falls Regional Airport, you will need to arrive in Idaho Falls, Idaho on Sunday between 3:30-4pm (local Time).

Transfer: Pick Up Location: Idaho Falls Airport Or Your Hotel. Transfer time is approx 1.5 hours.
Pick Up Time: Sunday Between 3:30-4pm
Drop Off Time: Saturday Between 10:30-11am
Transfer Cost: $100 USD per person Round Trip, paid at the ranch.
Single room: No single rooms available (on some or all nights). Riders must be prepared to share with someone of the same sex.
Season: May - October.

Group size: During a normal week, there are usually about 6-14 riders.

Age limit: Minimum age for all guests is 18

Weight Limit: 18 st/250 lb/114 kg, please enquire if you are an experienced rider exceeding this weight.

Electricity: No electricity, no Wi-fi.
Credit card: The ranch accept cash or card (cards are an additional 4%)

Tips: 10% is included in the price, gratuities are appreciated but not mandatory.

Misc.: You need to apply for ESTA to enter United States https://esta.cbp.dhs.gov/esta/
Other activities
Apart from the extensive riding programmes guests can also fish in the nearby creeks and lakes which contain Rainbow Trout and Cut Throat Trout. Fishing equipment can be provided by the ranch.
Guests may also hike and take in the blissful peace of wild and mountainous Idaho.
Climate