United States, Wyoming – Cowboy State Number 1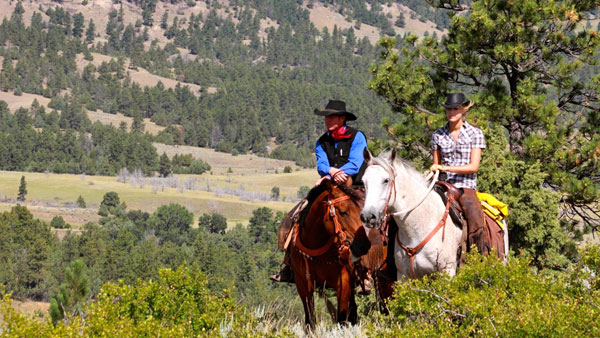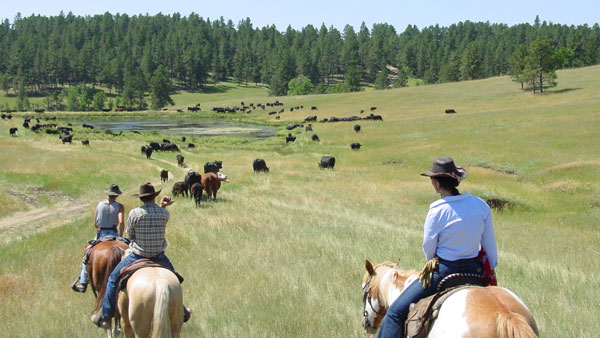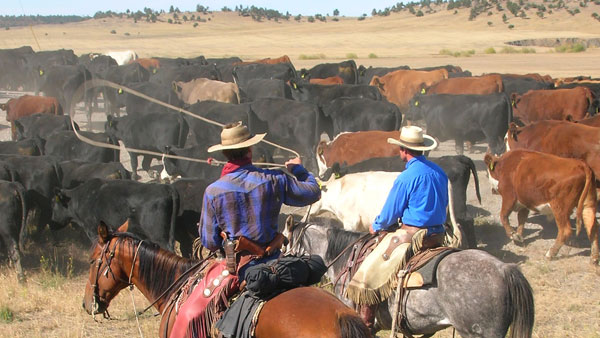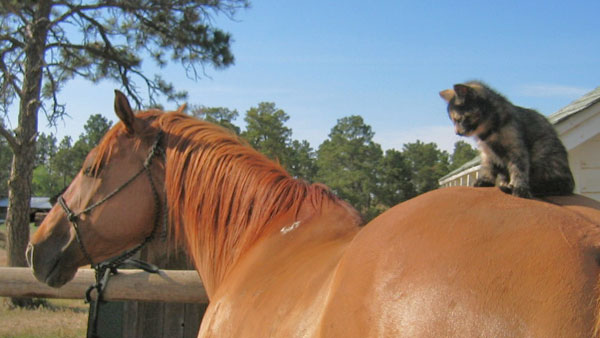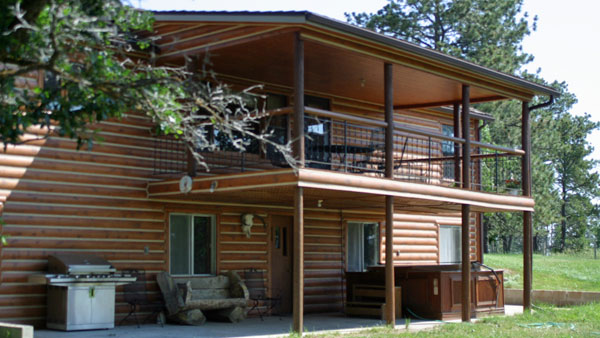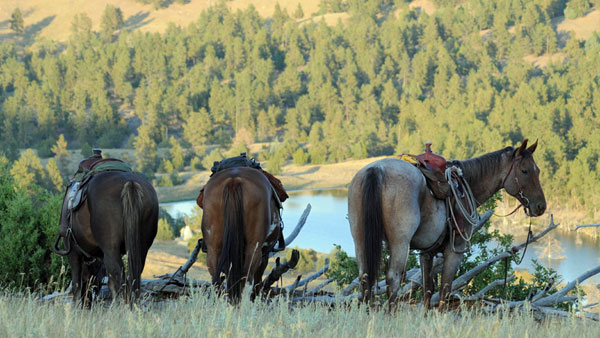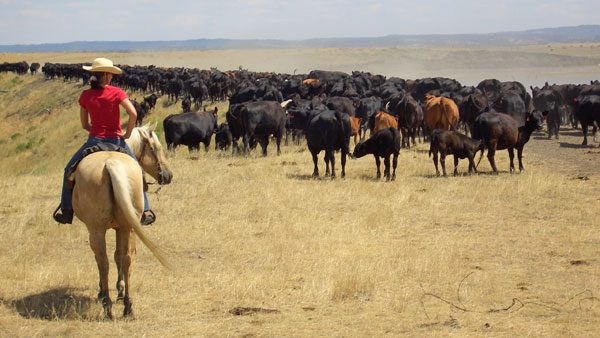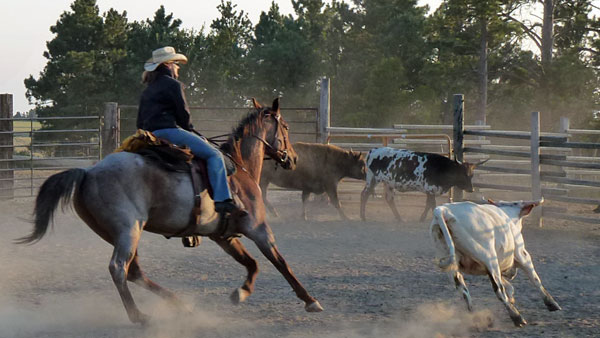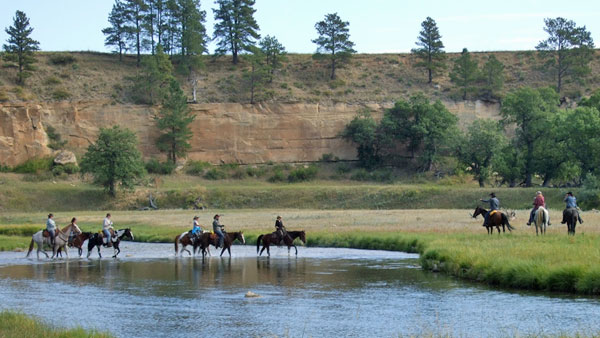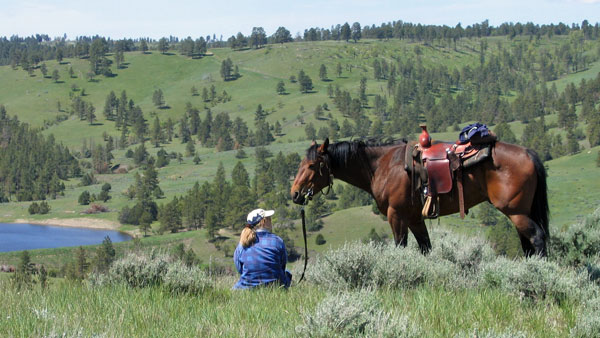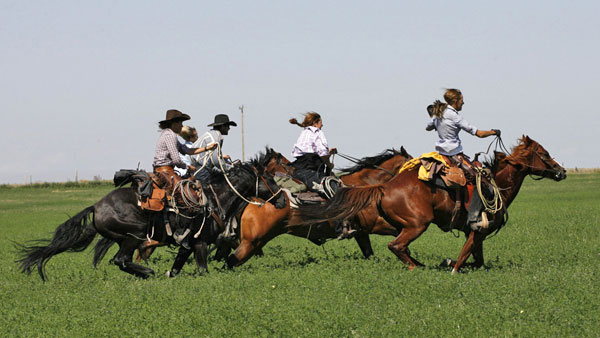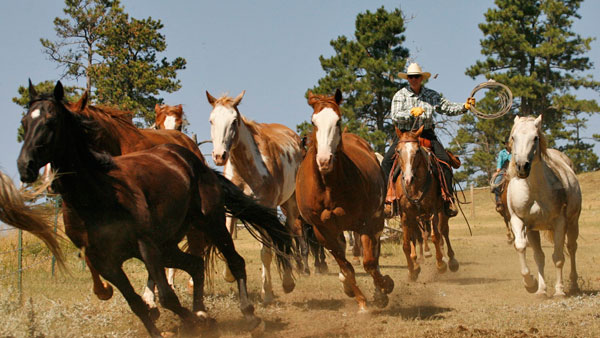 Do you want to get away from big city bustle and experience great isolated expanses like a real cowboy? Here you will find more cattle than people. Nowhere else has as many cowboys as Wyoming. There are lots of ranches and during the summer almost every small town has its own rodeo. Cowboys get around the old fashioned way - on horseback. Wyoming is home to the Native American Cheyenne, Sioux, Crow and Apache people who lived here long before the white man came. On this working ranch, you will be warmly welcomed and treated like family.
This is a family-owned working ranch on the edge of the Black Hills in northeastern Wyoming. Four generations live and work together on the ranch. Doerte is German. In 2003, she left her high paying job in Hamburg to work as a chef in the "Wild West". She fell in love with this area, the ranch and one of its owners. In 2006, Nick and Doerte married.
The ranch is located in an old "ghost town" in northeastern Wyoming. About 150 years ago, the first settlers, called "homesteaders" came to this area. The homesteaders fought against the harsh climate, tough cattle barons and the recession of the early 20th century. Only the most enduring survived.
Today the ranch has about 200-300 pairs of cows and calves, plus young bulls. You can still see the old buildings and machinery that stand as testament to times past that is only familiar to us from old western movies.
In addition to ranch work on horseback and riding through the canyons, plateaus and endless prairie you can takes walks and check out the abundant wildlife. There is also the chance to go swimming or fishing - the trout tastes great. Non-riders who like to get away from it all will also enjoy this place. Subject to the season and timings, you will visit rodeos, country dances, horse auctions and go sightseeing.
There is a maximum of around 8-10 guests / week.
Accommodation and Food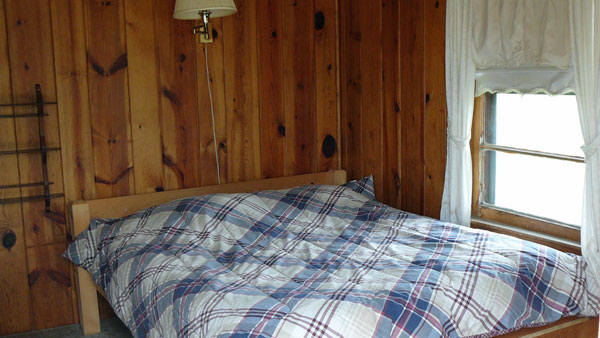 There are five comfortable, rustic double rooms, all with private bathroom (hair dryer, soap and shower gel). No single room chare (as long as single rooms are available). A wood stove provides warmth on cooler days. On warm days, the central air conditioner is turned on. Bed linen, towels and bathrobes are provided. You can use a washing machine and dryer as well.
Safe deposit box: No
A/C: No
Hair Dryer: Yes
Towels. sheets, shower gel: Yes
Fridge: Not in rooms.
There is an open kitchen connected to the dining and living room. It serves a full homemade breakfast, a light lunch, and dinner. If you are out riding, a picnic will be brought to you. Snacks and drinks (water, fruit juices, lemonade, tea, coffee) are available at all times. There are no alcoholic beverages or soft drinks on the ranch, but you can buy it and bring it with you. You can stop and shop on the way to the ranch.
The ranch is self-sufficient in beef, lamb, goats, geese and ducks ... and they will soon be producing pork and chicken. Game is hunted on the ranch and trout can be caught in the lake (if they bite). The hens have just started to lay eggs. A kitchen garden provides tomatoes, lettuce, squash etc. After returning from a day's ride, you can sit on the balcony overlooking the Missouri Buttes, play a round of pool or relax in the hot tub under the stars.
Horses
There are about 40 quarter horses, paint, appaloosa and crosses carry you across the diverse terrain. The horses live outside all year round and are fed, if necessary. The horses are alert and love long gallops and driving cattle.
Maximum weight: 250 lbs
Horse riding at the ranch
You will ride a lot on the ranch and all riding is connected with managing livestock, but sometimes you can ride just for fun, as well. You will usually spend 5-8 hours / day in the saddle. Riding is the focus of all activities on the ranch and there are always things to be done. When you are not cattle to a different pasture, you are checking fences and dams, looking for animals that strayed or you will be practicing "roping" and "cutting". And sometimes you will ride just for fun ...
The ranch trains their horses according to Parelli (Natural Horsemanship) that created better communication with your horse and makes riding safer for you. A course with a certified Parelli instructor can be arranged on request. You do not need to be an experienced (Western) rider and even beginners can participate if they are in good condition, courageous and willing to learn. Important: You should have ridden all three gaits and be able to sit in the saddle for up to three hours at a time. Minimum age for riding is 16 years.
Ranch work includes branding of calves, loading and transportation of livestock, fencing, etc.
Travel Information
Ability description: Trail ride Level 2-3 >>
Included in the price: 7 nights, 6 days riding and all other ranch activities, full board, local tax, internet (Wi-Fi), 10% tips.
Not included: Flights, transfers, alcoholic beverages, soft drinks, activities/meals off the ranch, insurance.
Travel: Book flight/rental car >>
Flight: To Rapid City, South Dakota which is about 2,5 hours from the ranch.
Transfer: Book in advance with HorseXplore and pay on spot.
From Rapid city airport or the hotels near by. One group transfer included.
Price: 150 USD/ person/return.
Time: Saturdays 6.00 pm. Plan to arrive at the airport no later than 5.00 pm and book you return trip no earlier than 11:00 am. Pick up can be earlier if all guests arrived earlier. We will always stop at Walmart so guests can pick up drinks, personal items etc. If time allows we will also stop at a Western store etc
Rental car: Normally, there is no need to rent a car, but if you want to continue on after the ranch stay you may want to have a car. Arrival to the ranch after 2.00pm and depart before 11.00am.
Accommodation: Double room with private shower / toilet.
Season: May - October
Currency: USD
Credit card: Not accepted at the ranch
Tipping: 10% included in the price.
Wifi: Yes
Electricity jack: 110V and 220V
Age limit: 16-70 years old
Closest village: 30 minutes by car. You also have some sight seeing at the devils tower national monument, amis colony, hulett etc.
Beach: No, but lake.
Pool: No but hot tub.
Misc.
Riding equipment to borrow: Helmet, rain jacket.
Saddle bag available: Yes
Single room:
Special diet: Inform when booking, all but vegan.