United States, Colorado - Ranch Stay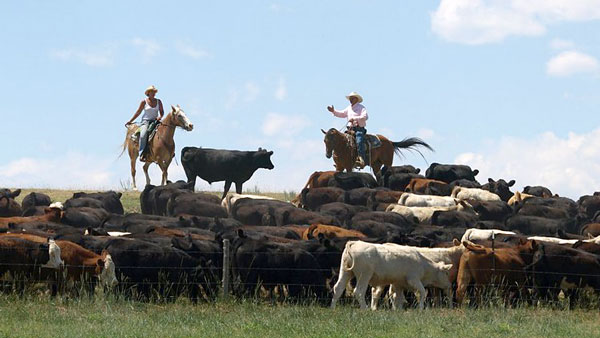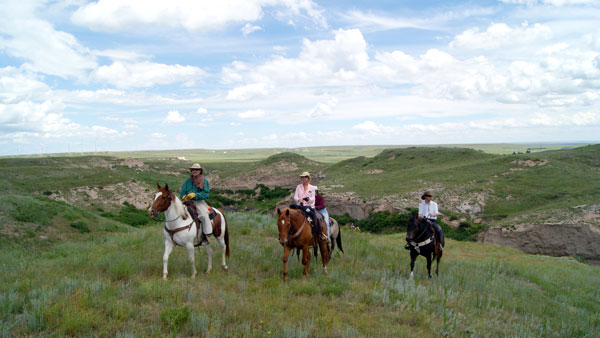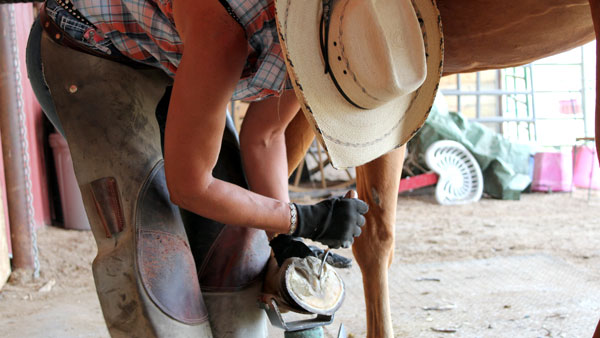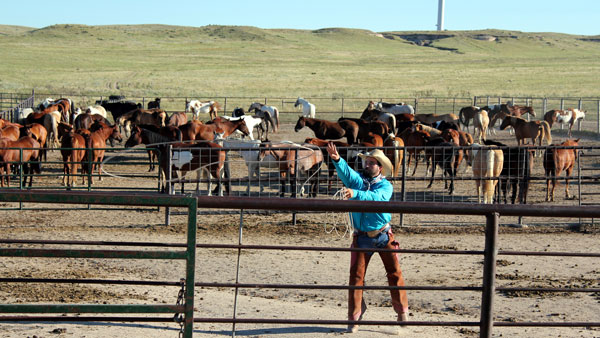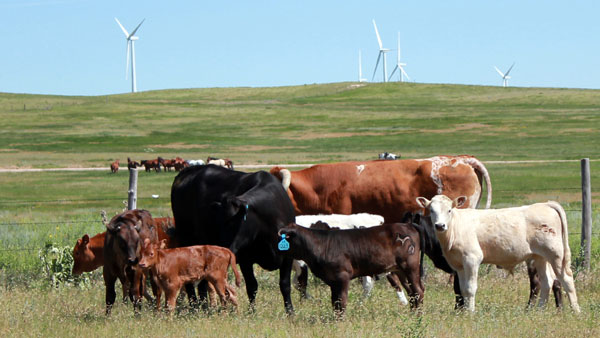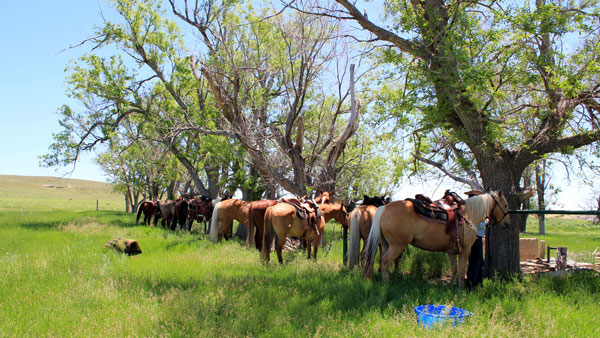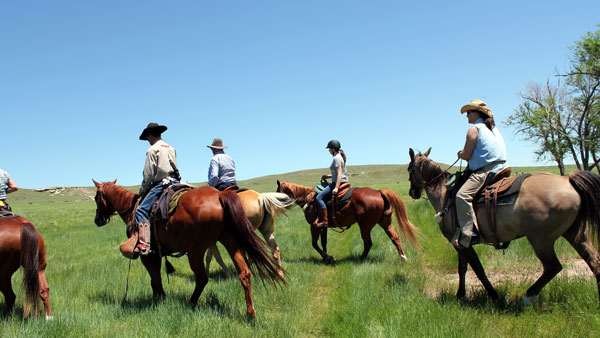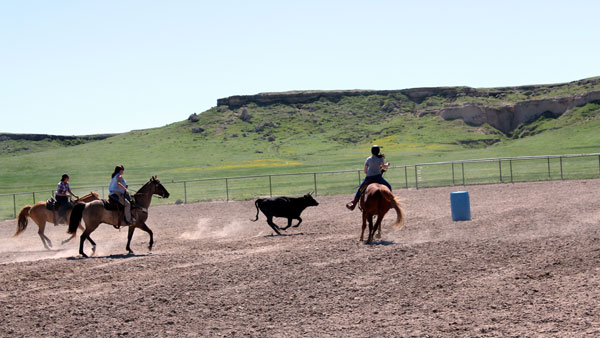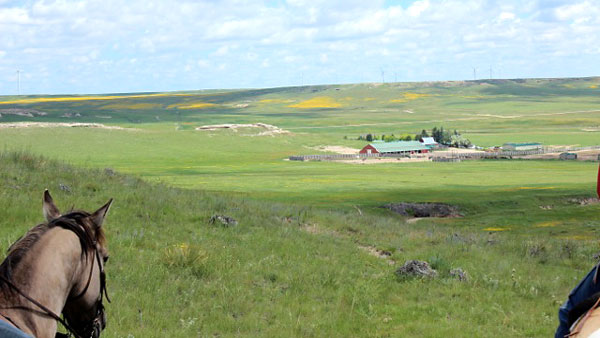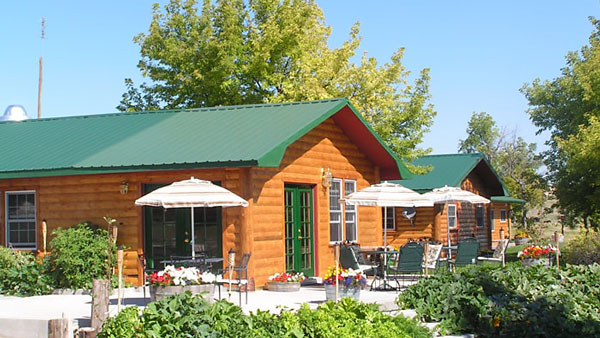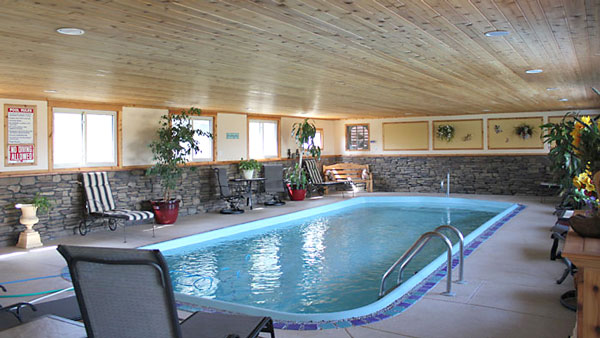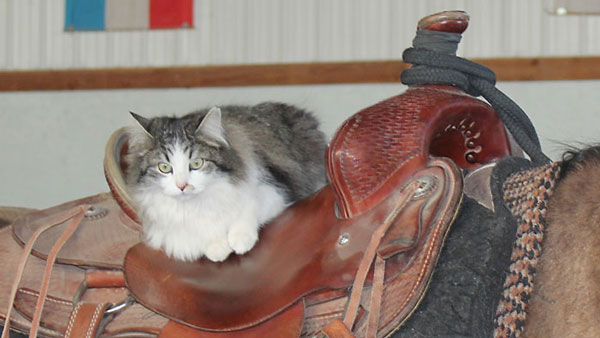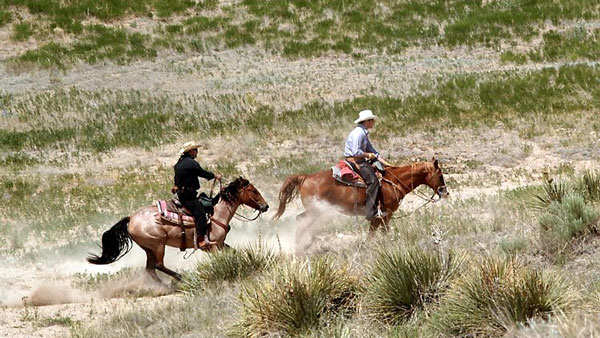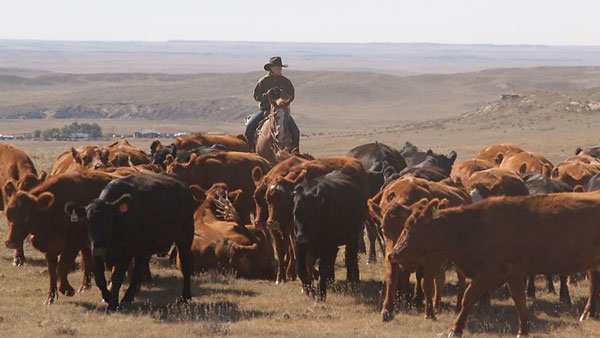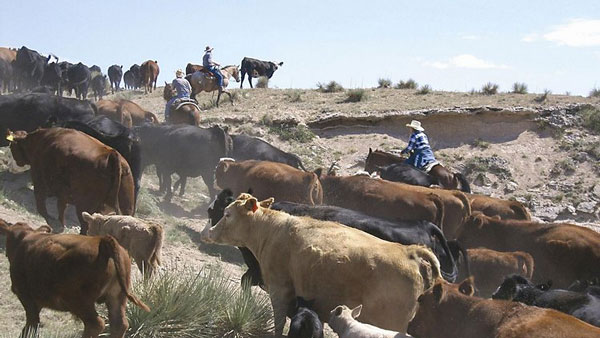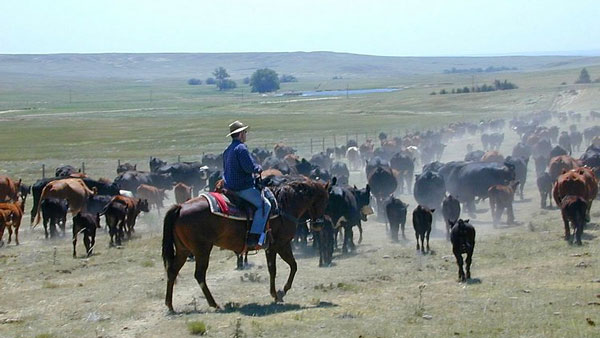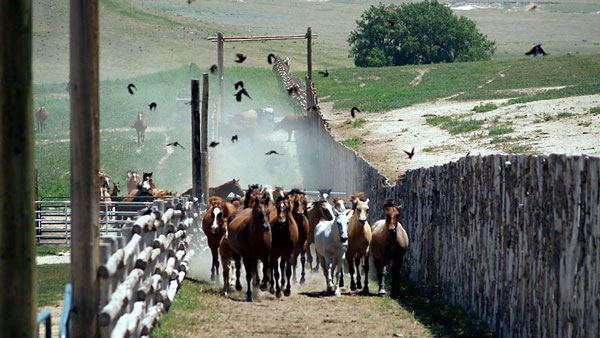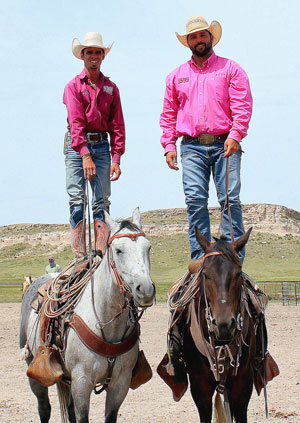 Come and visit Tom and Darcy who have the largest herd of horses in Colorado, with no less than 80 beautiful quarterhorses. You also have six thousand hectares (15,000 acres) of rolling hills and deep ravines to ride through. This is both a professional working ranch and guest ranch that has received many awards over the years. You will experience intense riding - no tail-to-tail riding here – at pace and with lots of galloping. Yiihaa!
You will rise early and, after a hearty breakfast, you will be in the saddle. Then, depending on the season, the cattle work starts, including branding, driving cattle and mending fences. In the afternoons, you can learn to handle a lasso on horseback at the cowboy school as well as learn team penning, team sorting, cutting, catch and barrel racing. After school, you can enjoy an 'after-ride' with a happy hour in the saloon before enjoying a hearty dinner, no risk here that you will go hungry.
You stay in nice rustic double rooms with shower / WC. If you are looking for a real adventure in the Wild West, you have found the right place.
Accommodation and Food
The main lodge is the meeting place for meals, the location of the laundry area, indoor pool, hot tub, gift shop, coffee bar and snack area.
Guests sleep in either the log bunkhouse which was the original homestead on the ranch or in one of the charming log cabin duplexes. The bunkhouse has been refitted and modernized with five private bedrooms designed for couples. Each bunkhouse room have a private bathroom, one queen size bed and a private entrance.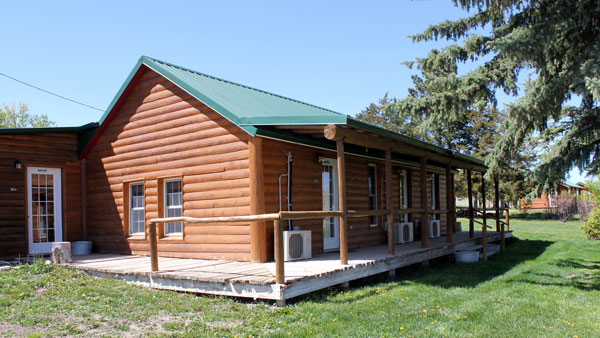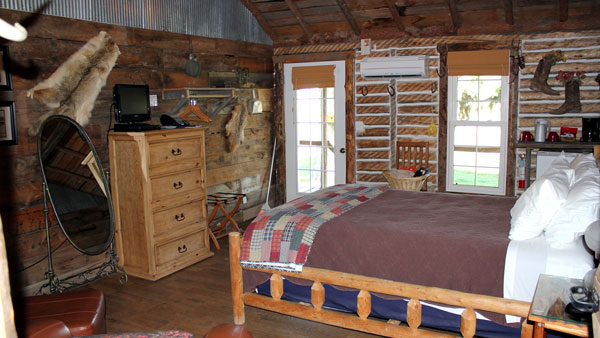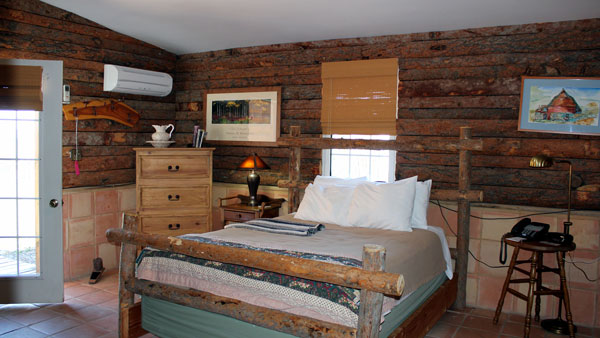 The newly constructed log cabin rooms are designed for singles and friends traveling together and have two comfortably sized individual beds. The cabins also have private bathrooms and entrances.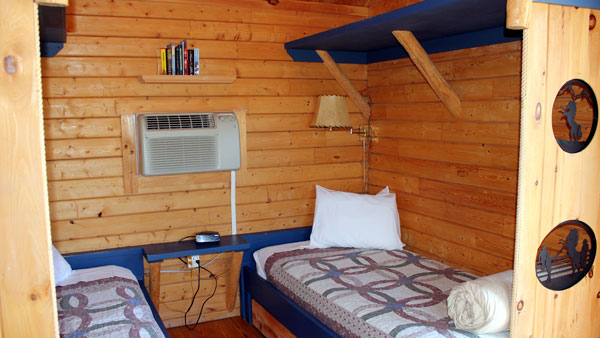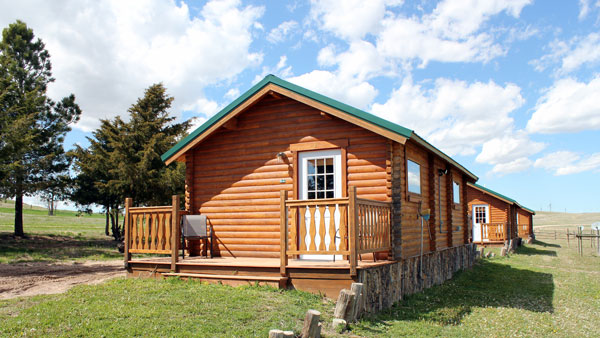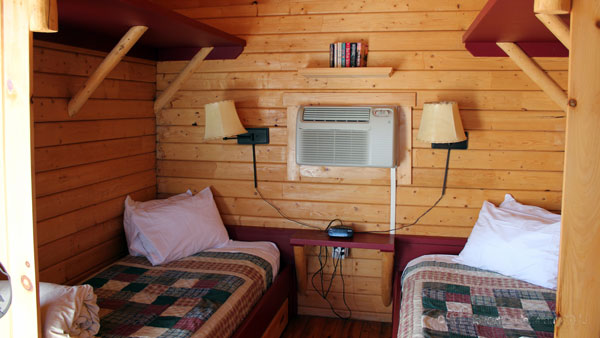 The porches are favorite gathering spots for early morning coffee or a quiet spot to read a book in the afternoons. All bunkhouse and cabin rooms have individual air conditioning and heat control for comfort in all weather. Unlimited hot water soaks away the stiffness and fluffy down filled comforters are snug and cozy. Each room has a mini coffee bar with a coffee maker and all the fixins for coffee, tea and a small refrigerator. Soda pop and baskets of goodies are also available in the main lodge for snacking. Linens and towels are furnished for all rooms including bathrobes, flip flops and hair dryer.
All meals are included in the price. Hungry cowboys can sit down and dig in to a real ranch meal three times a day. Breakfast meal choices range from eggs, bacon and sausage, cold and hot cereal, fruit, yogurt; occasionally biscuits and gravy or breakfast burritos are also served. Lunch is normally served in the dining room unless we are out on the trail or at a neighbor's for the day. Sandwiches and soups, fruit, bread and salad are typical lunch meals. Lunch on the trail is brown bag containing sandwiches, fruit, chips and a dessert. The evening meal is served in the dining room nightly. Margarita night is on Tuesday evening where the 'all you can drink' Margaritas are on the house. Other evening meals may include BBQ ribs, chicken, beef or pork served with appropriate side dishes, bread, salad and dessert. Vegetarian and other special diets are happily catered for, just let us know when booking.
Soft drinks, juices, coffee and tea are included in the price. Alcoholic drinks are available at the bar. Guests are not permitted to bring their own alcoholic beverages to the ranch.
Riding
During a Colorado Cowboy week you will ride a lot and help with all the daily work around the ranch. You will get plenty of time in the saddle and will be able to participate in anything you want, from saddling and brushing your horse to sorting cattle. They have well-trained horses and you can get a horse suitable for your riding experience. All instruction necessary to complete the daily tasks successfully is provided in a fun and enjoyable way. You can also participate in cowboy school where real cowboys will show you how to read cattle, work cattle, and improve your riding and horsemanship skills. If you prefer to take it easy, you can work cattle in the morning and skip riding in the afternoon and take a swim or relax. Most guests mix the cattle work with some relaxation time and Cowboy School.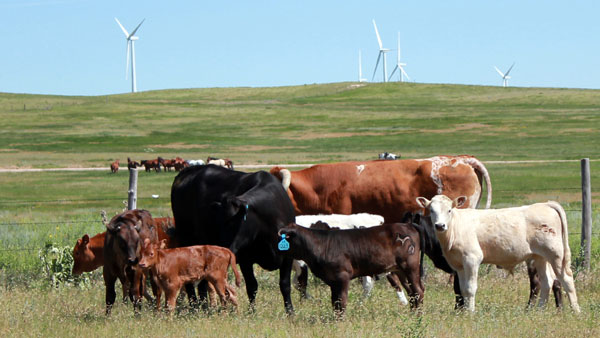 It is the cattle that control the daily routine at the ranch, but a typical day from May-October might look like this:
Spring (May and June):
Branding as well as gathering, sorting and moving the pairs to summer pastures. Fences must be checked for broken or damaged areas. Short one-day cattle drives happen weekly until all cattle are settled for the summer. Spring activities can be hard to schedule; weather, sickness, calving and feeding all play a part in the daily work.
Summer (July, August and early September):
Move livestock, gathering bulls, check the water, salt and fences, look for strays and fence jumpers and drive them back where they belong.
Autumn (late September and October):
Gathering and sorting, vaccinating and weaning of calves, short half- or full-day cattle drives occur several times a week, as they ship cattle to winter feed yards, etc. The work never ends!
Typical daily riding schedule:
Before breakfast: At 7.00 am you capture, feed, brush and saddle the horses. You can do as much or as little as you want. You can join in and help all the time or sleep in. It's your choice.
Breakfast: Served between 8:30 and 9:00 AM unless they are doing a big gather or cattle drive when it will be much earlier and on the run.
After breakfast: The guests and cowboys go out to work cattle. There is cattle work out on the range every morning for guests who want to participate in the real thing. The Cattle Work ride leaves the corral as soon as you can get mounted after breakfast and returns around 1:00 PM unless the work takes you too far from the ranch to return for lunch.
Lunch: Served at the homestead unless you are out on the trail driving cattle or helping a neighbor when it is sandwiches, chips, fruit and dessert on the trail. Lunch is served between 1:00 and 2:00.
After lunch: Cowboy school meets out by the hitching racks or by the roping dummies and ends around 4:00. You can get roping lessons, team penning, cattle handling, cutting instruction and horsemanship. Some days the morning cattle work continues into the afternoon, in fact some days you might not even return to the ranch until dinner. So be prepared for some long days!
Happy hour starts after the horses are fed and settled for the night at 5:00 PM on the patio and dinner is served shortly afterward. They have a liquor license and a fully stocked bar. The cattle work schedule is written on the board nightly so you know what is planned the next day.
Climate



Travel Information
Ability description: Trail Ride Level 2-3.
Included in the price: 6 nights accommodation, 5 days riding, full board including soft drinks, juices, tea / coffee, local taxes.
Not included: Flights, transfers, alcoholic beverages, insurance, voluntary gratuities.
Travel: Fly to Denver. You need to apply for ESTA to enter United States https://esta.cbp.dhs.gov/esta/
Transfer: We can book a shuttle from Denver Airport and surrounding airport hotels to the ranch. The trip takes just over 2 hours. Transfer time is between 10.00 am and 1.00 pm on the day of arrival. Book a flight to go home after 2.00 pm on your departure day. To meet the shuttle client should exit airport through the West entrance (not East) on level 6. Please ignore the fact that level 6 is departures and not arrivals, as it is easier to find one another due to less traffic.Transfer cost round trip / person is USD 175.
Season: May - October.
Group size: During a normal week, there are usually about 14-18 riders. Max. is 24 riders.
Age limit: Minimum age for all guests is 18
Electricity: Standard 110 American plug ins in all rooms, they do have adapters but best to bring your own to be safe.
Tips: Standard is usually 20% of the stay, gratuities are appreciated but not mandatory.
Misc.: There is free Wi-fi in the rooms. They accept crecit cards.
Feedback from our travellers