Greece, Crete - Sun, sea and moonlight riding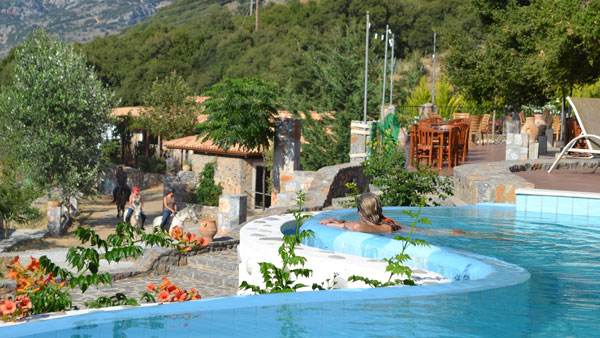 If you are a family or a group where not everyone rides, this program is ideal. Enjoy the Greek life. Sunbathing, swimming, exploring the island and when it cools down in the evening, those who want can venture out on a two-hour ride with a guide through the wonderfully varied Langada landscape. For those who do not ride, there are many activates to choose from including golf, mountain climbing and paragliding. Or why not just enjoy the good life with a good book by the pool.
The information on this page is specific to this ride. Click here fore more information>>
The Program
You start at the equestrian center and ride in a different direction every day. You will explore the valleys and mountains around the farm and experience both the natural and cultural beauty of the area. Some days you will bring a picnic lunch with you that you can buy in a local restaurant.
You will ride both in the valleys and up the mountains. On one of the days you can ride to a mysterious church nearby. This is not just any church, it lies deep in a cave within the rock. After visiting the church, you ride over the Monchos Plateau where you can have a fast, fun gallop.
This trip suits those who want something more than just riding on their vacation. Experience the Cretan life, sunbathe and swim in the sea or pool or visit one of Crete's ancient sites.