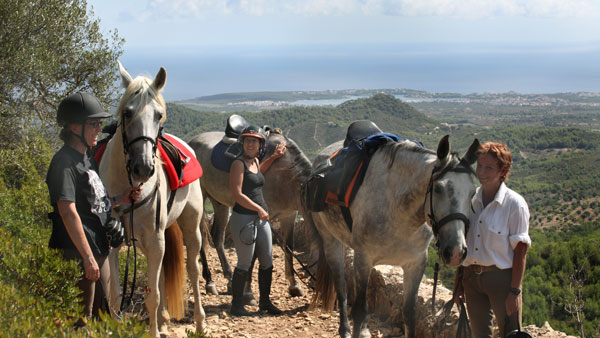 This adventurous programme begins with a one hour lesson and one hour trail on Monday and is followed by trails and one day off to explore the city of Palma or Es Trenc beach.
This programme includes three full-day rides to the monasteries on mount Sant Salvador, Consolació, and Montission. Riders visiting in November have the opportunity to ride to the beautiful Es Trenc beach, bringing the total number of day rides to four. A supplementary charge is required to take part in the Es Trenc ride. Due the government conservation policies the trail to the beach is only available during November. A 2 hour trail through the farmlands surrounding the finca also help provide a deeper understanding of the history and present-day life.

Read more Travel Information here>>
Preliminary program. The program below can be in different order.
Sunday: Arrival
Monday: 1 h lesson and 1 h hack
Tuesday: Full day ride to Monastery Montission
Wednesday: Full day ride to Santuari de Consolació
Thursday: Free day to visit Palma or the beach "Es Trenc"
Friday: Full day ride to Santuari de Sant Salvador
Saturday: 2 h hack
Sunday: Breakfast and departure
During the month of November, it is possible to add a beach ride to Es Trenc beach instead of Saturday's regular program. You then drive 20 minutes by car to Sa Rapita where you start to ride to Es Tranc Beach. You pass Ses Covetes and then continue up the mountains to Salobrar (salt mountains) with beautiful views of the beach and then back to Sa Rapita. You also stop for pick nick lunch during the day. Price for this option can be found under Book on request under Date & prices below. About 4 hours riding.