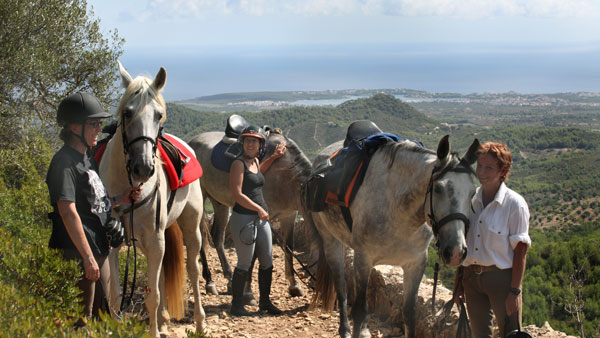 The Á la Carte program begins with a lesson and a ride out and is followed by two full-day rides. After a day off, you can choose what you want to do the last two days, practicing dressage or jumping or riding out.
Read more Travel Information here>>
Preliminary program. The program below can be in different order.
Sunday: Arrival
Monday: 1 h lesson and 1 h hack
Tuesday: Full day ride to Monastery Montission
Wednesday: Full day ride to Santuari de Consolació
Thursday: Free day to visit Palma or the beach "Es Trenc"
Friday: Full day ride to Santuari de Sant Salvador
Saturday: 2 h hack or 1½ h show jumping or 1 h dressage lesson (advise when you make a Book on request if you want hack or jumping or dressage lesson)
Sunday: Breakfast and departure
During the month of November, it is possible to add a beach ride to Es Trenc beach instead of Saturday's regular program. You then drive 20 minutes by car to Sa Rapita where you start to ride to Es Tranc Beach. You pass Ses Covetes and then continue up the mountains to Salobrar (salt mountains) with beautiful views of the beach and then back to Sa Rapita. You also stop for pick nick lunch during the day. Price for this option can be found under Book on request under Date & prices below. About 4 hours riding.