Spain, Menorca – Cami de Cavalls – The Horses Path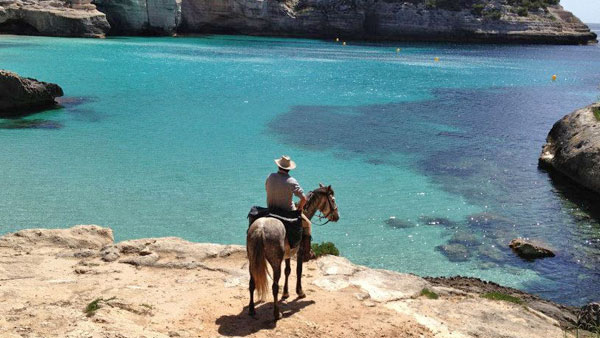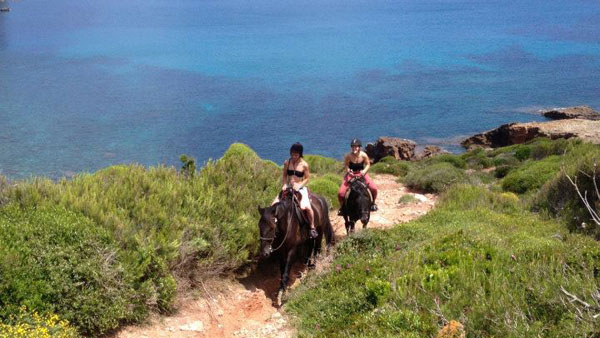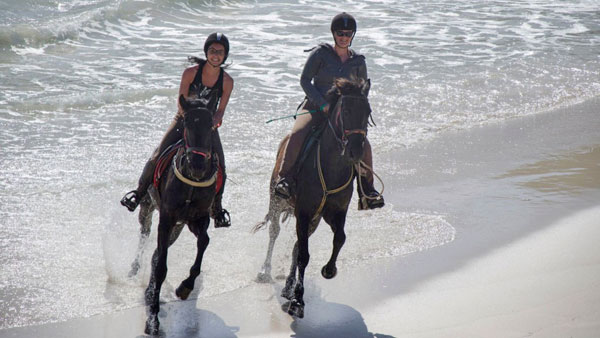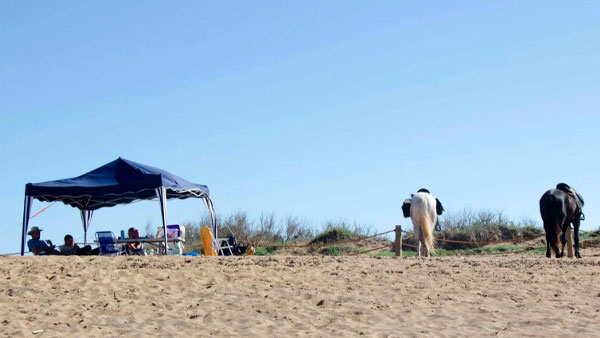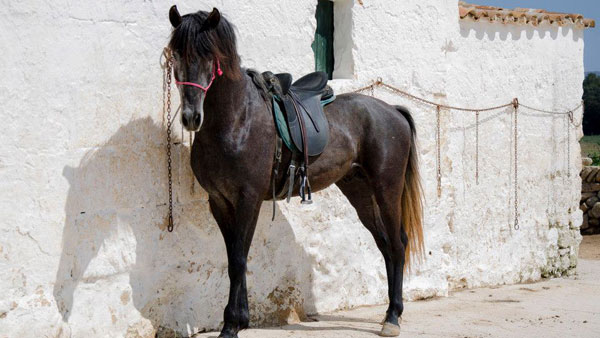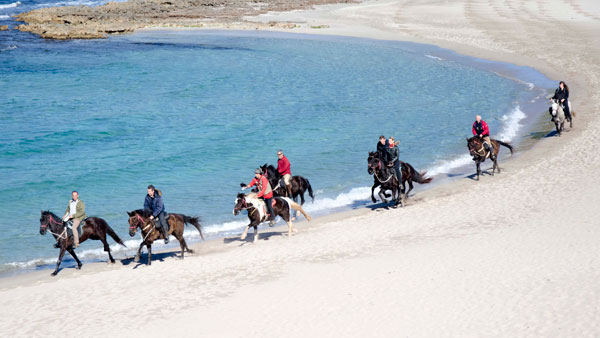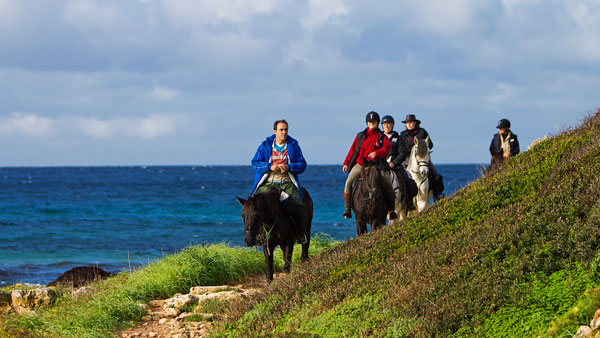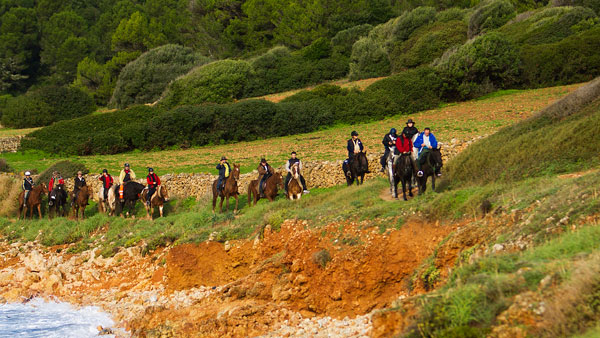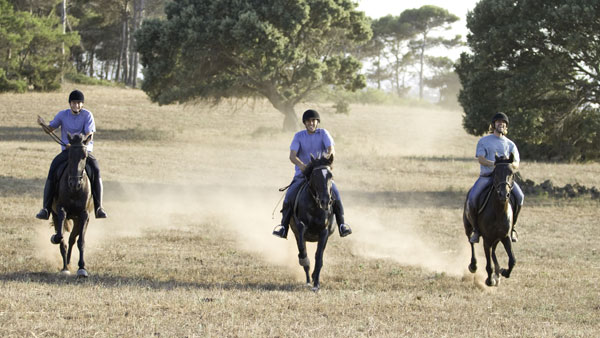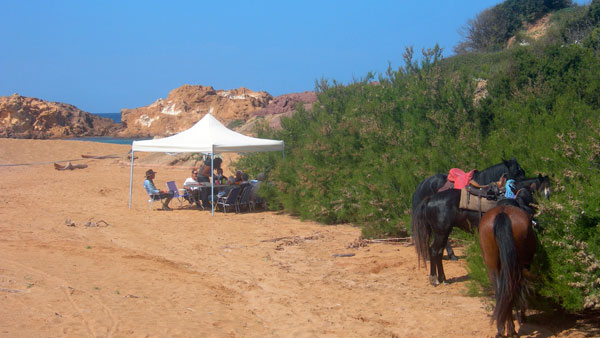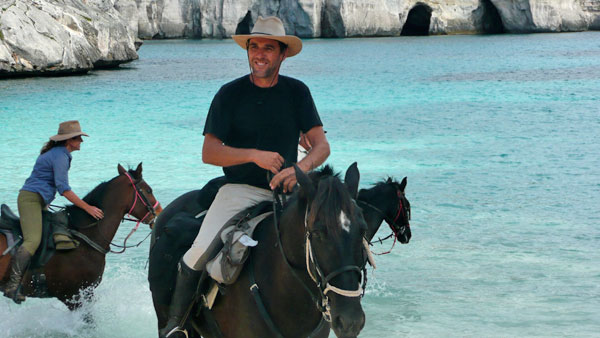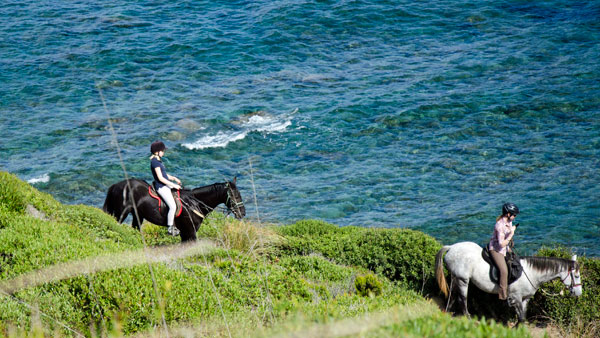 With its 120 beaches, many of them hidden amongst the cliffs and caves, Menorca is perhaps the best-kept secret in the Western Mediterranean. The horse's role on the small island is significant. It has even bred a separate breed, the muscular Menorquinern, which is always black and very reminiscent of Andalucían's in appearance.
Follow Toni along the Cami de Cavalls - The Horses' Path. Toni has been riding since he was a child and has pursued several different riding disciplines - he is a genuine and passionate horseman. In the course of the week, he will take you around the winding paths, over mountains and along the beaches. You will leave this little sister to the better-known Majorca with all your senses filled.
Accommodation and Food
You will stay in a double room with shower / toilet. Single rooms can be booked for an additional charge.
You will stay at several different hotels and guesthouses all chosen for their special charm. In addition to horses, Menorca is known for its delicious Mediterranean cuisine, homemade cheese and tasty gin. So you get to taste the best both in terms of natural beauty, food and drink.
Safe deposit box: Yes at some hotels
A/C: Yes at most hotels
Hair Dryer: Yes at most hotels
Towels and sheets: Yes
Fridge: Yes at some hotels
The Program
Day 1: Pick up at the airport and driven to your friendly guesthouse in Ciutadella, about 40 minutes. Here you will be served a delicious welcome dinner.
Day 2: After breakfast, you will be picked up and driven to the horses. A suitable horse will be found for you and then the trail ride begins from "Euges the Flo" to Torre del Ram. You will pass long stonewalls and eventually reach Cala Morell Beach, where you stop for a cozy picnic at the caves. This is an important archaeological site in Menorca, The Necropolis of Cala Morell, consisting of fourteen caves that have been excavated out of the cliff side. You then ride on to the riding center where you unsaddle the horses and get acquainted with your surroundings. You can also see a Menorquín stallion that is so typical of Menorca. You will be driven to your accommodation where you will have dinner and stay overnight. There is also a pool.
Day 3: Breakfast and transfer to the riding center where the horses are prepared for the next adventure. Today you will ride from Pla de Mar to Cala Pilar. The pure intense blue waters stand in stark contrast to the reddish-brown rocks and soil that is so typical of northern Menorca. This stretch runs along one of the wildest parts of the northern coast and includes some very hilly terrain. At the "Els Alocs" you will eat lunch or enjoy a picnic. After lunch, you continue to Cala'n Calderer, Cala Barill and Pregonda and then turn off to Sant Vicent Farm. You will then leave the horses and be driven the hotel where you will have dinner and stay overnight.
Day 4: After breakfast, you are driven back to Sant Vicent and start the day's riding from Binimel-là to Cap de Cavalleria. This is one of the best preserved stretches of the Menorcan coast. After you have left Binimel-là Beach the path continues inland between farmland and stonewalls until you reach Cavalleria Beach and its impressive sand dunes. Visit to the Cap de Cavalleria Ecomuseum and picnic at Cala Viola. You then continue along the coastline with its colorful contrasts and strangely shaped rocks and arrive at Cala Tirand. You end the day at the Hostal Port Fornells. It is a frendly spot where the owners have horses and participate on the island's "Jaleo" festival.
Day 5: Breakfast and transfer of horses and riders to the park next to Torre De Galmés. While the horses are being made ready, you can visit the local stone houses - talayot. You then head to Cami de Cavalls at Llucalari and continue to the largest beach in Menorca, Son Bou. From there, you head inland and arrive at Sant Tomas where you eat lunch at the Es Bruc restaurant. After lunch, you will stop and visit the amazing Cova des Colom as you head towards the hotel at Binigaus Vell.
Day 6: Back to the horses and today you ride to Cala Mitjana, Gala Galdana and Macarella. Initially, you will ride through Binigaus and its farmland before arriving at the gorges of Trebaluger and es Calafat. You then continue to the idyllic Cala Mitjana and follow the coastline to Cala Galdana. Once at the Algendar Gorge at Cala Galdana, you will explore more caves. Not far from Macarella is Torralbet Farm where you will stop and eat a typical Menorian meal with cold cuts (sobrassada, carn in Xua, cuixot etc) and cheese – all of which is produced on the farm. After a good lunch and siesta, you continue to Macaralleta Bay with its clear blue water. You then ride through the ancient olive groves and cypresses until you come to the sand dunes alongside the picture oerfect beach of Cala en Turqueta. Transfer to the hotel.
Day 7: Breakfast and transfer to the airport.

(Subject to change due to local circumstances beyond our control.)
Horses
Spanish cross and Menorquín horses..The Menorquin Horse is a relatively new breed (officially anyway) as it was wasn't recognized until 1987. Despite it's recent recognition the people of Menorca have been calling these handsome animals Menorquin horses for centuries. Average height 15.2 – 16.3 hands.
There are easy horses for not so secure riders and more challingen ones for the more experienced riders.
English and Western saddles
Climate



Travel Information
Ability description: Trail ride Level 2-3 >>
Included in the price: 6 nights, 5 days riding, full board (incl. wine and water with dinners), transfer
Not included: Flight, drinks.
Travel: Book flight/rental car >> We help you book your flight if you wish.
Flight to Menorca / Mahon.
Transfer: Book in advance with HorseXplore.
From airport to equestrian center, about 40 minutes by car. Meeting time at 4.00PM in arrival hall. A representative from the riding centre will meet you when your flight arrives.
Accommodation: Double room with shower / toilet in the room.

Single room: It is possible to book a single room (price for single supplement is available under Dates & Prices, Book on request). If there is no one to share a room with, a single supplement will be added.
Riding: Trailride with change of accommodation. Mainly walk along the main part of the trail. A couple of short trot and canter every day (except Tuesday). It is not a fast trail. You ride along trails with rocks, difficult for the horses and it is a trail for experienced riders with good technique. About 4-6 hours riding / day.
Group size: Min. 4 maximum of 8 riders.
Currency: EUR
Credit card: Accepted at most hotels.
Tipping: Not required but appreciated.
Wifi: Yes at most hotels.
Electricity jack: EU standard
Age limit: Min. 14 years.
Closest village: Depending on hotels, 0-4 km away.
Beach: Always near by!
Pool: Yes, in sevaral of the hotels/hostels.
Misc.:
Riding equipment to borrow: Helmet
Saddle bag available: Yes
Special diet: Inform when booking.