South Africa and Botswana - African Explorer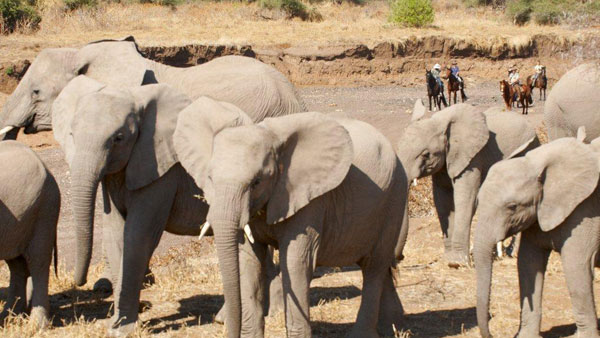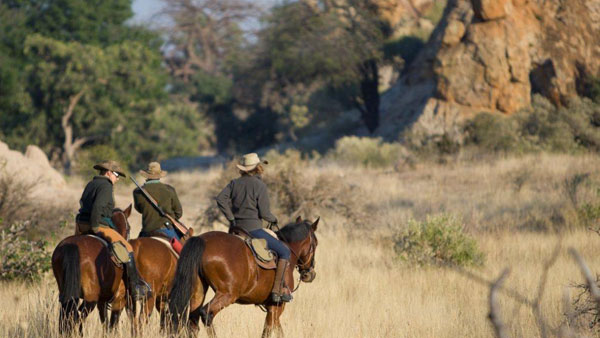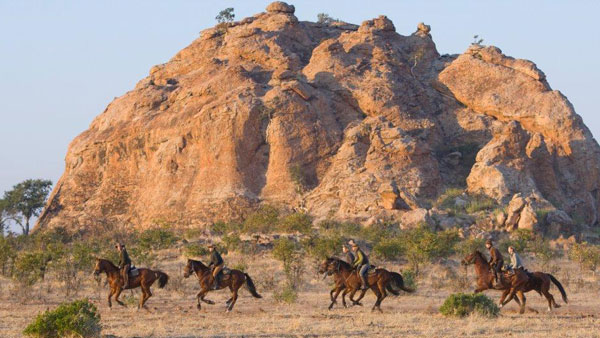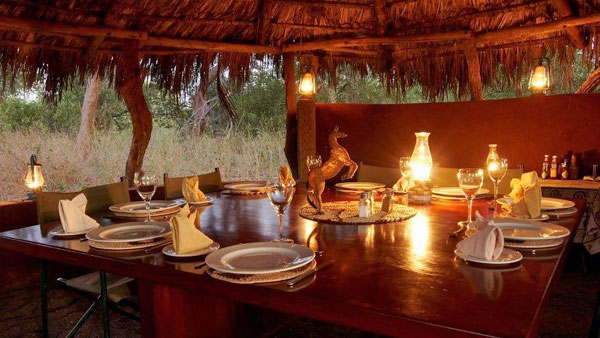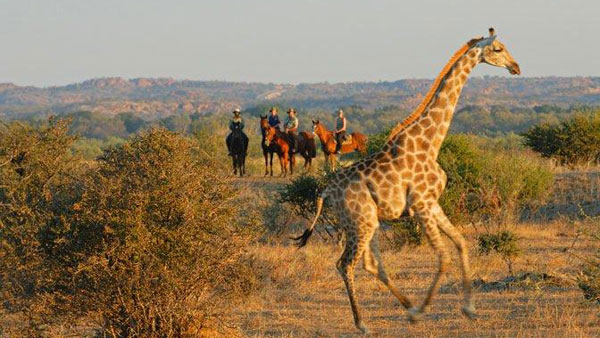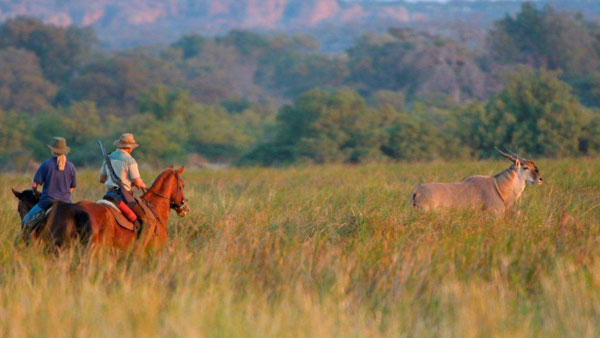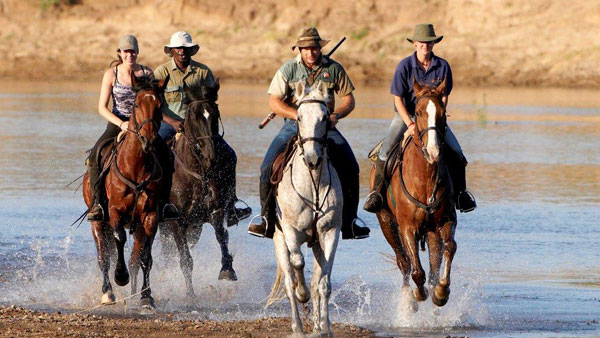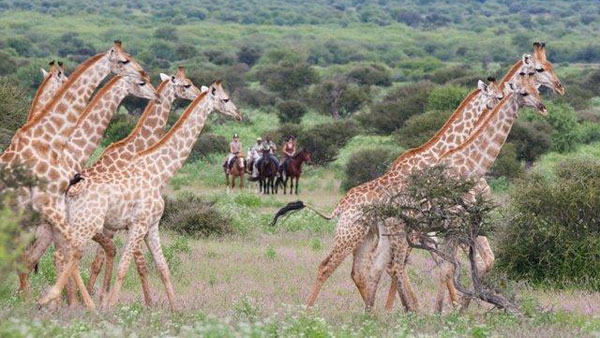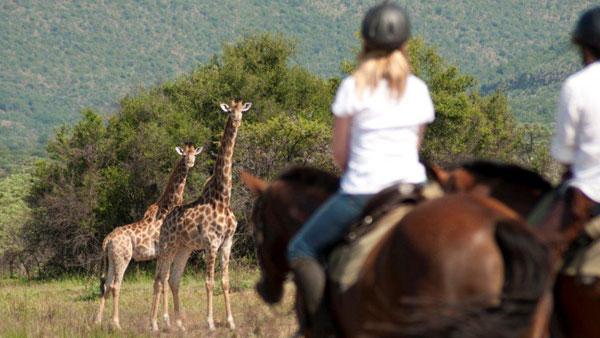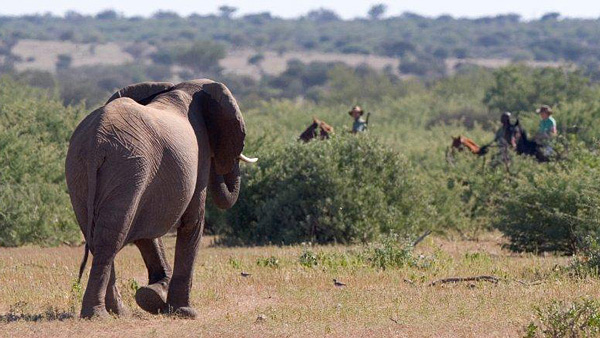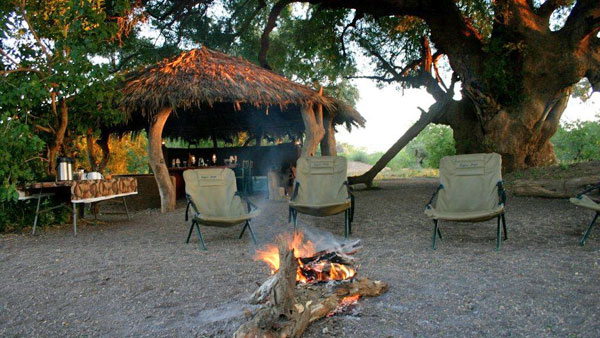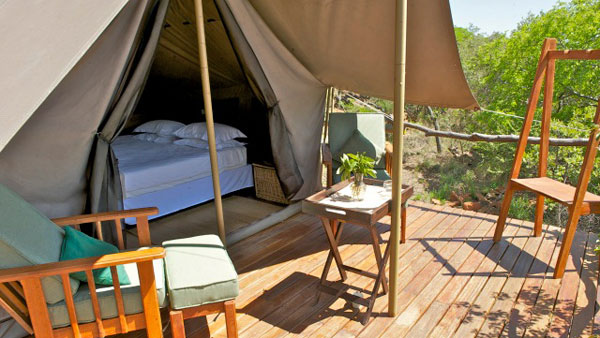 Get the best of two countries. Ideal for experienced riders who want to get as much as possible from their African riding holiday.
This exciting ride combines four nights in a newly built camp in the Waterberg and three nights in the Limpopo Valley in Botswana. First explored Waterberg's fantastic Highlands and then move to Mashatu Game Reserve, Tuli, on new horses.
There is plenty of wildlife. In South Africa in this private game reserve, there is a good chance of seeing wild animals such as giraffe, zebra, impala, red hartebeest, eland and reedbuck as well as many of the smaller mammals such as jackals, baboons, monkeys and warthogs. In Botswana Mashatu that covers 30,000 hectares is home to great herds of elephant, as well as numerous cats, including leopards, lions, cheetah, African wild cat and cerval and a multitude of plains game like zebra, wildebeest and giraffe, as well as over 350 species of birds.
The camp at Waterberg is located high above the Matlapeng Valley in the heart of the forested mountains. Here you have a wonderful panoramic view of the central highlands in the Waterberg Massif.
The classic two-man safari tents are built on wooden decks with private bathrooms behind the tent.
Depending on the season, the Botswana part of the safari can either be a mobile camping safari or a camp nestled in the shadows of Centurion Mashatu trees. The tents are built on teak platforms, with private toilets and hot showers. In the mobile camps there are comfortable beds with sheets and duvets. Facilities include a bucket shower and "bush toilet". Meals are cooked over a campfire.
The food is excellent, the lunch often consists of hearty picnics and dinners are excellent with lots of vegetables and are served with good wine.
Horse Riding
All horses are ridden English style. You ride with light contact with the horse's mouth and when galloping you stand in the stirrups to save the horses' backs. The saddles are custom designed for the trail rides (not Western saddles). In Botswana you use English saddles. You ride 3-7 hours per day.
Travel Information
Ability description: Trail Ride level 3 >> Guests must be experienced riders. They must ride regularly (at least once or twice a week) and be comfortable at posting trot, light seat canter and gallop as well as being able to do small jumps should they have to. They must be able to control a horse independently of the group at all paces. On arrival in Botswana you will be asked to do a independent riding test.
Included in the price: 7 nights, 8 days riding, full board incl. house wine, beer, soda, return transfer to/from Johannesburg airport according to set times.
Not included: Flight to/from Johannesburg (OR Tambo), fine wine, liquor and tips.
Transfers: Transfers are included in the price. Book a flight that land by 9.30am latest. Go to the info desk in the arrivals hall as soon as possible. The driver will be there to meet you and will advise of the expected departure time from ORT. The latest departure time being 10.30am. On the return trip you leave the camp in Botswana at 11:00am and arrive at Johannesburg airport between 3.30 and 6pm. Therefore book a departing flight after 8.30 pm from Johannesburg. On some dates you can fly from Botswana to Johannesburg, about 265 EUR extra /person (min. 2 persons). Contact HorseXplore if you like to flyg back to Johannesburg. Provide us your arrival and departure details in good time. If you need a transfer at other times there will be an additional transfer cost.
Number of riders: A minimum of 2 and a maximum of 8. If only one to four participants you may be upgraded in South Africa to the lodge based Waterberg - Ranch Stay if available.
Age limit: Very experienced children from 12 years, accompanied by an adult.
Wi-fi: Yes there is a limited service in both locations.
Electricity: In each tent in both locations there is a small solar charger that can charge most cell phones with a USB port.
Misc: A Tourism levy of $30 pp payable on entry into Botswana will come into place on June 1, 2017. Please bring dollars to avoid inflated exchange rates and bring the correct amount as there is sometimes a lack of change at borders. Other costs such as souvenir shopping and gratuities in both SA and Botswana can be done in rand.
The Program
This is an example of the weekly program. It may change due to local circumstances. No week is like another with wild animals moving about in the large reserve.
This exciting new ride combines four nights in a camp built high above Matlapeng Valley and three nights in the Limpopo Valley in Botswana. A great combination where you will explore the central highlands of the Waterberg Massif in South Africa before moving to the big Mashatu Game Reserve, Tuli Blocket, Botswana.
Day 1
You will be met at Johannesburg International Airport and driven to the ranch (about 3 hours) in time for lunch. In the afternoon, you test ride a horse that matches your riding skills and experience before you ride out to the camp. On the way to the camp in the Matlapeng Reserve, you will stop and enjoy an evening drink at Red Lake where you can meet the hippos who are usually there, before you continue your ride up the ridge to the camp.
Day 2
A day of exploration in the reserve, tracking giraffe, zebra, eland, wildebeest, kudu and impala. We pass "Sunset Lake: where resident fish eagles and Spur-Winged geese are often spotted and its shallow banks give us a great opportunity for some great photo opportunities catering through the water. We return to camp in time for lunch and a chance to relax by the pool. The afternoon ride takes us on a ride with a good chance of more hippo viewing and some nice long canters. That evening there is the option of a night sky safari with local astronomer Dr Philip Calcott, who will guide you through the constellations. The absence of light pollution enables us an incredible chance to view some of the amazing wonders of the universe.
Day 3
A morning ride with a chance to track game, enjoy some of our jumping lanes and finish off with a swim with the horses in one of many reserve lakes before returning to camp for a large and lazy lunch. After lunch we depart for a game drive in a 'Big Five' private game reserve, with a chance to see rhino, lion, elephant, buffalo and leopard.
Day 4
A full day ride west of camp takes you to a neighboring game reserve. This ride offers lovely long canters on sandy tracks and great game viewing opportunities on large plains populated by wildebeest, hartebeest, sable, eland and blesbok among others. Then it's on to the historic Baber homestead for lunch by the poolside. That afternoon riders return to camp via the local Sotho village and visit Beadle, a craft workshop on Triple B Ranch which has a community upliftment project since 1998. The crafters specialise in beautiful handmade beadwork and leather products including riding chaps. We finish the day with sundowners at a favorite lookout spot and return to the tranquility of the Camp where dinner is served under the stars.
Day 5
We leave camp early and riders mount for a last ride through the reserve, soaking up the early morning sights and sounds of the African bush to the lodge. Guests
depart from the lodge by 9.30 and are transferred to Botswana. Once at the stables an introductory afternoon ride will familiarize riders with their horses for this leg of the safari, arriving at the Two Mashatus camp in time to freshen up before supper.
Day 6
An early wake-up call with tea/ coffee brought to your tent, followed by breakfast around the campfire. We make an early start each day to enjoy the freshness of the morning and to maximize game-viewing opportunities. The group is given the choice of a longer morning ride and an afternoon guided walk, or two shorter rides. Undoubtedly the large herds of elephant for which the Tuli is renowned will be encountered, as well as many different species of antelope. Giraffe, zebra, bat-eared fox, jackal, hyena and possibly even lion, leopard, wild dog and cheetah can be seen. You will arrive back at Two Mashatus camp in time for lunch and a cooling afternoon in the shady camp or lazing by the pool. That afternoon the group have the choice of an afternoon ride or guided walk along the Limpopo River, enjoying the rich birdlife, spotting crocodile in the pools and learning about the magnificent trees lining the banks.
Day 7
Ride out following the movements of wildlife in the area. The tempo of the rides is always varied and depending on the terrain, there are opportunities to enjoy the spirit and fitness of the horses at a faster pace. The afternoon brings a chance to enjoy a Mashatu game drive. Mashatu is famous for big cat sightings and this is definitely a wonderful opportunity for keen photographers to capture sightings of lion, leopard, cheetah, hyena and elephant.
Day 8
After a last morning ride back to the stables there is time for a quick shower and brunch at the reception area before heading back to Johannesburg International via the Pontdrift Border Post.
Please be aware that due to changes in weather and other unforeseen events the itinerary may be changed at the last minute.