Romania, Hasmas Mountain - Nomad Tour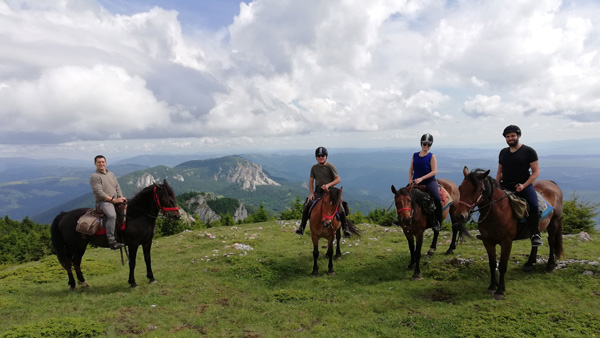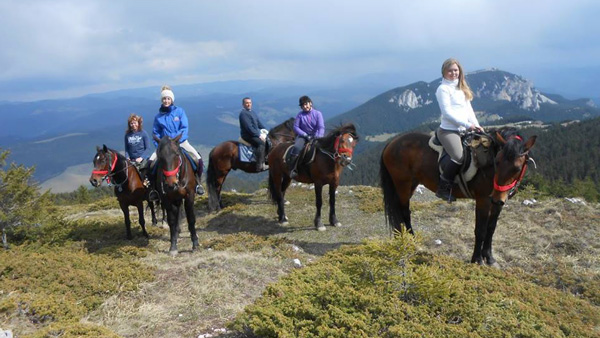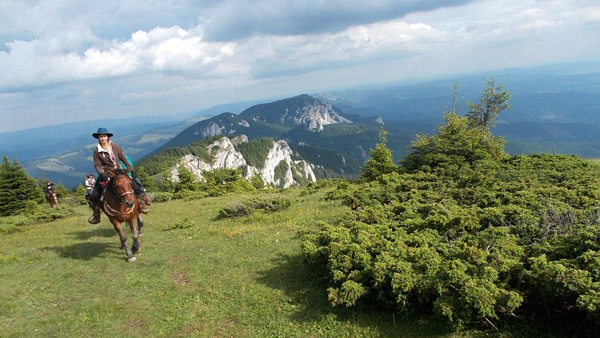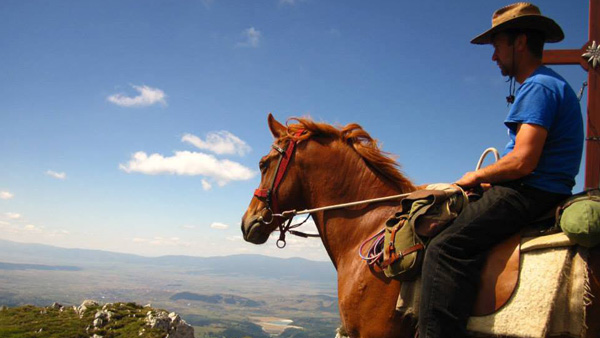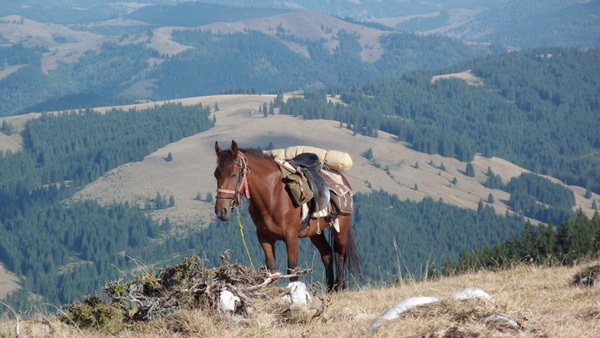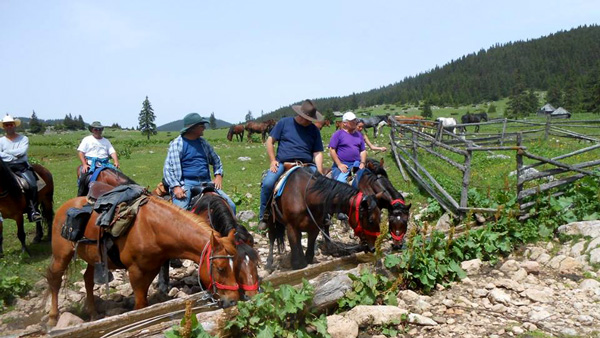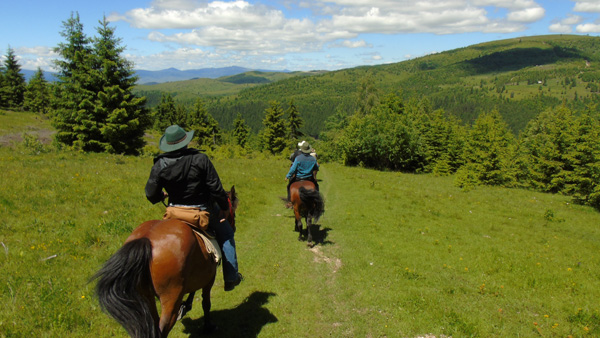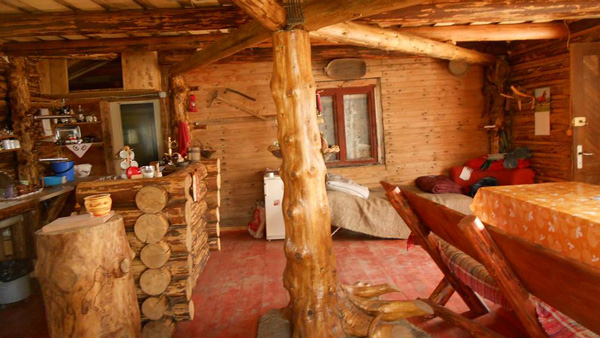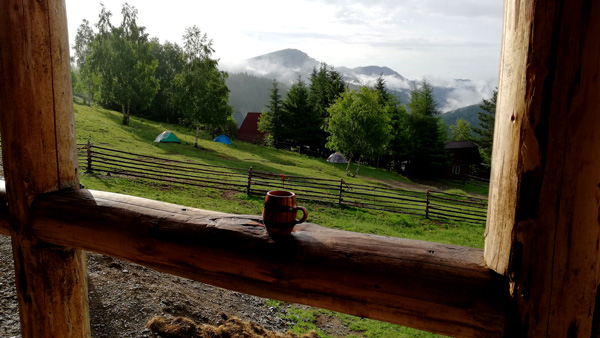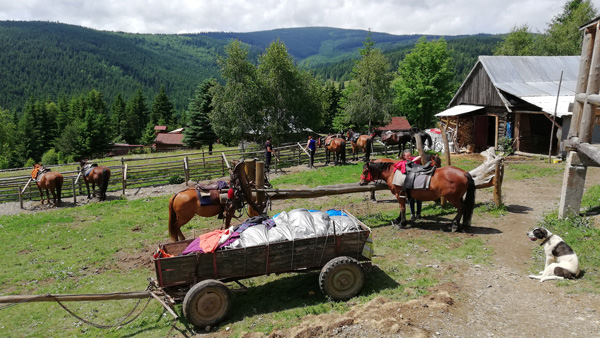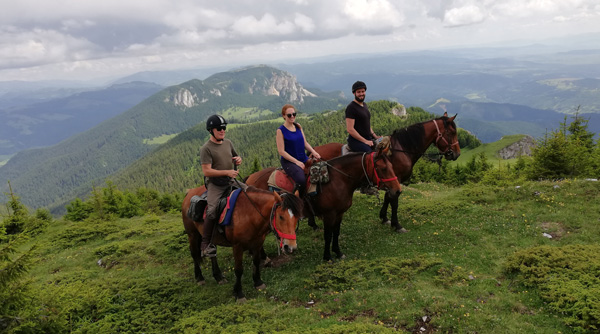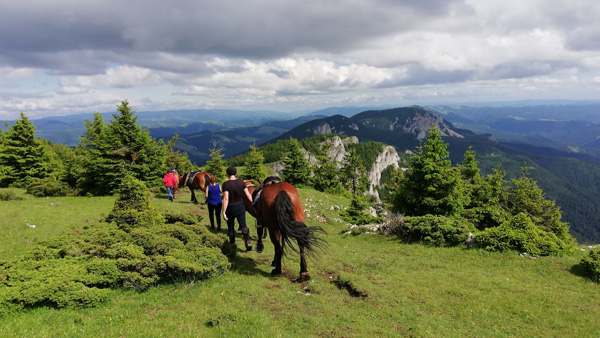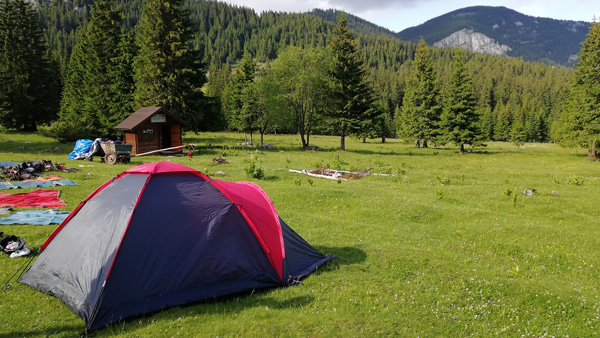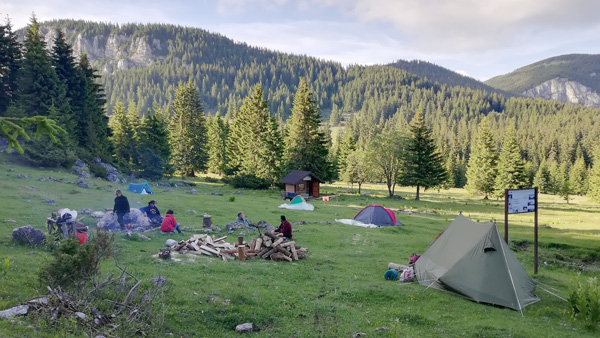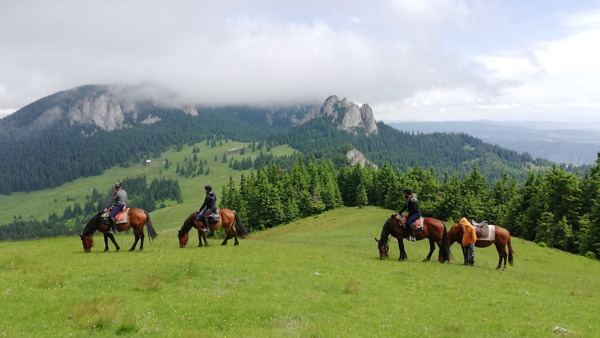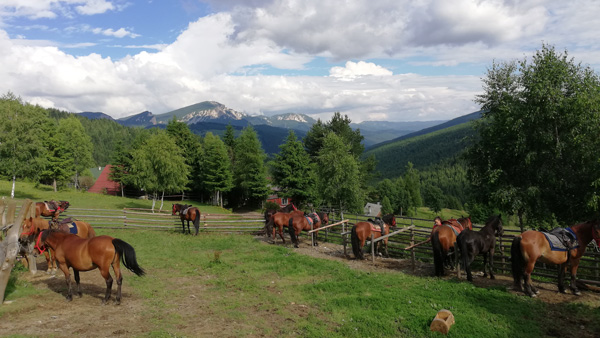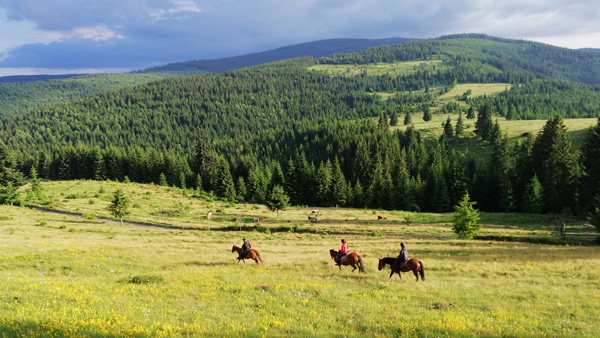 The Hasmas mountains and national park are embraced by the Carpathian mountains and one of the hidden gems of Europe. The all-encompassing silence, extensive forests and pastures which cover the mountains, together with the rich wildlife, conjures up a world which has been seemingly long forgotten. The Eastern Carpathians are made up of rugged mountains between 1000- 2000 m height with varied composition, densely slashed by rivers and creeks, while pine forests, pastures and meadows guarantee the ideal conditions for gallops. As if time has stopped, people still live and run their farms as they did 50 - 100 years ago in other places of Europe.

The tour's base is located in Kovácspéter, at 1375 m altitude, near the Bicaz Gorges – Hășmaș Mountains National Park, where dispersed summer shelters and weekend houses can be found. Here you will find the horse ranch of a local family who runs horse riding tours during the summer season and runs a traditional blacksmith atelier in the village of Sândominic (Csíkszentdomokos in Hungarian) during wintertime. Guests joining these tours should be prepared to camp in tents and to ride locally bred horses who will carry you safely across the various terrain. These horses live out in the pastures of Kovácspéter as a herd along the year and they are very resilient to the steep, rocky terrain of the mountains.
The ranch offers spectacular views of the Hășmașul Mare Peak (1792 m) or Nagyhagymás in Hungarian and the surrounding forests. These tours are for travelers seeking an offbeat and authentic Carpathian experience!
Program - Nomad Tour
6 nights / 5 days of horse riding; 4 nights camping or staying in the ranch's summer hut in Kovácspéter and 2 nights wild camping in nature; full board. 3-6 hours riding/day. There are some steep slopes where you need to lead your horse.
The guide's knowledge of the region and weather allows him to adapt the daily routes depending on local conditions. The following is an illustration of the likely itinerary but local conditions may dictate that the order of the itinerary needs to be changed, always with your best interests in mind.
Day 1 Sunday: Upon request, your driver will wait for you at the airport and take you to the base of your tour located at 1375 m high Kovácspéter ridge. Here you can have the first contact with your horse, set up your tent and discuss the program and the rules of the following days with your bilingual tour guide as you enjoy a warm welcoming dinner home cooked by the family. Overnight is in tent or in the hut in Kovácspéter.
Day 2 Monday: After a wholesome breakfast and getting acquainted with the horses, an easy riding tour to the source of the Olt river follows which is good for testing our guests equestrian knowledge. Here you can learn about the local legends linked to this river and water the horses. From here we continue our trail on the valley of the Sóvető creek on a long steep path through pine forest on the biggest part of the trail. On the Szanduj glade we have a snack from local foods in the company of grazing horses. From here we can see the beautiful surrounding mountains and the trails of the following days. After a short rest we ride back on another route leading through dense pine forests to the horse ranch in Kovácspéter. In the evening warm meal, campfire and grill awaits you. Overnight is in tent.
Distance: 10 km, 3-4 hours of horse riding, elevation gain 529 m
Day 3 Tuesday: After a hearty breakfast, we saddle and pack up the horses, then start our tour along the main ridge of the Hășmaș Mountains. Today's destination is Fehérmező (can be translated as White Glade) which is the biggest karst plateau of the Hășmas Mountains and it is located at 1460 m altitude. The main highlights of the trail are the Meggyes peak (1504 m), Ló-havas (1677 m), Csofránka peak (1508 m) and the Tunzéria pasture. Here you can enjoy free galloping on forest roads, meadows and extended mountain pastures where summer shelters, sheep flocks, cows and horse herds can be spotted. If we arrive in time, we can even catch the evening sheep milking at one of the sheepfolds. Once we reached Fehérmező, we set up our campsite in nature, prepare together a warm dinner in a cauldron set above campfire, enjoy sunset views and discuss the thrills of the day. Dinner and wild camping in Fehérmező.
Distance:14 km, 3-4 hours of horse riding, elevation gain 465 m
Day 4 Wednesday: Today we ride towards the top of the Hășmaș Mountains, to the 1792 m high karstic Hășmaș Mare or Nagyhagymás Peak from where scenic views unfold to the villages of the Ciuc Depression below, to the Tarcău, Ciuc, Harghita and Călimani Mountains and to the rocky crag of the Ceahlau Massif. From here we ride further south to one of the most frequented hiking huts in the Eastern Carpathians, to the Lonely Stone Hut (Cabana Piatra Singuratică în Romanian, Egyeskő Menedékház in Hungarian) situated at 1504 m altitude at the foot of a rock cathedral. This hut was built in 1932 and it is a major touristic node as it is located at the intersection of the hiking trails leading to the peaks of the Hășmaș Mare and the Ecem Mountains. As part making part of the Bicaz Gorges- Hășmaș Mountains National Park, these are accessible only by foot or by horseback riding. From the hut we ride back on a different route to our camp in Fehérmező. Dinner and overnight in a tent near a hiking hut in Fehérmező.
Distance:12 km, 4-5 hours of horse riding, elevation gain 650 m
Day 5 Thursday: After a picnic style breakfast, we pack our tents and say farewell to the karst landscape of the Hășmaș Mountains as we head back towards the ranch in Kovácspéter. During the trail we pass by the 1589 m high Veres-kő massif, and then descend on a steep forest path along the Vas stream to the valley of the Meggyes stream. From here follows a small hike, then on a smaller mountain ridge we return to our base in Kovácspéter. The wife of your host will be already waiting for you with a warm meal for dinner at the ranch. Overnight is in a tent or hut in Kovácspéter.
Distance: 10 km, 3-4 hours of horse riding, elevation gain 730 m
Day 6 Friday: Today, after a wholesome breakfast, we ride in the surroundings of the 1416 m Magas Bükk Massif, which makes part of the Giurgeu Mountains and bounds the small town of Gheorgheni to the east. The terrain will be varried with small creeks, pine and beech forests and mountain pastures. Overnight is in a tent or hut in Kovácspéter.
Distance:13 km, 3-4 hours of horse riding, elevation gain 356 m
Day 7 Saturday: Breakfast and departure.

Romania, Hasmas Mountains - Nomad Tour - Group with Riitta Kosonen 21-27 juni 2020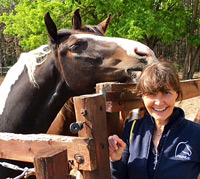 Quite often I get tired of all the city noise and media and yearn for the tranquility and the beautiful nature, going back to simpler life. Do you feel like I take the opportunity to travel with me to this Nomad tour far away from all the stress and pressure.

Group leader: Riitta Kosonen, horseXplores contact in Finland. She is an active rider in all diciplines.
Date: 21-27 June 2020
Group size: Minimum 6, maximum 8
Accommodation & Food
The ranch is composed of a simple wooden mountain hut having three small bedrooms upstairs two of them having 2 single beds, one having a double bed, while downstairs there are 2 single beds and a large and rustic dining room and an interior shared bathroom. Overnights are in tents in the Hășmaș Mountains as presented below. The camping equipment we provide is all modern and high quality, while for insulation and comfort, we provide inflatable lightweight sleeping pads. For small groups (2-3) wanting to share a tent we provide spacious tents; for single occupancy we have dome tents designed for 2 persons. We provide sleeping bags and cozy inner liners at an extra surcharge (40 euro/pers for 6 nights). The camp site in Fehérmező is close to good mountain springs which supply the necessary water for camp cooking and washing, or, if you're a hearty soul, have a wash in the cold mountain spring.
1st night in mountain hut in Kovácspéter, shared bathroom in the hut
2nd night in mountain hut in Kovácspéter, shared bathroom in the hut
3rd night in a camping tent in nature at Fehérmező, no bathroom available
4th night in a camping tent in nature at Fehérmező, no bathroom available
5th night in a mountain hut in Kovácspéter, shared bathroom in the hut
6th night in a mountain hut in Kovácspéter, shared bathroom in the hut
All meals are included and will be of traditional Transylvanian, homecooked food. Vegetarian and gluten free options can be provided as long as we are notified in advance. Breakfast will be a buffet which may include salami, sausage, vegetables, home preserved jams from forrest berries, fresh cheese and milk from a neighbouring farm, fresh eggs, mushrooms from the forest, natural herb tea and coffee. Both hot and cold options are possible. Picnic lunch will be eaten out on the trail. For dinner, traditional Székely (Hungarian minority of Transylvania) meals which may include home cooked soup and hot entrees.
On some evenings in camp, we grill and bake, and these are occasions to gather around a small contained fire. During this period of the year you can pick forest fruits like raspberry, blueberry or mushrooms like chanterelle or porcini among others and ask your hosts to prepare them for you. During your transfer from the airport, you can go to the local shops and buy any snacks or additional food that you would like to take with you on the trip (such as chocolate) or you can buy any missing outdoor equipment at a Decathlon store.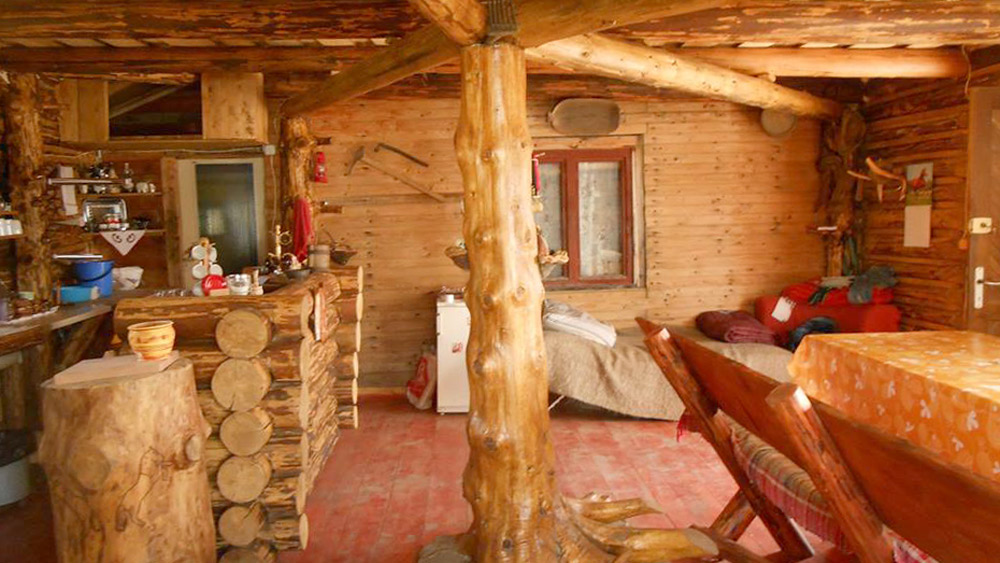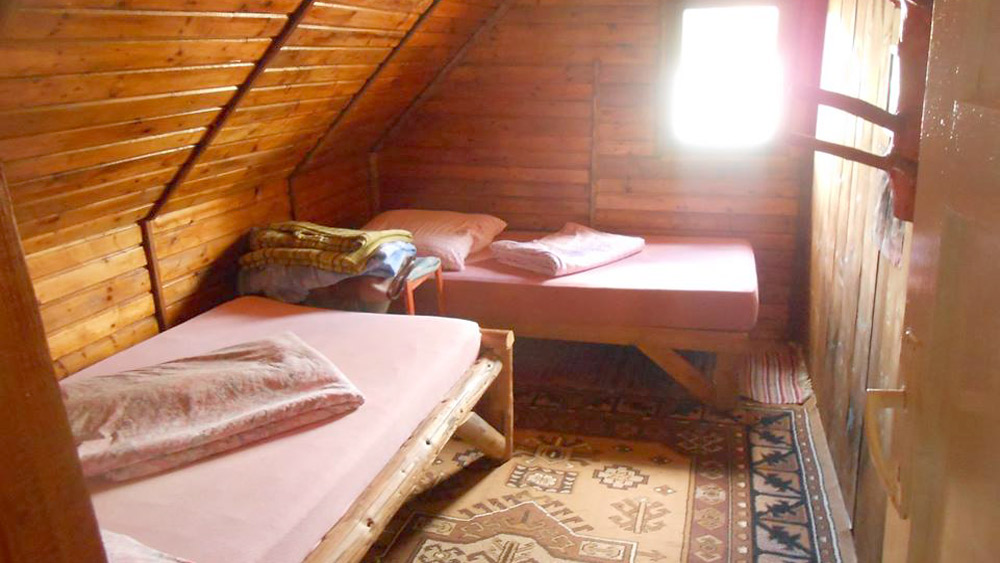 Horses
Local horse breeds, which are very capable to resist on rocky and varied mountain terrain. English saddles and bridles. During the daily rides you can take maximum 5 kg luggage with you in your saddlebag.
Weigh limit: 100kg
Travel Information
Ability description: Trail ride level 2-3
Included in the price: 6 nights, 5 days riding, full board, coffee and tea at breakfast, 1 bottle of water per day
Not included: Flight, beverages, transfer, bear hide (35 EUR pay on spot).
Travel: Fly to Bucharest Otopeni airport (ca 315 km, ca 4 ½ h) alt. Cluj Napoca airport (ca 240km, ca 4h)
Transfer: Book and pay to horseXplore
Bucharest Otopeni airport at 4.30 pm. Book a flight that arrive at 4 pm at the latest and depart after 1pm.
Price: Return transfer from Bucharest airport is 135 euro per person.
Cluj Napoca airport at 5.00 pm. Book a flight that arrive at 4.30 pm at the latest and depart after 12.30 pm.
Price: Return transfer from Clus Napoca is 130 euro per person.
Arrival-/departure day: Sunday afternoon, departure the following Saturday after breakfast.
Season: 15 Juni – 15 September
Single room: For single traveller it is possible with small dome tent.
Pool: No
Group size: Min. 2 and max 7.
Age limit: Min 12 years
Currency: Lei (RON). They do not accept credit cards. It is also possible to pay with EUR in some places, but exchange is recouped in LEI.
Wifi: No. Along the whole tour you will have no phone or WiFi signal in Kovácspéter or in the mountains, so please be prepared for this. Bring a book to read and enjoy this unique digital detox experience