Norway, Jotunheimen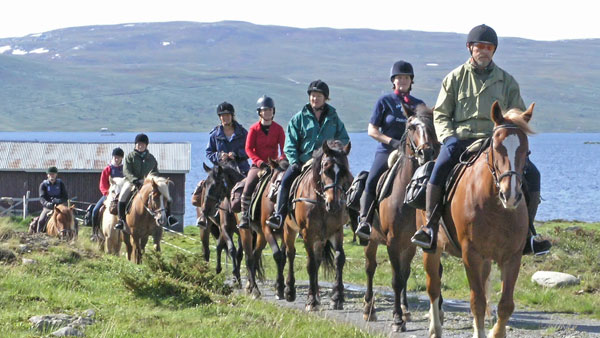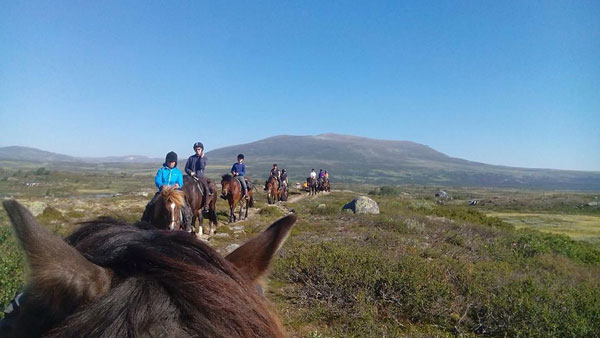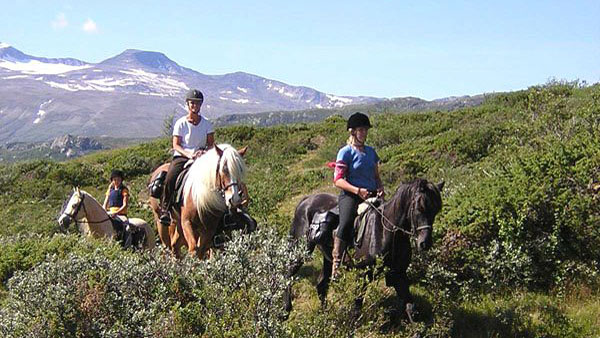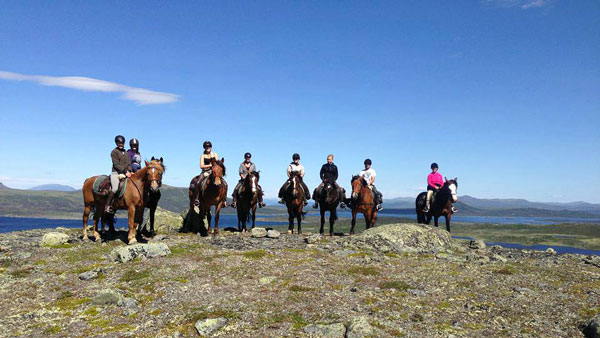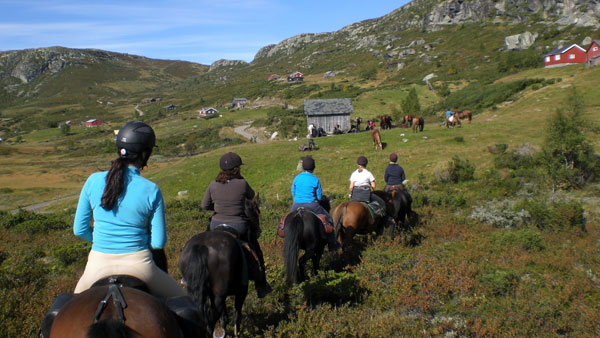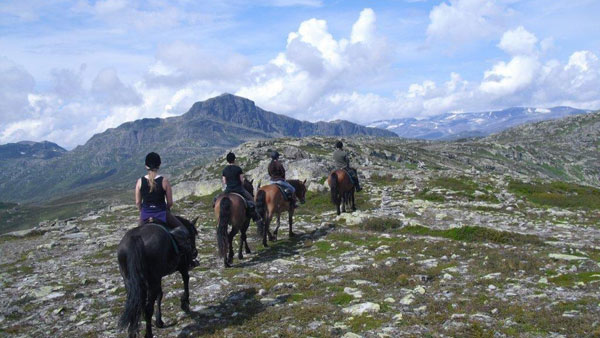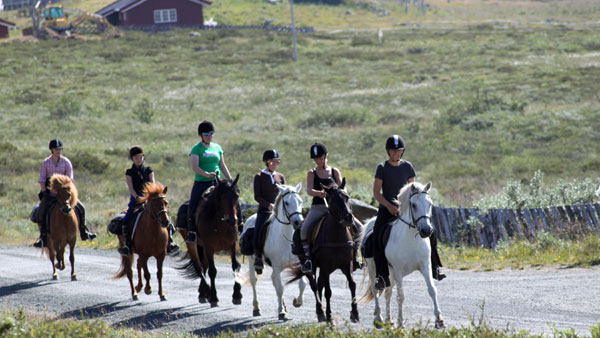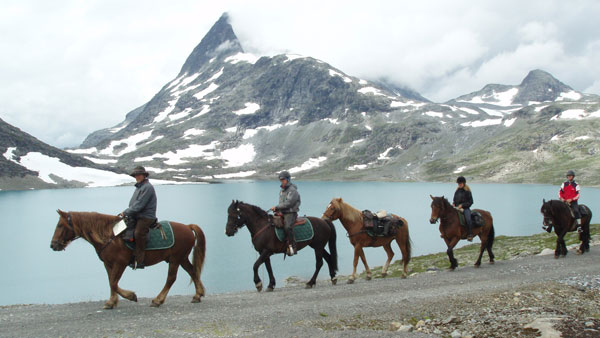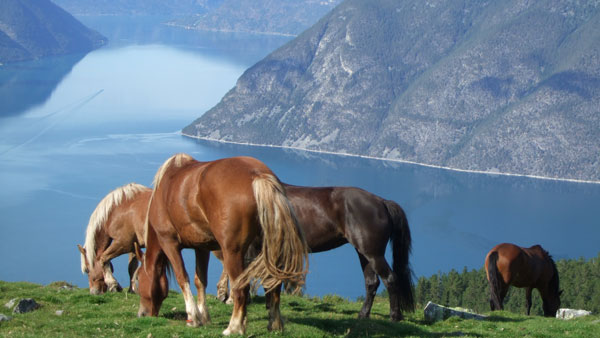 - Trail Ride in Jotunheimen -
Jotunheimen is a fantastic high mountain area in southern Norway and contains Scandinavia's highest mountain peak, at 2469 m (8,600 ft) above sea level, and many glaciers and beautiful mountain lakes. Even the somewhat lower mountain top, Glittertind 2452 m (8,300 ft) above sea level, is located in the area. It is a magnificent landscape with numerous glaciers and mountain lakes. Some of Jotunheimen was preserved as national park in 1980. The riding pace is variated with mostly walk but the terrain can be demanding with climbing up and down the hills.
Here Torgeir has been guiding trail rides for more than thirty years. He is a blacksmith by trade, has successfully competed in four-in-hand competitions and is even an instructor. In the winter when it's too cold for long rides, he drives a sledge with horses.
Torgeir and his team take a break in 2020 and are back again in 2021
Weekly program
Day 1:
On the evening of day 1 at 6.00pm you gather at Bygdin Fjellhotell, 12 km north of Beitostølen along road 51. You are served dinner and Torgeir takes you through the program.
Day 2:
After a first night you begin the trail ride from Beitostölen at around 9.30 am by saddling the horses for the day. The day's ride is 20 km (12 miles) and you follow mainly mountainous terrain. You will pass the 1608 meter high (5,300 ft) peak Bitihorn and end the day with a healthy gallop on the sandy beach at Bygdin. Tonight you stay at the charming High Mountain Hotel in Bygdin, which has a lovely restaurant and a cozy bar.
Day 3:
After a hearty breakfast buffet you saddle up again. Today you are going over Valdresflya. You will pass the ride's highest point, 1400 m (4,600 ft) above sea level. You are greeted by stunning views of the Bessho Leirungs Valley and Rasletind. You rest at the start of the Heim Valley. Today's ride is 30 km (18 miles).
In the evening arrive at a beautiful and intimate hotel. The food served here is superb. You will stay in nice homes or apartments. In the evening, Torgeir gives a lecture on, for example, hoofs.
Day 4:
Today, the horses rest and either take it slow or follow us on an exciting mountain activity. You can choose between rafting, boating on beautiful Lake Gjende, or walking over the mythical Besseggen, handicraft tours or canyoning (you swim and climb in the deep ravines). There is something for both the cultural and the adventurous. These activities are not included in the price.
Day 5:
Today you head south again. You ride through Bruruskaret and down to the Upper Heimdalsvatnet. The destination is Haugseter at Vinstervatnet. In the evening there will be competition in "horse shoe throwing".
Day 6:
Friday is the tour's free riding stage. Today's stage is about 30 km (18 miles). Four to five riders ride together and set the pace themselves. The ride goes along Vinstervatnet on the Jotunheim Road to Buho. The group gathers for lunch and rides together to Haugseter.
Day 7:
The tour's final stage is 35km (22 miles) and at five o'clock in the afternoon you are back in Beitostölen. The circle is complete you are served a farewell dinner.
(Subject to change due to local circumstances.)
It is possible to book an extra night if you want to travel in the morning the next day.
The number of participants varies between 20-25 riders. Minimum number of tour participants is 8. Riding experience: children from the age of 12 accompanied by an adult are welcome.
A shorter options 3-4 days
For those of you who are not able to be away so long, there is a three- or four day tour. This includes selected parts from the weekly tour. The format is the same with different accommodation each night and your luggage is transported by car. For lunch there a few days with "smörgåspakke" and a few days you will cook out and get some hot food. Dinners are eaten where you stay overnight.
Meeting day
We meet at 6 p.m. at "Jotnetunet", Beitostølen for dinner, instructions of the trail and each guest will be assigned their horse for the trek. "Jotnetunet" is a celebration hall, built like the houses from the 900's.
Day 1 – Day stage approx. 20 km
Start at 09.30 a.m. with tacking-up the horses. The trail mainly follows mountainous areas and takes us up to the top of Bitihorn at 1608 m. We finish the day with a gallop over the sandy beach of the Bygdin lake. This galloping opportunity is possible at the beginning of the summer season, due to the water level rising in the later summer months. Our destination for this day is the Bygdin mountain hotel. After dinner we meet for a chat in front of the fire.
Day 2 – Day stage approx. 30 km
The destination for today is Haugseter Fjellstue at Lake Vinster. We ride in groups of 4-5 riders along Jotunheimveien (a dirt/gravel road), passing Vassklepp in the direction of Haugseter. There are fantastic possibilities for trotting and galloping along this section. Guests have the possibility to do a trail up in the mountains to the north of Haugseter after lunch ( 7-8 km).
In the evening we meet up and play a game of "horseshoe throwing".

Day 3
We continue our journey in groups and ride for a day trip (about 30 km). The chef from Haugseter makes us a lovely lunch in the middle of the day.
Day 4
The last stage of this trail is about 40 km to Beitostølen. We leave the high mountains and soon find ourselves in the lovely birch-tree forest on our way back down. When we reach Beitostølen we take the horses to their grasing paddock and we enjoy the end of the trail at "Jotnetunet" with dinner about 17.00 pm.
3 days trekking tour:
The route and program is similar to the 4 Day Trek programme, but without day 3.
Each guest is provided with a saddle-bag with space for some extra clothes, camera, and small person items. The rest of the baggage will be transported by car.
4-day outback ride
On this ride, you will ride further into the mountains where the horse is the best mode of transport. After a night in the cabins and breakfast at 8:30 the traile ride begins at around 9.30 am with you saddle the horses. The horses are equipped with sturdy saddlebags where you can pack your clothes etc. The sleeping bag attached behind the saddle. You spend some nights in a tent.
Accommodation and Food
You stay in double rooms and cabins with shared bathrooms. During breakfast, you prepared your "lunchpakke" (sandwiches) according to Norwegian tradition. At lunch, a fire is lit and you can grill your sandwiches. Dinners you eat where you overnight. Bring a towel. On the 4-day outback ride you will stay two nights in a tent (bring a sleeping bag).
If you need to book an extra night at the end of the trip, you can book accommodation here: www.beitocamp.no or www.beitostolen.com
Horses
Mainly Norwegian 'dole' horses, they are 145-160 cm (57-65 in) at the withers. The breed's origin is from the 1800s when English thoroughbreds were crossed with Norwegian draft horses to get a faster carriage horse. It is a very nice and spirited trail riding horse. Torgeir also has some Danish Frederiksborg horses, a couple of welsh cobs and some Icelandic Horses. The horses have saddle bags.
Climate



Travel Information
Ability description: Level, trail ride 2-3 >>
Some demanding terrain, you should be in good physical condition.
Included in the price: Accomodation, riding according to program, full board incl water, coffee/tea.
Not included: Flights, bus to Beitostölen, wine/beer, soda, insurance, activities on the free day and extras not mentioned.
Travel: Book flight/rental car >> We help you book your flight if you wish.
Fly to Oslo.
Bus from Oslo (Valdresekspressen) to Bygdin fjellhotell, about 4 hours. Return from Beitostölen to Oslo.

Riding: Trails ride where you change accommodation during the week. No tents (except on the wilderness trail, 2 nights). Children from the age of 12 accompanied by an adult are welcome. The luggage will be transportet by car to the different accomodations. On the wilderness ride you have saddle bags.
Season: June - August

Group size: The number of participants varies between 20-25 riders. Minimum number of tour participants is 8 riders.
Currency: Norsk krona (NOK).

Credit cards: The riding centre accept credit cards.
Tipping: Is not expected.
Wifi: In some of the accomodations.
Packing list: Riding helmet – mountain shoes/ riding boots – windstopper trousers and jacket – warm underwear and pullovers – gloves, mitten and cap – rainclothes of good quality –
personal toiletry items and towel – tourcup – maybe riding breeches and chaps
Feedback from our travellers