Italy, Sicily - Corleone to Cefalu Trail Ride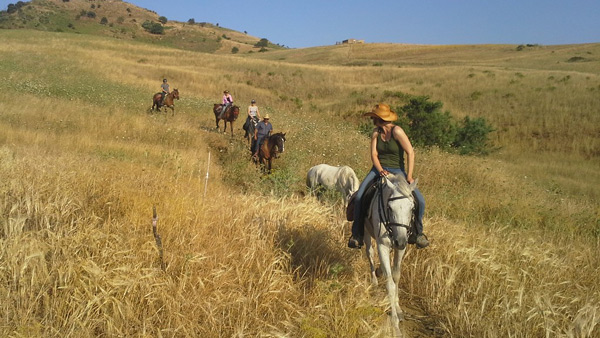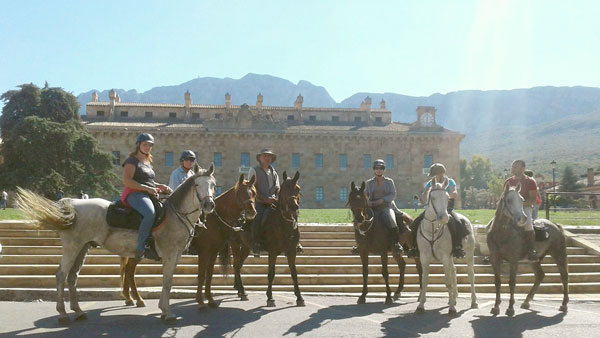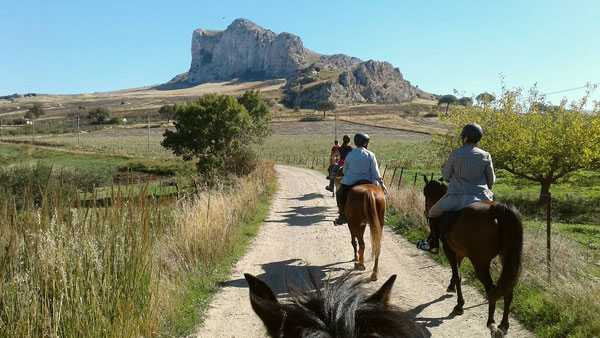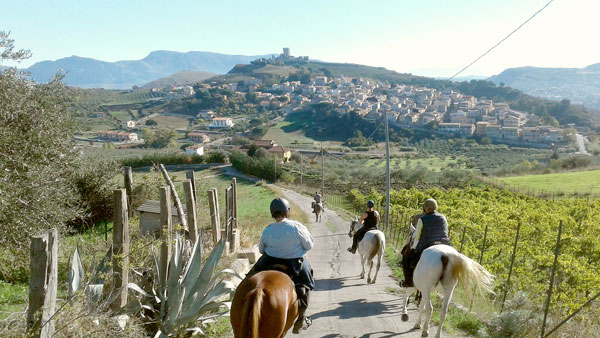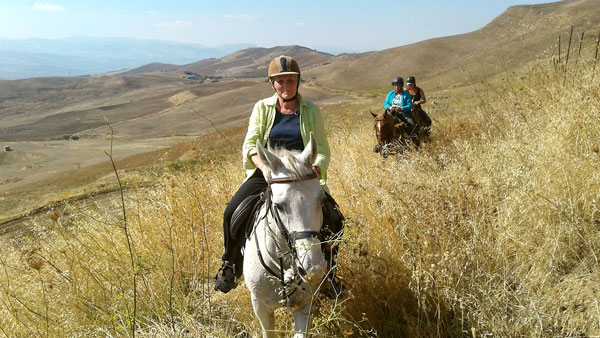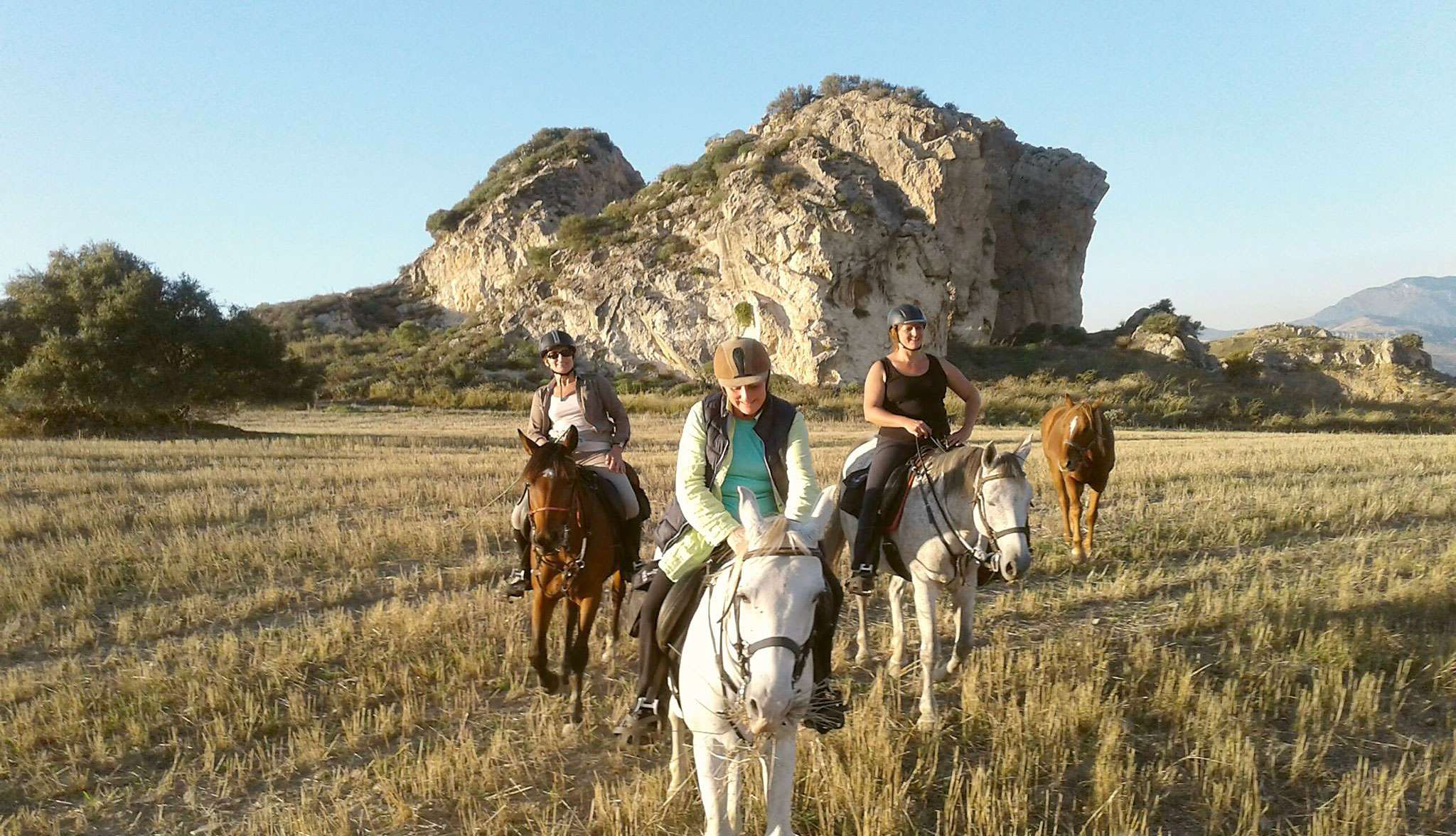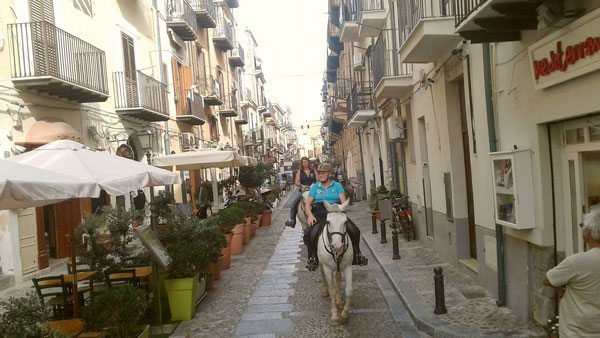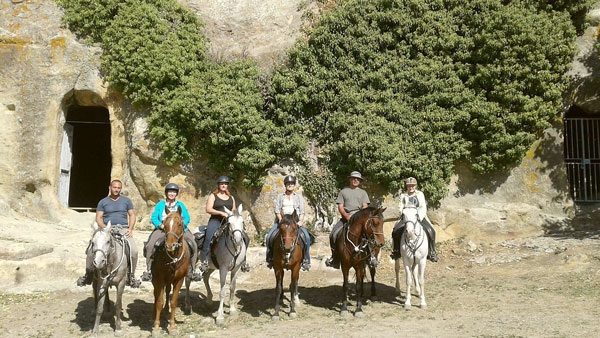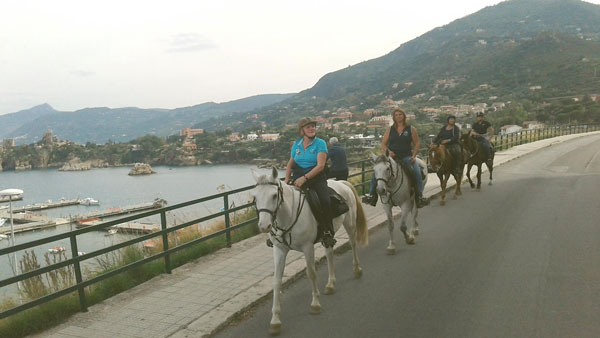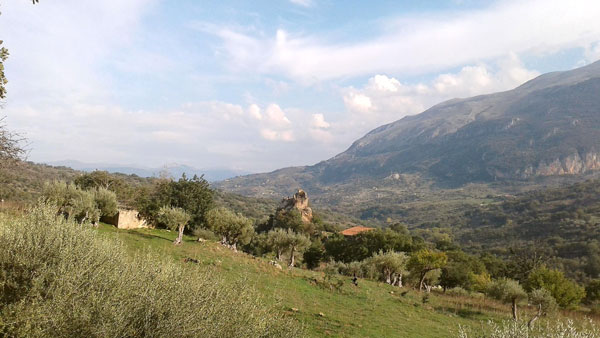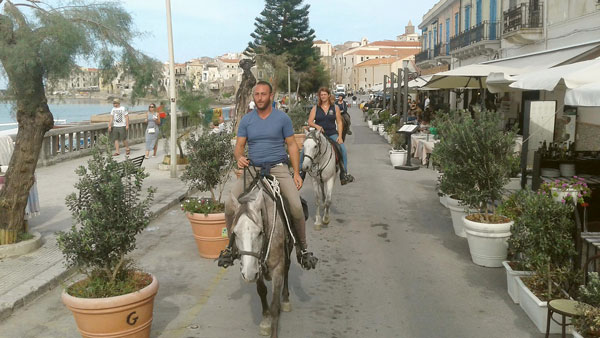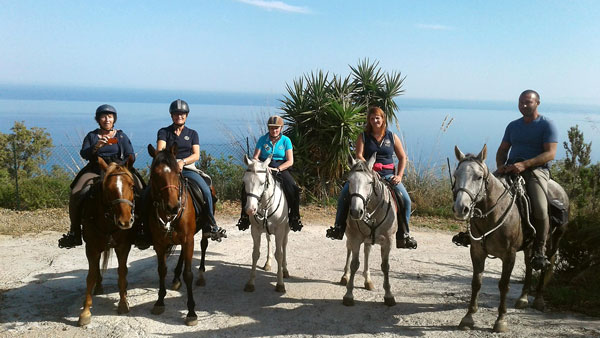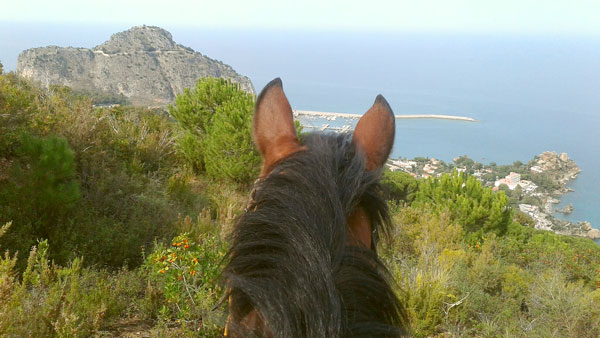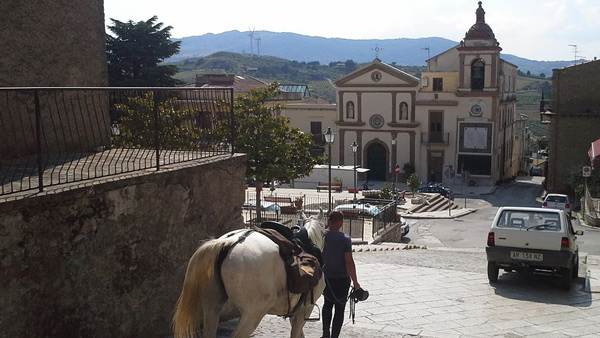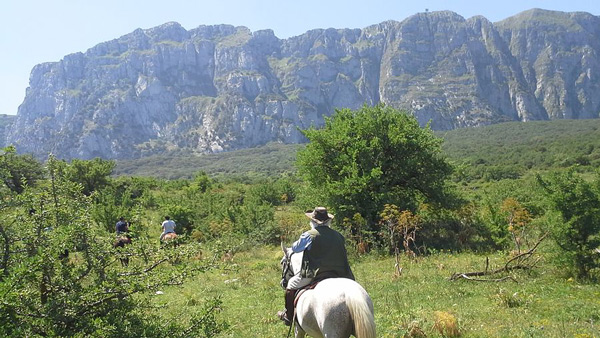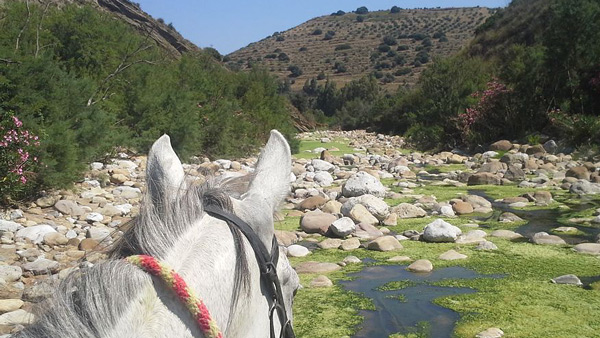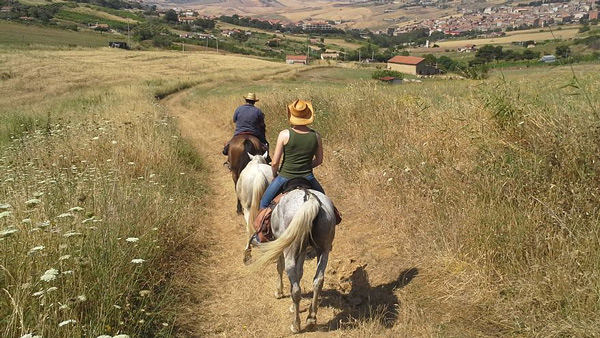 This adventurous but comfortable trail ride will take you through some of Sicily's lesser-known areas, starting in the famous town of Corleone and leading you to the seaside town of Cefalu. During the ride you will explore a multitude of charming landscapes and terrain including dense woodlands, cultivated farmland, mountains of chalk or limestone, endless fields of grain, mysterious caves and ancient farms, towns and villages with fascinating histories.
Whilst you will spend long days in the saddle and will need to be fit, you will receive a warm welcome every evening at a quality guesthouse and will have a chance to rest. Each place serves delicious Sicilian cuisine and wine, with meals created using local produce. Dinners are a minimum of four courses and lunches are eaten as picnics during the rides.
The Program
Day 1 - Arrival: You will be transferred from the airport to your first accommodation in Corleone. Here you will meet your guide and the other trail guests for a first dinner and a good sleep.
Day 2 - Corleone to Gorgo del Drago: Your first riding day begins after breakfast with departure on horseback at approximately 08:30. The trail starts with the crossing of open fields which are planted with grains and fodder, still the island's main agricultural produce since Roman times. From here you will ride into the forest reserve of Pirello and after three hours or so of travelling you will reach the reserve of the Ficuzza Wood - this was established by King Ferdinand of Bourbon in 1799 as his personal hunting ground. At approximately 7400 hectares this is one of the largest and most well-preserved natural woodlands in Sicily. You will take your picnic under the imposing slopes of Rocca Busambra which is the highest peak in western Sicily, standing at 1602m, before mounting up again to ride further into the forests. This reserve is home to a range of indigenous plants including red oak, holm oak, ash and pine. Your guide will lead you through the village of Ficuzza where you can make a short stop in order to admire the eighteenth century palace of King Ferdinand, also pausing to enjoy a refreshing drink from a bar.
After this break you will ride on towards your overnight accommodation, the farmhouse Gorgo del Drago which lies on the edge of the reserve. Here you will settle your horses for the night before enjoying a sumptuous dinner and overnight in the farmhouse rooms.
Approximate hours on horseback: 7.
Day 3 - Gorgo del Drago to Villa Dafne: Breakfast followed by departure from Gorgo del Drago at approximately 08:00. You will pass through the village of Godrano, which is famous for its cheese production, and onwards to Cefala Diana which is home to an old castle of Arab origins. From here you pass through Villafrati and then to Ciminna whose landscapes are characterised by rock formations composed of gypsum crystals, also where you will stop to enjoy your picnic lunch. In the afternoon you will saddle up again and ride towards Roccapalumba, nicknamed "the town of the stars" for its planetarium and star-gazing opportunities. You will arrive at Villa Dafne where you will dine and sleep.
Approximate hours on horseback: 8.
Day 4 - Villa Dafne to Mandragiumenta: This morning you will leave your accommodation on horseback at approximately 08:30, riding through arable farmlands following royal 'trazzere'. These are routes established during the Bourbon period for the relocation of livestock from north to south, still used today. You will then pass under the town of Alia and on to the caves of Gurfa, in the territory of Alia, which is home to the tomb of Minos. This king of Crete came to Sicily to hunt for Daedalus, who had helped Minos' daughter Ariadne and her lover, Theseus, to slay the Minotaur and escape from Crete. Minos was said to have been enraged at the loss of his daughter and therefore sought to find Daedalus who had settled in Sicily, but he was lured and killed by the daughters of Cocalos, the Sican king, before he could find him. Minos' tomb was transformed into a temple during the classical era, then used as a grain store in Roman times and even a luxury home in the Arab era. It was then used as a stable until 1997 and now stands as part of Alia's cultural heritage.
Following a picnic lunch at these fascinating caves, you will re-mount your horses and follow the trazzere to the agricultural town of Valledolmo for a drink at the bar. From here you will ride on to the farmhouse Mandragiumenta where you will eat dinner and spend the night.
Approximate hours on horseback: 6.
Day 5 - Mandragiumenta to Casale Drinzi: Following breakfast and departure at approximately 08:30, you will ride over fields towards Sclafani Bagni, an ancient village perched on the mountainside. Here you can visit the panoramic ruins of a medieval castle and enjoy a coffee at the bar, before riding on towards a thermal spring for your picnic and a dip in the health-giving waters.
After lunch and your thermal bath you will follow Salito, a tributary of the northern Imera river which represents the western limit of the Madonia territory. Dinner and overnight will be at Casale Drinzi.
Approximate hours on horseback: 6.
Day 6 - Casale Drinzi to Feudo Galefona: Breakfast and departure at 08:30 again. Today's ride takes places in the heart of the Madonie Natural Park, home to the largest biodiversity on the island - its 40,000 hectares is home to more species than the whole of Great Britain! On leaving the farm you will start to climb to high altitudes, witnessing the dramatic changes in vegetation and landscapes as you go... dense forests of oak become beech woodlands, dotted across the massif of Mount Cervi and Mont Carbonara which is Sicily's highest peak, standing tall at 1979m. In the late afternoon you will arrive at a typical medieval village of Isnello. Dinner and overnight at Feudo Galefona.
Approximate hours on horseback: 6.
Day 7 - Feudo Galefona - Cefalu: This final riding day begins with breakfast and departure at around 08:00. Today you star to ride towards the sea at Cefalu, passing through areas which are very interesting, particularly from a botanical point of view. After approximately three hours in the saddle you will reach the village of Gibilmanna, your final picnic spot, which is home to the famous shrine of 'Our Lady' and a spiritual destination for pilgrims from all over Sicily. In the afternoon you will continue your descent on horseback, eventually arriving to the seaside resort town of Cefalu. After a fond farewell to the dear horses who have carried you on this ride, they will be loaded onto trucks and transported back home for a well-earned rest. You will then be transported to Hotel Tourist where you will spend the night. Dinner tonight is at the nearby restaurant La Scoglio Ubriaco where they serve delicious fresh fish.
Approximate hours on horseback: 6.
Day 8 - Departure: After breakfast it is time to head to the airport or to continue your travels in Sicily.