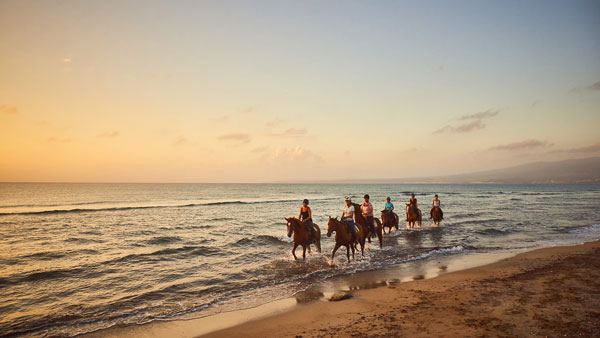 The Liberty program is a flexible based ride. You stay all week in quality accommodation in a peacful setting and you can decide whether to take basic lessons or ride trails in the countryside or by the sea. Riding here allows you to explore the unique scenery Sardinia has offer. Leaving daily from the farmhouse house your path will lead you past mountains crossing woods of local trees, oaks and the Mediterranean scrub. On the first day guests arrive at the farmhouse in the afternoon and can relax in the beautiful grounds taking advantage of all the wonderful facilities. There is time for relaxation in the swimming pool or jacuzzi.
If you want to bring your family or a non-rider, it's great to combine with other activities such as golfing on the beautiful Is Arenas golf course or cycling trips, trekking or why not enjoy the white beaches of the Sinis coast. See Other activities for tips for the family and non-rider.
The Liberty package includes 7 nights half board accommodation and 20 riding units that can be used as follows: The value of a riding unit is 19 EUR. You can also buy more riding units on site.
Ride out (2 hours) in small guided groups: 3 units
Ride out (3 hours) in small guided groups: 4 units
Ride at the sea (approx 2 hours, min. of 2 riders): 3 enheter
Ride at the sea (approx 3 hours, min. of 2 riders): 4 enheter
Riding lesson for group (45 mins): 1 unit
Private riding lesson (45 mins): 2 units
Showjumping, private lesson (45 mins): 3 units
Showjumping, group lesson (45 mins): 2 units