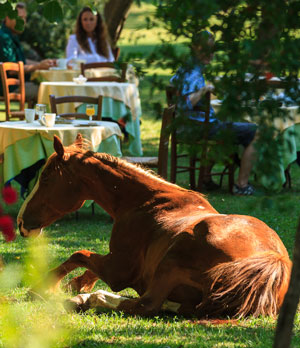 Many guests arrive at this green oasis with tense shoulders and a stressed look on their faces. It doesn't take long, however, before their shoulders drop and a sense of calm takes over. It is so serene with the horses freely grazing in the beautiful garden.
You will also be able to enjoy the excellent Sardinian cuisine. For example, all the pasta is handmade and most of the vegetables and herbs come from the garden. Your host, Danielle, is also interested in wines and has an interesting wine collection to choose from. You will stay in the unique traditional rooms and all the suites have massage showers. This is also the perfect destination for people travelling alone as it is very personal and provides a great sense of wellbeing.
There are several riding alternatives: The Mountains and Sea Trail where the horses stay out, while you return home; Monte Ferru – Beach Combo with three days of riding close by the farm and three days by the sea (on new horses); and Liberty, a flexible based ride. You can decide whether to take basic lessons or ride trails in the countryside or by the sea.

Enjoy the fun riding on nice horses at a place where everyone is interested in ensuring that you enjoy yourself and feel good.