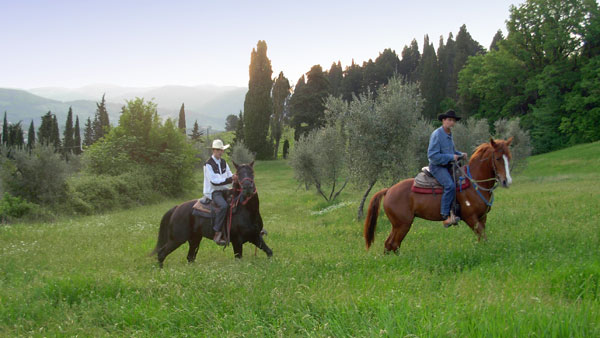 This ride takes you to the mountain of Monte Giovi in Florence's beautiful surroundings and you reach a maximum elevation of nearly 1,000 meters (3,200 ft) above sea level. You will find natural beauty and historical remnants from the Etruscans and Romans, and it wasn't so long ago that partisans lived here in the mountains. (Partisans fought against Mussolini during World War II.) Monte Giovis National Park is one of the most valuable and relatively pristine areas of Tuscany.
On Wednesday, you head off on the trail ride, with the whole day in the saddle, and lunch in your saddlebags.
On Wednesday evening, you reach a nice little hotel where you will stay for two nights. You ride through the beautiful village of Vetrice and its vineyards, follow the Sieve River through to the village of Rufina - famous for its wines - and cross the river twice. You ride up to the top of the mountain area following old trails, and reach the top, which offers a superb view of the Chianti Valley.
The ride back on Friday takes you through a landscape that is unaffected by mass tourism but rich in enjoyable experiences.
Read more Travel Information here>>