Italiy, Chianti - Dressage and Hacking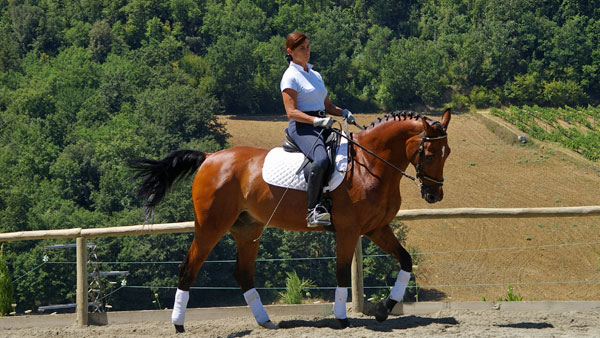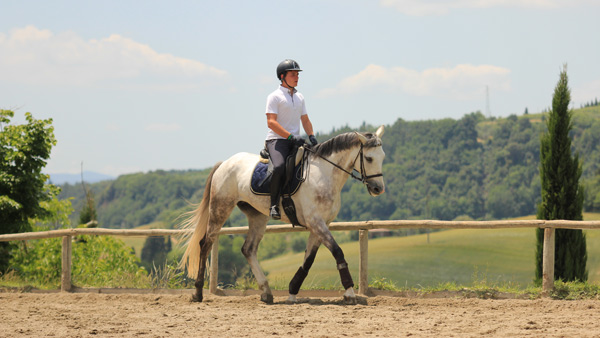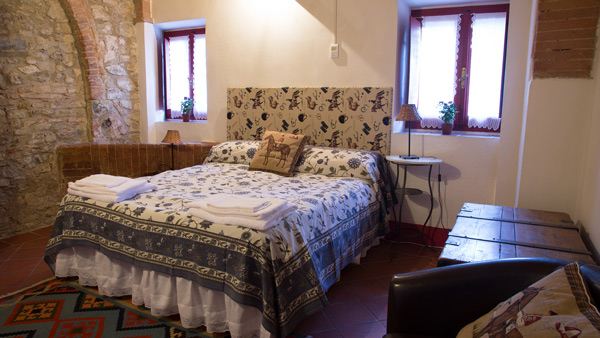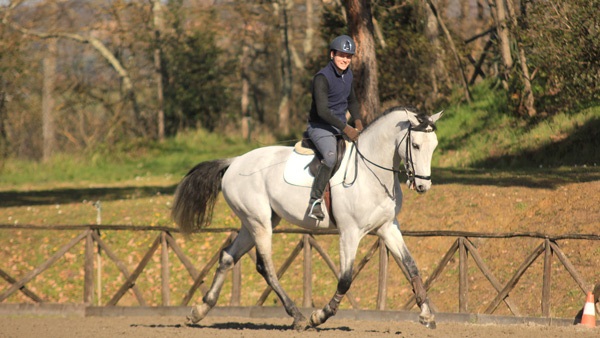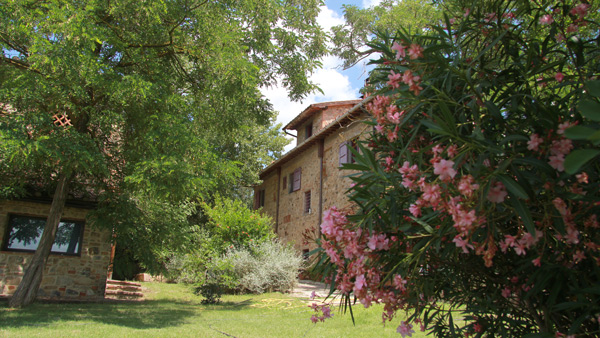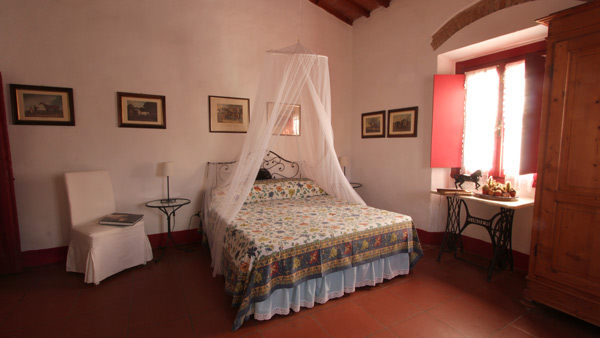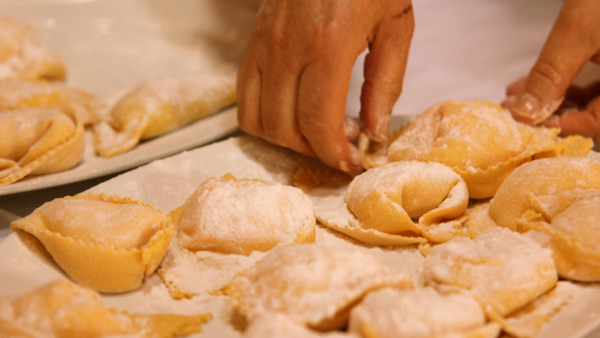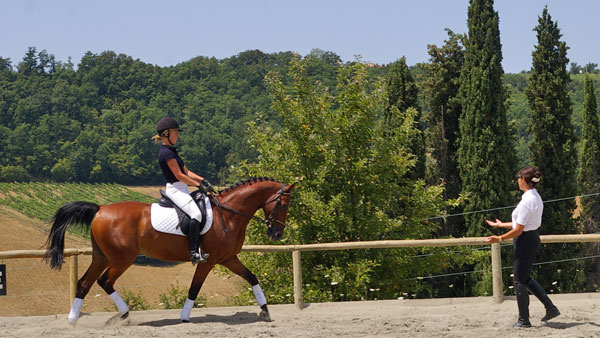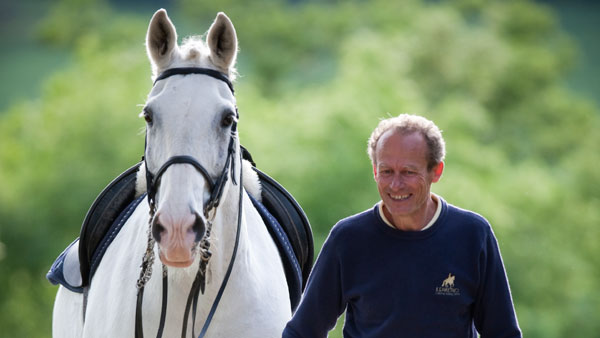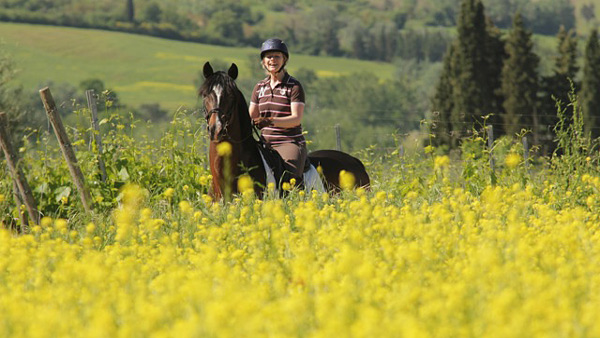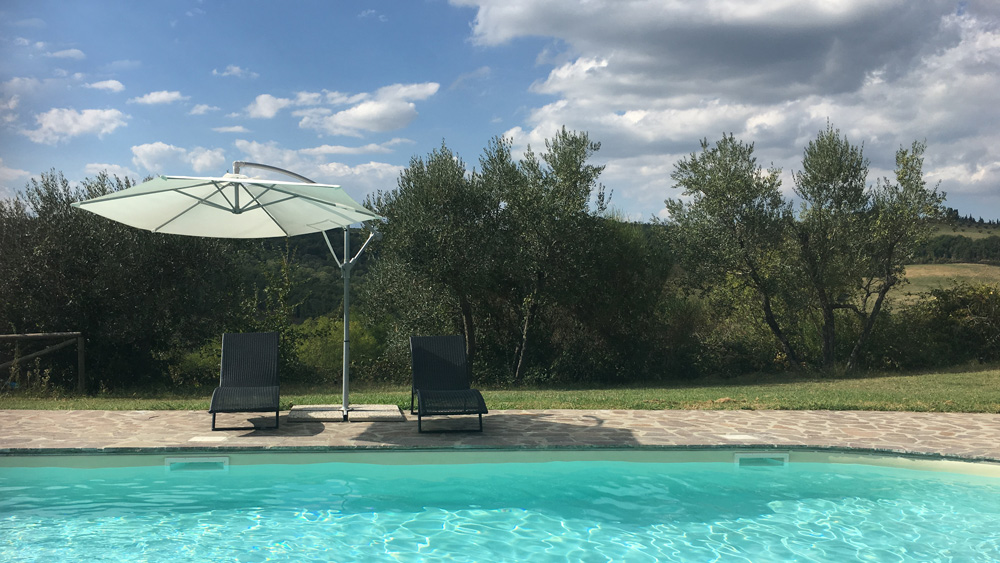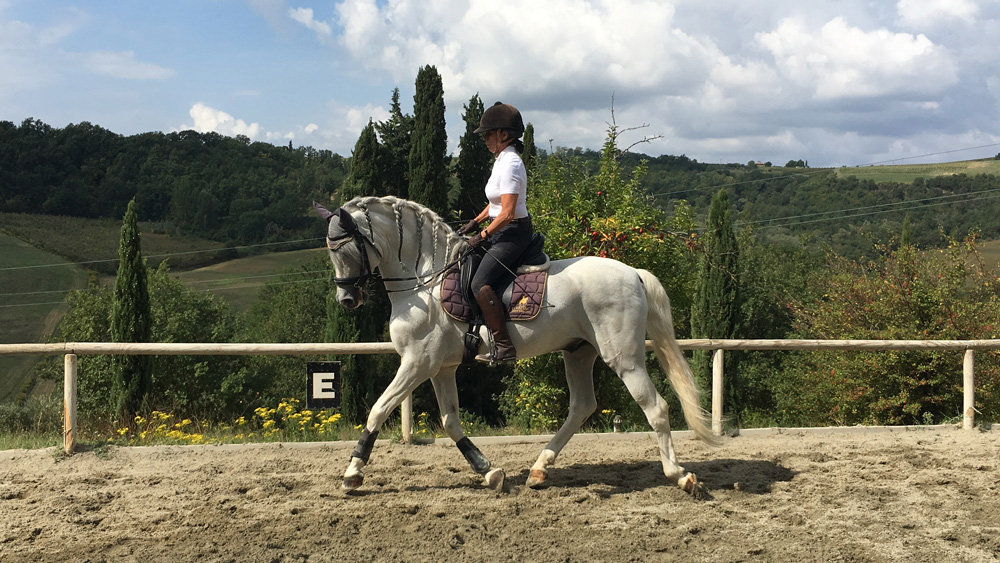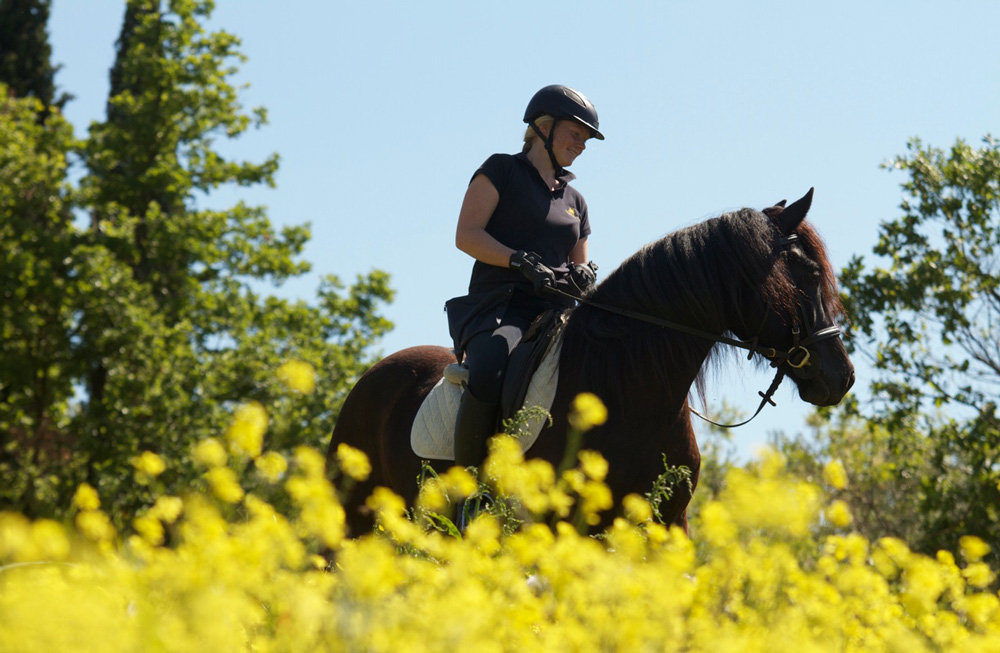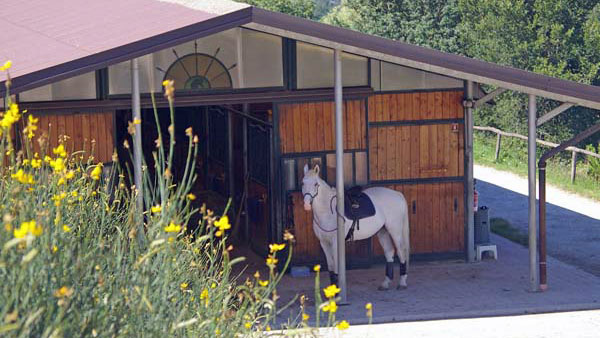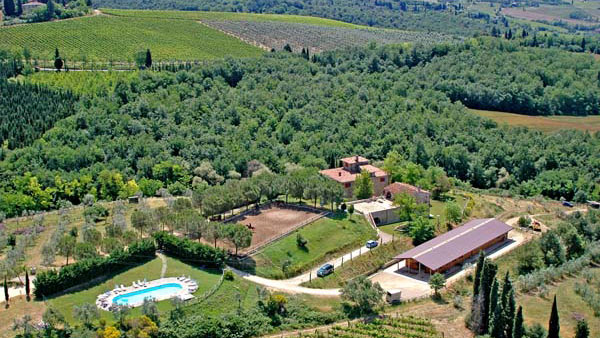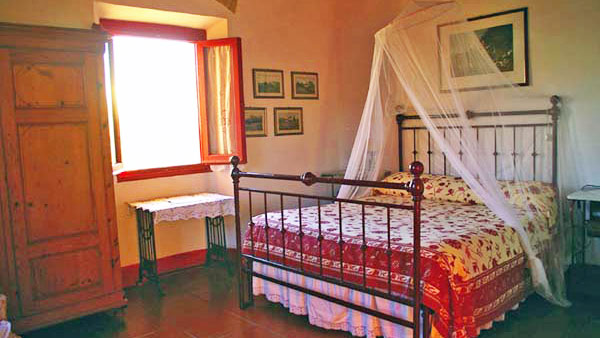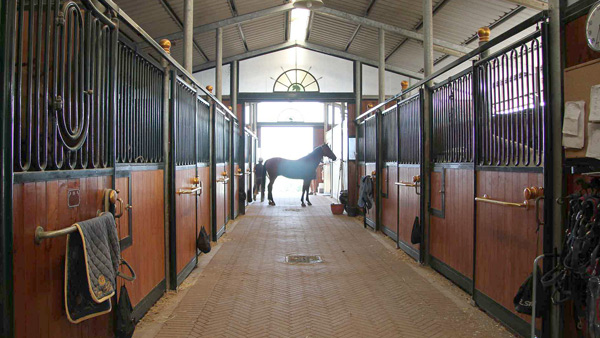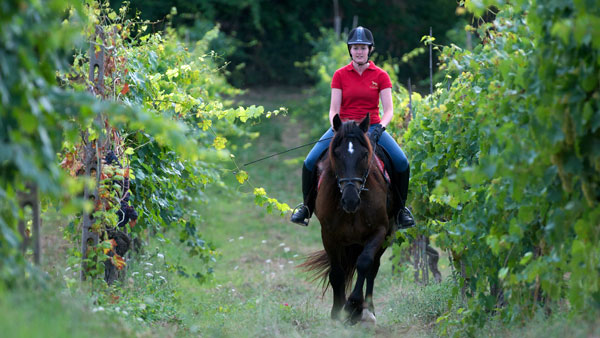 The famous Chianti region is primarily known for its wine, but here both beginners and more experienced riders can also get first-class dressage in scenic surroundings. Just outside of Florence, Cristina and Giovanni have operated this beautiful equestrian center since 1987. They met when they were young and decided right then to devote their lives to their passion, horses. Their training philosophy is to release the horse to achieve greater elasticity and speed. They have trained with Louis Valenca and Pedro de Almeida, whose mentor is Nuno Oliveira. They still go to their clinics to constantly developed further as instructors. You will train under them or any one of their highly trained instructors. The instructors have a solid background mainly in the Portuguese school with the great master Nuno Olivera as a role model.
The equestrian center is quiet and peaceful in a valley in the heart of the Tuscan and Chianti region, surrounded by olive groves and vineyards. The farm, which dates back to the nineteenth century, has been renovated in a tasteful manner and retained its old world charm with terracotta floors and vaulted ceilings with exposed beams.
You live in elegant Tuscan rooms and in the summer there is a swimming pool available. After the day's riding everyone gathers for a four-course meal together in the beautiful dining room with its huge fireplace, obviously good Chianti wine is served, as well. Many come here again and again to enjoy the good riding, lovely setting and super meals.
The focus is on the basics, ie. the seat and using a light touch, for both beginners and the experienced rider. Emphasis is also on the rider's balance and position. Lessons are marked by their consistency and harmony and by exercises that will improve your balance as well as riding pleasure. The horses are very responsive and instructors try to convey a soft riding style. Most there are 2 or 3 riders per lesson but sometimes it's groups of up to 4 people.
There are three riding programs to choose from. Whatever program you choose, your riding will develop and evolve and you will go home with many pleasant memories and lessons learned.
Program:
Dressage & hacking
You ride six days, total seven dressage lessons and two half-day rides in the beautiful Tuscan countryside.
Dressage Intensive
You have 9 dressage lessons over 5 days and one half-day ride in the beautiful Tuscan countryside.
The lessons for adults last 50 minutes in the am and 40 minutes in the pm.
In summer time (from June 4th to September 17th) all lessons last 40 minutes (am+pm) and the two lessons can be run consecutively in the am if better for horses and riders because of the meteo conditions.
The ride out lasts from 2 to 3 hours each – it is calm, with some trot and a little canter if the riders are confident, it is nice for the beauty of the landscape which is unique in Tuscany and particularly in the Chianti. Children under 14 years of age do not ride out.
They offer basic jumping lessons when someone has a request about it. So it can be added as a possible extra activity.
Accommodation and Food
There are 10 rooms (2 quite small), all with shower and toilet. They are light and airy and furnished in typical Tuscan style.
Single: It is possible to book a single room (price for single supplement available is under Dates & Prices). If there is no one to share the room with there will be a Single Supplement.
After the day's riding everyone gathers for a four-course meal together in the beautiful dining room with its huge fireplace, obviously good Chianti wines are also served. You can dip your bread into extra-virgin organic olive oil produced on the farm.
Our price includes breakfast and dinner. Lunch can be ordered before 12.30 each day at an extra average cost of Euro 14. You can choose between the pasta of the day or light dishes such as salads, ham and cheese, caprese, bruschetta, fruit salad etc. You can also have lunch in the village and it takes about 20 minutes to walk there.
Horses
There are about thirty well-trained horses. There are Lusitanos, Anglo Arabs, Arabians, and Dutch Warmblood. Weight limit is 80 kg.
New year

Welcome to enjoy New Year surrounded by nice horses and great hospitality. The italian kitchen will do the week even more succesfull.
You can arrive the 26th och 27th of December and stay 5 or 7 nights. At New Years Eve a special dinner will be served (35 EUR extra) and there will be an treasure hunt organized by tradition.
Climate



Travel Information
Ability description: Dressage Level 1-4 >> Trail Ride Level 2-3 >>
Included in the price: 7 nights, 5-6 days riding, half board (breakfast and dinner incl. mineral water and Chianti wine at dinner).

Not included: Flights, transfers, insurance, lunch, drinks and extras not mentioned.
Season: 27/2 - 19/11, 26/12 - 2/1 - 2017. High season price 24/3 - 3/11, 26/12 - 5/1-2019. Other times off season rates.
Travel: Book flight/rental car >> We help you book your flight if you wish.
Fly to Florence.
Transfer: Book in advance with HorseXplore and pay on spot.
From Florence Airport, travel time is about 1 hour heading south.
Price: About 85 EUR per taxi one way.

You can also go by bus from Florence bus station (about 5 EUR one way). We can help you with bus times .
Arrival: Saturdays no later than 7:00 PM at the riding center to make it to the dinner. Departure the following Saturday after breakfast.
Rental car: We recommend you to rent a car if you want to explore the area around the equestrian center, there is much to discover during the hours you do not spend on horseback.
Single room: Can be booked with a supplement. For price click on "Book on request" under Dates & prices. If there is no one to share a room with, a single supplement will apply.
Credit card: Not accepted by riding center.

Wifi: Yes, free wifi in all areas/rooms.
Electricity jack: EU standard two sticks and three stick.

Pool: Yes, open from May 1 to October 31. Pool towels are provided.

Misc.: There are ATMs around 7 km from the riding centre.
Feedback from our travellers