India, Rajasthan - Horse Safari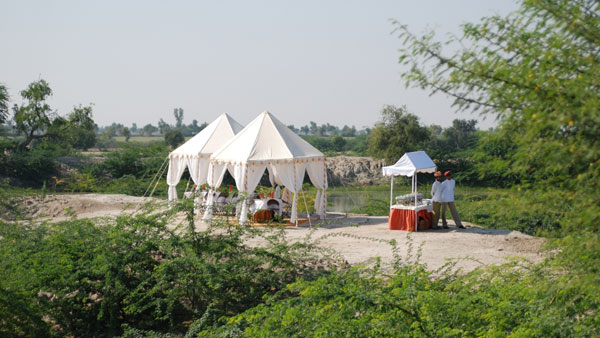 A trail ride with accommodation in both the palace and in comfortable and spacious tents. A total of 7 nights with 6 days riding. English-speaking guide.
You fly to New Delhi and change to a domestic flights to Jodhpur where you are driven to Siddhart's home. After test riding, it's off through a landscape that changes between farmland and semi-desert. The desert is in stark contrast to the villagers' colorful clothes. The people of Rajasthan are characterized by their friendliness, hospitality but also their pride and integrity. Tourists are rare here so you are happily welcomed into the villages and served tasty food.
You will stay the two first and two last nights at the Palace and then in wilderness camp in spacious tents with real beds, bathroom facilities and windows. Some night might be in a hotel. As a rider, you're close to India's locals and its exotic setting, making for a tremendous experience.
After the thrilling ride, you will return to New Delhi for your flight home or we can help you book a visit to the world famous Taj Mahal. In 2007, the Taj Mahal one nominated as of the new Seven Wonders of the World. A perfect end to a great trip!
The information on this page is specific to this ride. Click here for more information>>
The Program
Preliminary program
Below is an example of what the week will include.
This trail ride is one of contrasts. It begins with you feeling like royalty in a palace before heading out into the countryside to see how most people live their daily lives. To do this on horseback is, as always, the best way.
Number of participants: Minimum 2 maximum of 12 riders.
Day 1
Arrive New Delhi airport where you change flights to Jodhpur. If you take a flight from Delhi at about 12:00pm you will arrive at Jodphur about 1:00pm. You will be met in the arrivals hall and driven to your palace by car - about 50 minutes.
You have a chance to rest and take it easy after your journey. You can get acquainted with the palace, the surroundings and the horses.
It's fine to walk around in the nearby village. Overnight stay at the palace.
Day 2
You may sleep in and begin your ride after lunch. You will ride through a number of villages and come come back to the palace at sunset.
Days 3-7
The ride goes through a landscape that changes between farmland and semi-desert. You will see mountains in the distance, but you won't ride up them.
You ride through the villages, where sometimes you take a break or your lunch in the company of the villagers. Rajasthan villages are very colorful and exciting and the people are distinguished by their kindness and hospitality, and also their pride and integrity.
These villages are not on the usual tourist trail, so there tends to be a lot of commotion when you come riding through.
One of the villages you visit belongs to the Bishnoi people, the original "tree huggers".
The riding is about 4-6 hours per day with a break for a good lunch. The pace of this ride is steady, with plenty of walking, trotting and a opportunity for a few gallops in the morning and in the afternoon. The tempo is a little different depending on the riding experience of the group. But no matter the tempo, it's the overall experience that makes this trip so rich, colorful and exciting.
The days will be like a warm Northern European and North American Summer. You will take a break in the middle of the day when it is at its warmest. The nights can get quite cold.
Luggage, food, drinking water, medical kit, etc. will be transported by car. Drinking water will also be carried in saddlebags. It is worth noting that the Indians do not normally drink alcohol. The prices of alcoholic beverages are therefore approximately the same as the western prices.
The car will meet you for lunch every day. You will eat lunch in villages or out in the countryside.
The last day of riding closes the circle and you return to the palace.
A farewell dinner awaits as the perfect end to this eventful ride.
Day 8
After a wonderful breakfast you will have (unfortunately) to say goodbye to your host and his fabulous home.
You will be driven to Jodhpur Airport. Jodhpur-Delhi flights leave 3.30pm-4.40pm
Optional: We can help you book additional nights as follows:
Transfer to hotel in New Delhi. Maybe you take a little walk before you eat dinner (not included).
Day 9
Up early and transfer to the train station. Trains from New Delhi Railway Station, departing at approx 6:15am and arrive at Agra at 8:12am. A guide will take you to the train station and show you to the right train. A new guide will meet you at Agra Station.
Sightseeeing: Taj Mahal and Agra Fort.
Return train departing Agra approximately 8:30pm and arrival in Delhi 10:30pm. Shuttle Bus to the hotel.
Day 10
Transfer to the airport. We try to coordinate the transfer with your departure but there may be some waiting time at the airport.
Taj Mahal
The Taj Mahal is a shrine in Agra, India. The Mughal Emperor, Shah Jahan, ordered its construction for his beloved wife, Mumtaz Mahal. Construction started in 1632 and was completed around 1643. In 1983, the Taj Mahal was added to UNESCO's World Heritage List because it is "a universally admired masterpiece among the World Heritage Sites." In 2007, the Taj Mahal nominated as one of the new Seven Wonders of the World.