Hungary, Budapest Ranch Stay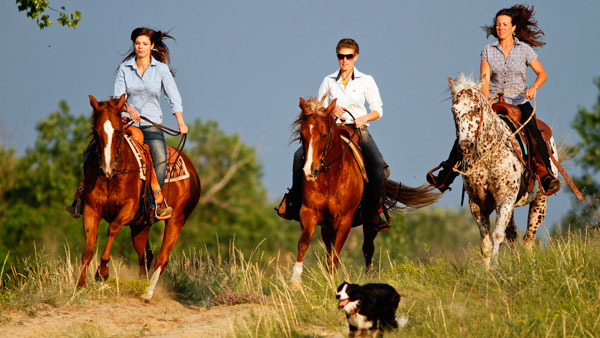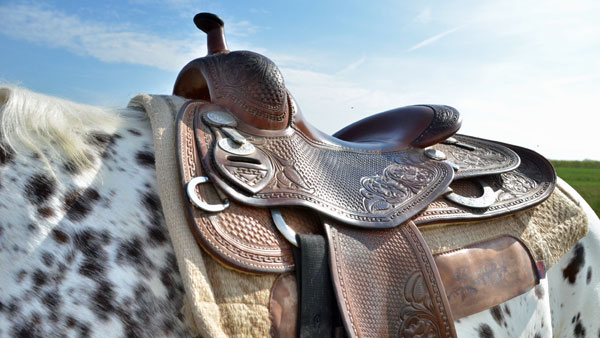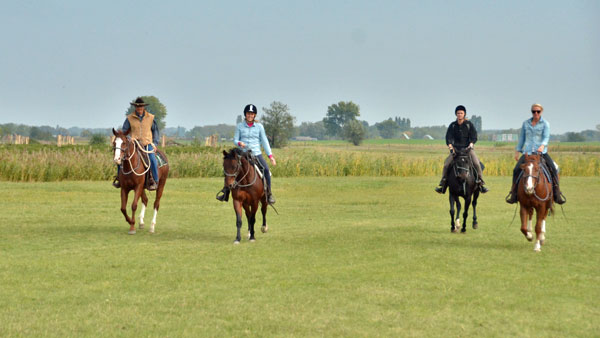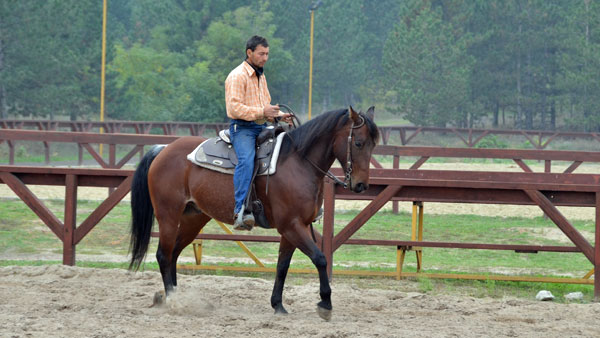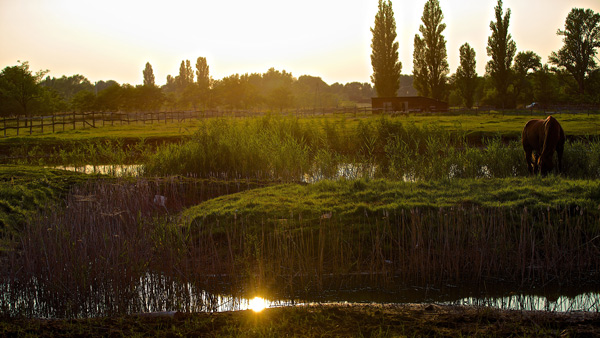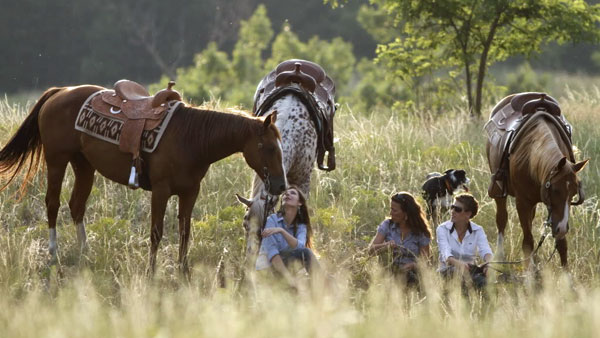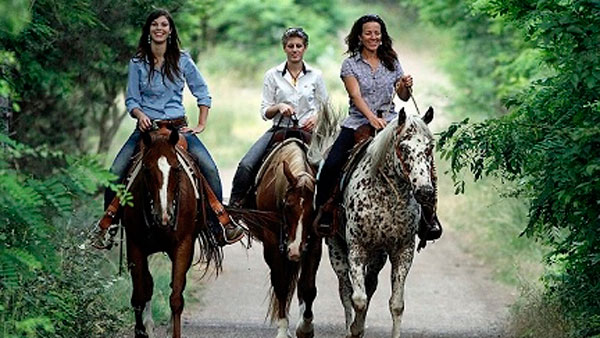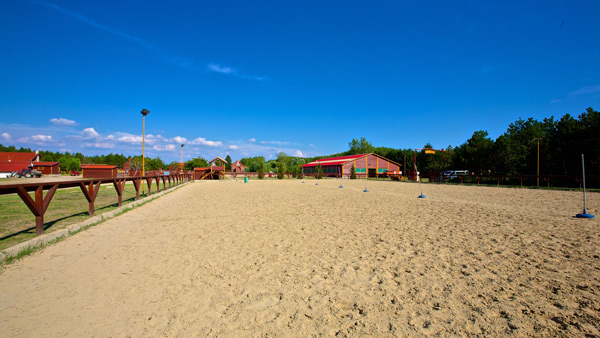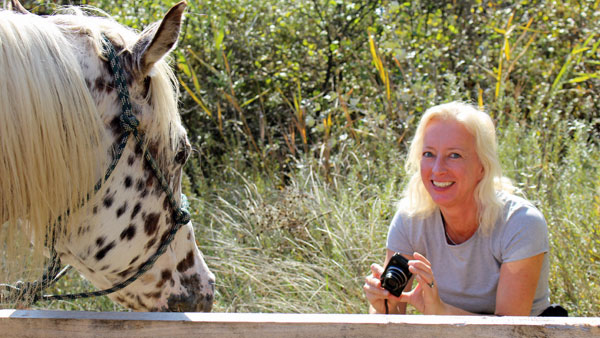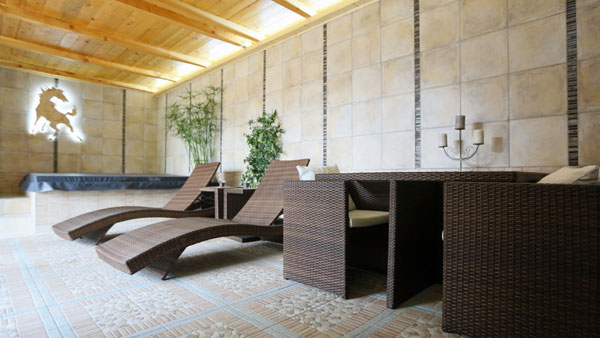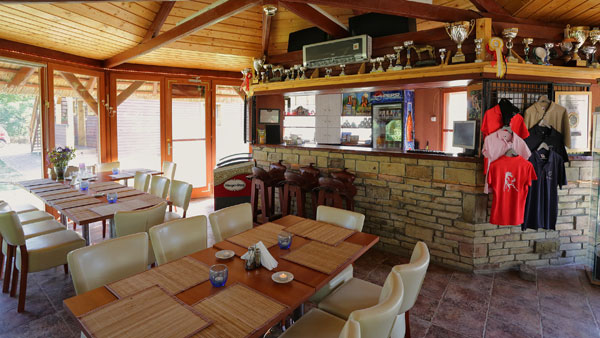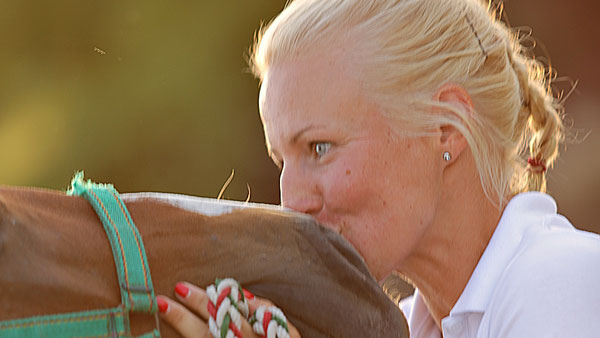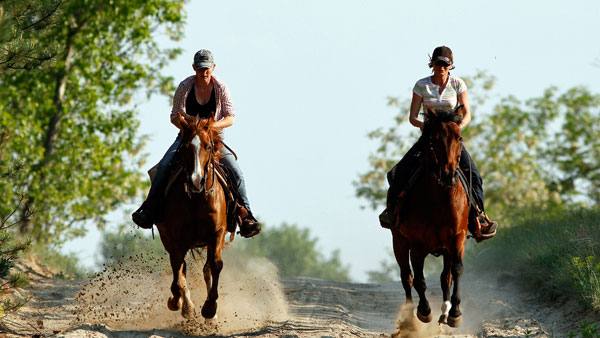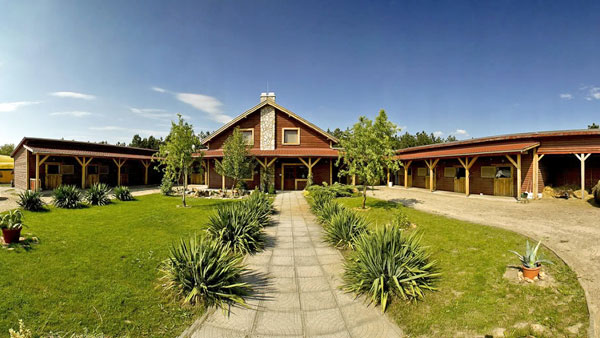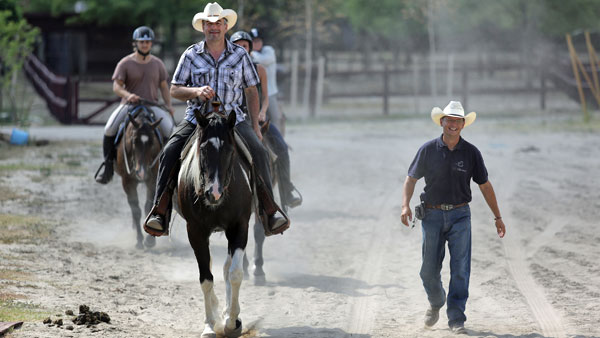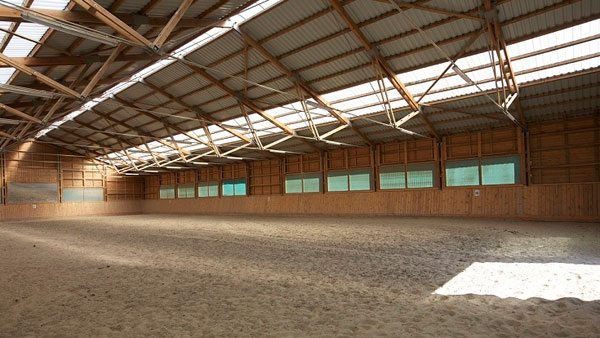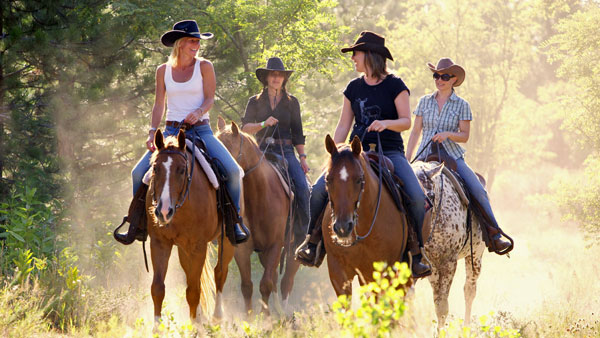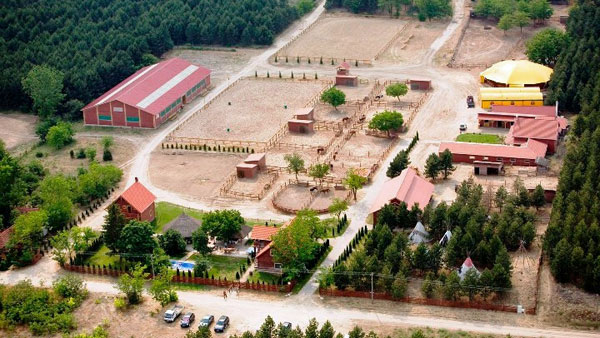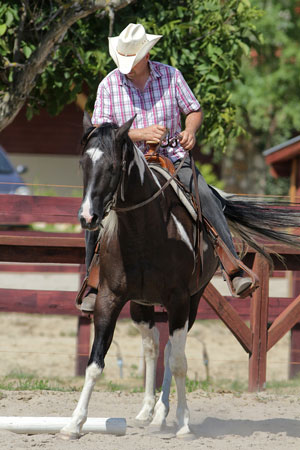 You don't have to go all the way to the US to be a cowboy. After just a few hours flying time, you can pull on your western boots and swing yourself up on a nice American Quarter Horse, Appaloosa or why not a Paint. This ranch has its origins in its owner's genuine interest in western and horses. It was a private ranch and stud farm, but now it has been opened up for foreign riders. Nothing is spared to make sure that both the guests and horses feel happy.
The ranch sits on 60 hectares (148 acres) about 90 km from Budapest, next to the Kunsagi National Park in Soltszentimre, and offers basic western lessons and great hacking through Kiskunsagi National Park where the sandy ground is ideal for canters. The ranch has a calm, relaxed and peaceful atmosphere with experienced instructors who look forward to sharing their love for horses with you.
One of the great advantage of riding western is that you get to ride in comfortable western saddles on cool horses. You will also be treated to tasty Hungarian food and drink and a refreshing dip in the pool is always nice.
There are 2 arenas, one of 60 x 30 (196 x 98 ft) meters and another at 35 x 70 meters (115 x 230 ft). There is also a 22-meter (72 ft) covered round corral, an 18 meter 59 ft) circular corral and an indoor arena of 22 x 44 meters (72 x 144 ft).
This destination is suitable for all types of travelers from the single traveler to families, groups of friends and even pets. Other activities you can buy when you are not riding can be visit to the local cheese factory, wine tasting, bird station visit, Kecskemét City visit. Some activities needs to be prebooked.
There is an outdoor swimming pool, a relaxation area with Finnish sauna, infra and steam room, salt wall and Jacuzzi for you to relax in after a day in the saddle.
You will be back here once, twice and even more times.
Program Ranch Stay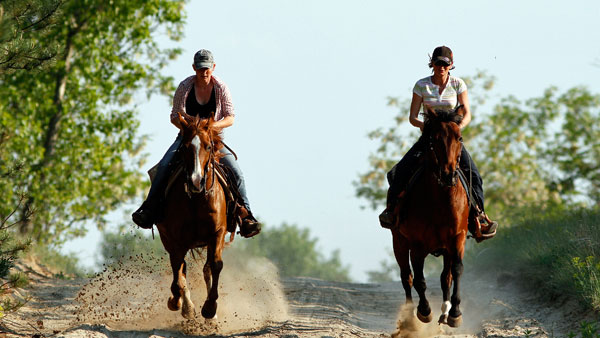 This beautiful and diverse landscape offers almost endless trails over sandy roads and rolling hills. There are also basic western lessons.
The riding schedule is between these times : 9.30 AM - 11.30 AM and 2.00 PM – 16.00 PM and total 4 hours per day + 2 hours on arrival- or departure day.
So depending on when your flight arrive and depart, you might be able to ride either on the arrival day or the departure day.
In order to have time to ride on the first day it's arrival at Budapest airport no later than 11:30 AM. Or to be able to ride the last day, it is departure from Budapest airport at the earliest 3.15 PM.
The programs always start with 1 hour in the paddock. The riders and horses are matched and the instructor is going through the basic in western style and horseman ship.
A week is Sunday - Sunday and includes 26 hours of riding.
A short week is Sunday - Thursday and includes 14 hours of riding.
A weekend is Thursday - Sunday and includes 10 hours of riding.

Program East Side Story Trail ride
We are happy to introduce a new and fantastic opportunity for our intermediate or advanced riders. The East Side Story Trail ride will take you around the east side of the Kiskunsag National Park. The whole ride will be on fantastic grounds, mostly on sand and with breathtaking scenery around the whole National Park. Lunch is usually picnic lunch packed in saddle bags.
Six nights and five days riding, ca 150-160 km and 4-7 hours riding/day.
Dates 2019: 26/5, 22/6, 3/8, 1/9, 14/9, 12/10, 26/10
Group size: Minimum 4 and max 8. The ride can also be run with two riders for an additional cost of 200 EUR /person or three riders for additional cost of 100 EUR/person.
Preliminary day-by-day-program.
Day 1 Saturday: You will arrive on Saturday. You need to arrive by 12 noon. It is possible to arrive the previous day and there will be an additional cost for the stay. Today you will take a short test ride to check you are happy with the horse they have chosen for your abilities and that you are competent enough to make the long trail. The test ride will finish by 4 pm. For those who are not fit enough or considered experienced enough, it will be possible to stay at the ranch and ride out from there. You will enjoy a lovely dinner.
Day 2 Sunday: The trail ride starts today. Today you will ride for around 20km stopping for a picnic lunch on the way. Tonight you will stay at the Old Nice Farm/Venyige Farm. It is an opportunity to stay at a classical Hungarian farm where the village houses have thatched roofs. Here you will enjoy some pálinka tasting which is included in the price. Tonight you will taste a typical Hungarian dinner and some oven baked delicacies. There is also the opportunity to taste some delicious home made wines (these are not included and need to be paid locally).
Day 3 Monday: After breakfast you will groom and tack up your horse and continue this lovely trail to Ballószög. You will stop for another picnic lunch which you will bring in your saddle bags. Today you will ride for about 26 km and eventually find a resting place for the horses at a western ranch. If the ranch owner is home, you will have the opportunity to see real cutting training with cows and buffalos. From here you will leave your horse and a car will take you to the hotel (10 minutes drive) where you have another lovely dinner and well earned night's sleep.
Day 4 Tuesday: You will return to your horses at the ranch, once again by car. Today you will ride only about 15 kms as this day is shorter than the others. You are heading towards your next destination which is the Puszta Major's guesthouse. You will enjoy your lunch at the guesthouse. The guesthouse has many facilities including an outdoor pool so this afternoon you can relax and enjoy the surroundings.
Day 5 Wednesday: After another delicious breakfast you will groom and tack up your horse. From here you will ride onto Kunadacs where you will stay in a wooden guesthouse which also has an outdoor pool.
Day 6 Thursday: After tacking up your horse for the last time, you will mount up and ride back to the ranch where guests can relax, enjoy the sauna or jacuzzi or even request a massage.
Riders will have to groom, feed, and tack up their horses. You will be shown how to tack up Western style on the Saturday your arrive. There will be roomy saddle bags provided for your daily requirements but your main luggage will be transferred for you and will be waiting at your guesthouse.
Day 7 Friday: Breakfast and transfer back to the airport.
Accommodation and Food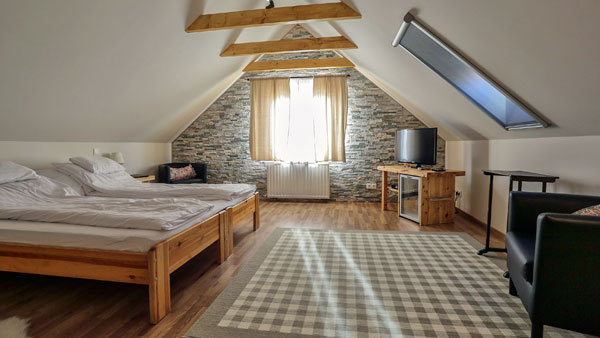 There are 12 guestrooms at the ranch divided into three houses with double- and triple rooms. All rooms have a private bathroom with shower, A/C, TV. Wi / Fi coverage is available in most rooms. Towels and sheets are available. You can book a single room subject to availability. Paid on location (13 EUR / night).
For breakfast there are different kinds of bread with lots of cold cuts, cheese, ham, sausage and vegetables. Yogurt or milk with muesli and fruit are also available. For lunch and dinner, you will get to have warm traditional Hungarian dishes such as stews, casseroles and pasta.
There will even be hot food for you out on the trail ride. There are many good options for vegetarians. Different salads are served with meals and often it is the local pickled lettuce and pickled cucumbers. Seasonal fruit is available as a snack. Drinks can be purchased in the bar at reasonable prices and is payable at the end of the stay.
There are different types of tours and activities on offer, everything from horse and carriage driving, to cheese testing and massage. These are not included in riding tour and can be booked and paid for at the ranch.
Horses
The ranch breeds its own Quarter Horse, Appaloosa and Paint horses that have been successful in western shows.
Climate
In the spring, it is about 15-20 C (60-68 F) during the summer it can vary between 20-30 C (68-86 F) and in the autumn of about 15-20 C (60-68 F). The evenings are cool and you have the chance to see a stunningly beautiful starlit sky.



Travel Information
Ability description: Trail ride level 1-3 >>
Included in the price: Accomodation, riding according to program, full board incl. water.
Not included: Flights, transfer, insurance, drinks and extras not mentioned.
Accommodation: There are 12 rooms at the ranch divided into three houses. All rooms have a private bathroom with shower, A/C, TV, DVD. Wi / Fi coverage is available in most rooms. 4 double rooms, 3 single rooms, 1 room with several beds rooms, 3 twin- or triple rooms.
Travel: Book flight/rental car >> We help you book your flight if you wish.
Fly to Budapest.
It is also possible to drive by taking the ferry to Poland. From northern Poland, it is about 1,000 kilometers (620 miles).
Transfer: Book in advance with HorseXplore and pay on spot.
From the airport to the ranch, just over 1 hour drive (90 km).
Price: 110 EUR/person/round trip for 1-3 persons or 90 EUR/person for 4 persons or more
Meeting point: When customers have checked out at the airport they will be called to meet the driver. It is important to have the mobile turned on when off the plain and also check that you have given correct phone number (incl. country code) to horseXplore when booking.
At times you may have to wait for other guests arriving on different flights but never longer than 2 hours.
Season: Low season October - April. High Season May - September.
Currency: Forint (HUF). At the airport there are ATMs.
Credit card: The ranch does not accept credit cards, but they can help you to the nearest village for withdrawl. They accept EUR at the ranch.
Wifi: Yes
Group size: Minimum 1 and max. 15 riders.
Child discount: Child up to 14 years of age get 20% discount.

Return Guest Discount 2019/2020: Returning guests are now eligible for low season prices also during high season. Can not be combined with any other offers/discounts.
Feedback from our travellers