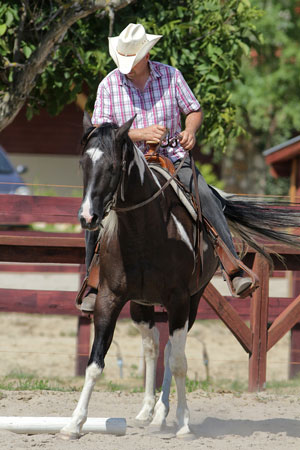 You don't have to go all the way to the US to be a cowboy. After just a few hours flying time, you can pull on your western boots and swing yourself up on a nice American Quarter Horse, Appaloosa or why not a Paint. This ranch has its origins in its owner's genuine interest in western and horses. It was a private ranch and stud farm, but now it has been opened up for foreign riders. Nothing is spared to make sure that both the guests and horses feel happy.
The ranch sits on 60 hectares (148 acres) about 90 km from Budapest, next to the Kunsagi National Park in Soltszentimre, and offers basic western lessons and great hacking through Kiskunsagi National Park where the sandy ground is ideal for canters. The ranch has a calm, relaxed and peaceful atmosphere with experienced instructors who look forward to sharing their love for horses with you.
One of the great advantage of riding western is that you get to ride in comfortable western saddles on cool horses. You will also be treated to tasty Hungarian food and drink and a refreshing dip in the pool is always nice.
There are 2 arenas, one of 60 x 30 (196 x 98 ft) meters and another at 35 x 70 meters (115 x 230 ft). There is also a 22-meter (72 ft) covered round corral, an 18 meter 59 ft) circular corral and an indoor arena of 22 x 44 meters (72 x 144 ft).
This destination is suitable for all types of travelers from the single traveler to families, groups of friends and even pets. Other activities you can buy when you are not riding can be visit to the local cheese factory, bird station visit, Kecskemét City visit. Some activities needs to be prebooked.
There is an outdoor swimming pool, a relaxation area with Finnish sauna, infra and steam room, salt wall and Jacuzzi for you to relax in after a day in the saddle.
You will be back here once, twice and even more times.