Greece, Crete - Mediterranean Ride from Mountains to Sea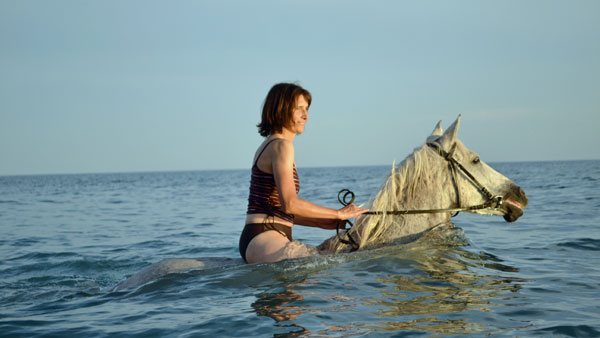 This ride is suitable for experienced riders. This is a real adventure ride through mountain areas, totaling about 160 kilometers. The ride goes from hotel to hotel over the Lassithi Mountain plateau where you get a lovely gallop, then on to the mountains and down to the sea. You will stay overnight by the sea and eat fresh fish and swim with the horses.
After the flight, it can be nice to have a dip in the pool before you are served a delicious welcome dinner. The next morning, you test ride your horse on a ride in the mountains. You will stay at the equestrian center and comfortable hotels along the way. Your luggage is transported by car.
The trail ride begins with a spectacular climb up to 1,100 m (3,600 ft) over sea level along old donkey tracks. Once up on the Lassithi Plateau, you are off at full gallop. You then ride over Dikti Mountains heading south. You pass villages with whitewashed houses, olive trees and orange groves. On the slopes are vineyards and castles. Once you reach the coast you can stretch out for a great gallop along the beach. The beach has no currents and you can even swim with the horses. That evening a fresh fish dinner with a good white wine is served. After the coast the ride heads inland through small villages where time seems to have stood still.
This trail ride has everything a good trail ride should have, beautiful and varied trails, good accommodation, good lunches and dinners and fine healthy horses. Definitely worth a try!
The information on this page is specific to this ride. Click here for more information>>
Accommodation & food
You stay 4-5 nights at the equestrian center and 2-3 nights at various hotels along the way. Most have ensuite shower / toilet, but some people share a bathroom in the hallway. The equestrian center is located in a beautiful valley with plenty of oak and olive trees. There is a café, restaurant and a lovely pool. Both the café and restaurant have a balcony or terrace where you look out over the courtyard and the valley below. The restaurant serves delightful local dishes. In Greece people eat late so dinner is served at around 9.00pm.
Your luggage is transported by car between the hotels.