France, Paris - Versailles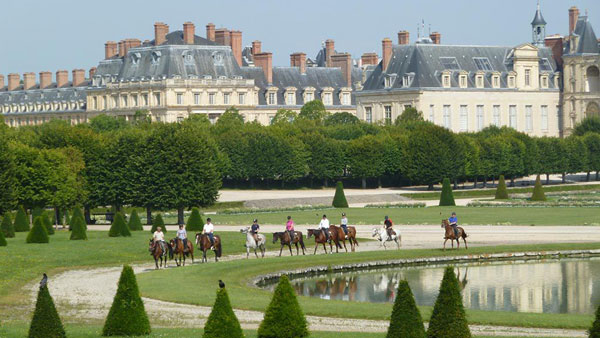 The countryside surrounding Paris countryside is so full of history, culture and beautiful architecture. This ride follows in Louis XIV's footsteps, past the gates of Paris, from "Vaux-le-Vicomte" Castle to the world-famous Palace of Versailles, and then on through the forests "Fontainebleau" and "Rambouillet". The great monastery "Vaux-de-Cernay" is also on the program.
The information on this page is specific to this ride. Click here for more information >>
The Program
From Versailles to Vaux le Vicomte

Day 1
Transfer from St Rémy de Chevreuse Train Station at 6.00 p.m. You will be taken to your B & B in Magny-les-Hameaux.
Day 2.
Today you ride a big circle from Magny-les-Hameaux to Versailles Park. Overnight at B & Bs.
Day 3
Today you will ride through the city of Chevreuse to Breteuil Castle and visit Vaux de Cernay abbey. Overnight stay in a hotel in Rambouillet.
Day 4
You will ride through the Rambouillet Forest and to the Marais Castle. Overnight at Le Nouveau Monde Hotel in Breuillet.
Day 5
You ride to and visit the Church of Saint-Sulpice-de-Favière. Picnic lunch in Chamarande Palace Park. Overnight at B & Bs.
Day 6
You ride to Courances Park where you eat a picnic lunch and then visit the castle and the park. Overnight at hotel Le Richelieu near Fontainebleau Castle.
Day 7
After a full day's ride, you will visit Vaux-le-Vicomte Castle, which was used as a model for the Palace of Versailles. Dinner and overnight stay at the Hotel Germenoy.
Day 8
After breakfast transfer to Melun Station.


Travel Information
Travel: Book flight/rental car >> We help you book your flight if you wish.
Fly to Paris. Train to Saint-Rémy-les-Chevreuse or Melun trainstation (se info below). Here you find timetable with RER B and RER D .The RER tickets are bought in France on site.
Transfer: Arrival 14 July transfer from Saint-Rémy-les-Chevreuse trainstation at 6PM. Departure 21 July from Melun trainstation after 12PM (visit the castle Vaux-le-Vicomte in the morning).
Arrival 21 July transfer from Melun trainstation at 2 PM. Departure 28 July from Saint-Rémy-les-Chevreuse trainstation at 10 AM.
Price: 20 EUR per person, round trip.
Misc.: Entrance fees are not included and are paied direct, approx. 60 EUR.