Azores, Faial - Whale and Volcano Ride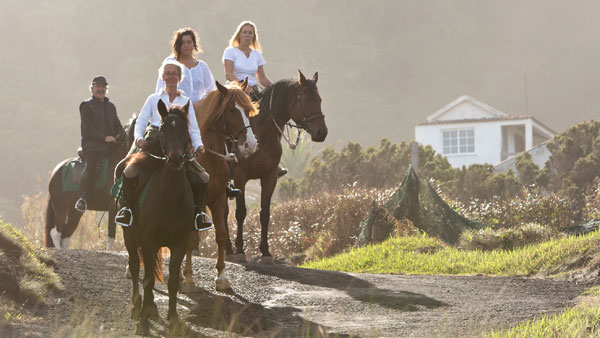 On the Whales & Volcanoes Ride you ride to a view point where you might have the chance to see the impressive whales. Then further along the volcanic beaches and through small villages. In the middle of the week there is a resting day and you have the opportunity to go whale watching, swimming with dolphins or visit a 400 meters deep crater (the excursions are not included). Then you ride another day before you have to leave this paradise.
This program extends over 6 days including 5 on horseback. You return each evening to the base where you eat dinner and breakfast.

Click here for more information>>
The Program
Day 1. Transfer from Horta Airport to your accommodation and dinner in the courtyard.
Day 2: "Vigia dos Cedros" - Today you will explore the area around the village of Cedros. You ride through small wild valleys and over the green meadows. You will see only cows, goats and the occasional farmer. You have a fantastic view of the deep blue Atlantic. At lunchtime you will reach the highest village on Faial, Ribeira Funda. Here you can enjoy your picnic lunch at the Miradouro Lookout. You proceed along the 80-meter (260 ft) high coastline. After a stop at the old whaling lookout at Vigia dos Cedros, you will finish today's ride and return to the farm where you will eat dinner. You stay at Casa do Capitão.

Day 3: Whaling harbor - Porto da Eira. A steep path will take you to the island's volcano. At 400 meters (1,300 ft), you have a fantastic view of the Atlantic Ocean. With a little luck you might see some whales passing by or some dolphins playing in the waves. You then come to the charming Cabouco Forest where you will eat a typical Azores picnic under shady old trees. After a good rest, you continue with a nice gallop and then descend on the old donkey paths to the coast. In the afternoon, you reach the old whaling harbor - Porto da Eira. You conclude today's ride and return to the Quinta.

Day 4: Free day (maybe whale watching) - Today you will have time to explore the island without your horse. Victor's friend, Noberto Diver, has a Zodiac speedboat that can take you whale / dolphin watching. Alternatively, you can descend the 400-meter deep crater on the island's 1,100meter (3,600 ft) high volcano together with a national park guide. Also possible, hiking alongside old water-channels called Levadas or walk through the old sailors town Horta (all activities are
extra). Or you just relax in the garden of the Lodge. Typical Azores Food will be served tonight at the Quinta.

Day 5 -7: You are driven in the Land Rover to a wonderful riding spot on the island and the horse will follow on trailer. The Capelinhos volcano erupted in 1957 and you will ride through a bizarre desert landscape left behind and visit the fascinating Capelinhos Interpretation Center (entrance fee not included). Alternatively, you can cross the island from south to north or ride from Varadouro Bay to the vineyards at Fajã Bay. All are fantastic rides in the middle of the Atlantic.

Day 8: Breakfast and departure to the airport.
This is an example of day-trips. They can be done in different order or be changed depending on wind and weather.