Australia, Queensland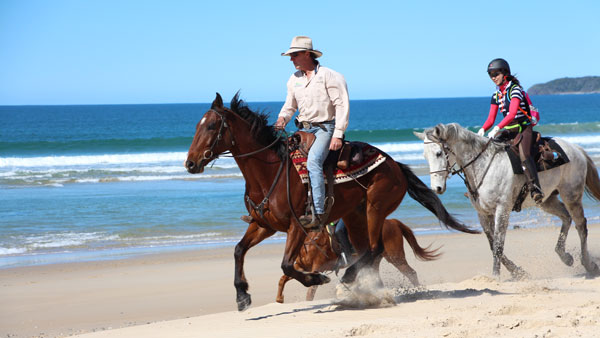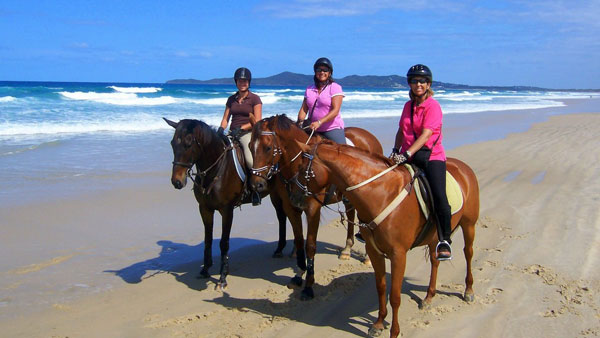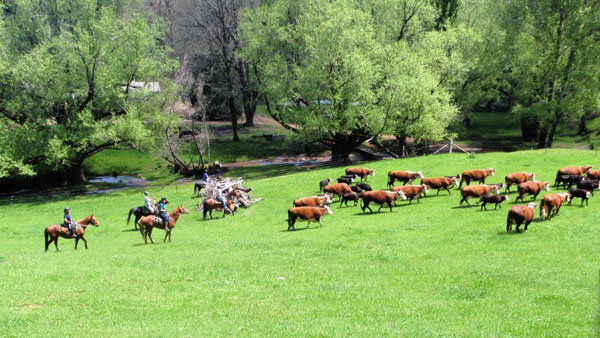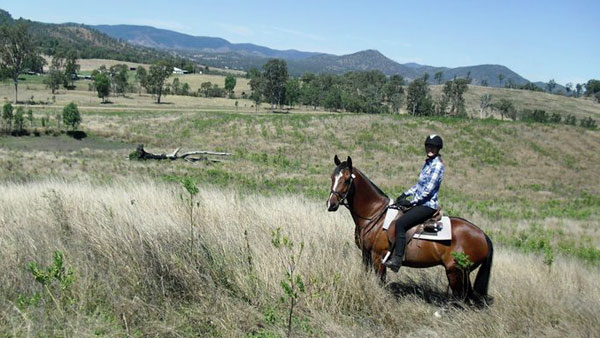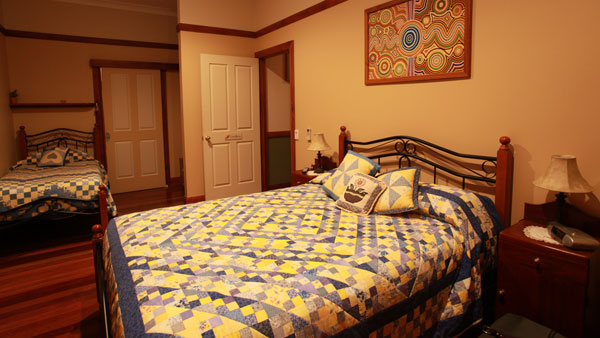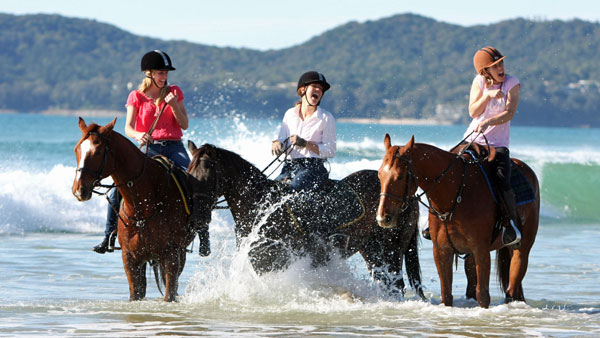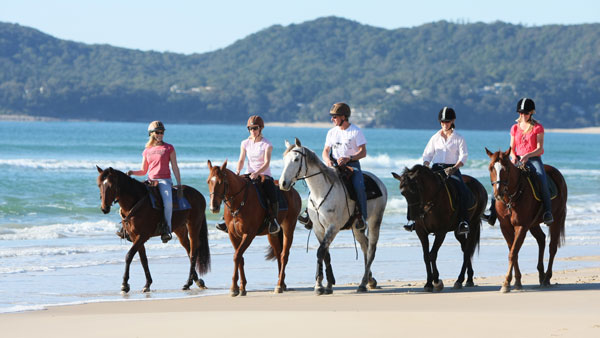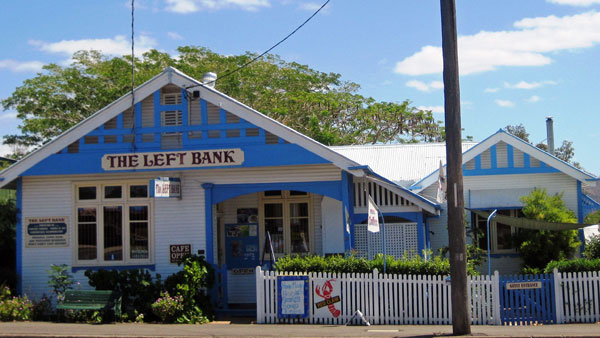 - Queensland -
Discover Queensland's beautiful Sunshine Coast in the best way possible – on mild mannered Australian Stock Horses. Your host is Alex Watson who has competed in the Modern Pentathlon at three Olympic Games. Alex has now left his sports career behind hime and chosen to focus on organizing fantastic rides on Australia's Sunshine Coast. This is Australia's leading tourist destination and combines relaxed beach life with beautiful surf beaches and nearly endless open landscapes and rain forest. You will gallop along beautiful beaches, ride through tropical rainforest and over the wide expanses where you will help on a cattle drive. You will experience a wonderful landscape with a rich animal life including kangaroos, koalas and colorful parrots. That this also includes wonderful horses, unique accommodation and great food and drink along with guides who love fun riding makes this ride a real find. If you have always dreamt of visiting the Great Barrier Reef, this is the perfect opportunity to add a few days to your holiday and travel north along the coast. Diving and snorkeling on the world's largest coral reef is the perfect end to this dream holiday.
Accommodation and Food
The accommodation is comfortable and varied. You will stay in everything from prize-winning Bed & Breakfasts in the picturesque Mary River, to a luxury resort hotel in Noosa. Most rooms have a shower-toilet but on some nights you will need to share a bathroom with another room. Single rooms can be booked.
Safe deposit box: Some nights.
A/C: Some nigts.
Hair Dryer: Some nights.
Towels and sheets: Yes
Fridge: No
Horses
The horses are Australian Stock Horses, known for their versatility and good temperament. They are between 150cm and 160cm (59-63 in) at the withers and have a look reminiscent of an English thoroughbred and the American quarter horse. Generally, Australian Stock Saddles or similar, are used (they can be likened to western saddles) but some of the horses can be ridden with English saddles.
Travel Information
Ability description: Level Trail Ride 2-3 >>
Included: 6 nights, 5 days riding, full board (except alcoholic drinks), transfer from Sunchine Coast.

Not included: Flight, transfer from Brisbane, alcoholic drinks.
Travel: Book flight/rental car >> We help you book your flight if you wish.
Fly either to the Sunshine Coast or Brisbane.
Transfer: Book in advance with HorseXplore.
From Sunshine coast to equestrian center, about 15 minutes.
Price: Included
Time: Arrival before 12.00.
From Brisbane to riding center, about 1,5 hour.
Price: About 80 AUD/person/way (min. 2 persons).
Time: Arrival before 10.00.
Single room: Can be booked with a supplement. For price click on "Book on request" under Dates & prices. If there is no one to share a room with, a single supplement will apply.
Riding: You will be riding between 3-5 hours per day.
Currency: Australian Dollar (AUD).
Credit card: Accepted by riding center.
Tipping: Not expected.
Wifi: Yes some nights.
Electricity jack: Three stick contact.
Group size: Minimum 2 and max. 10 riders.
Age limit: None, if family.
Closest village: The two last nights spends in the village Noota.
Beach: Last day riding at the beach.
Pool: Yes some accomodations.
Misc.:
Riding equipment to borrow: Helmet, water bottles.
Saddle bag available: No, only holders for water bottle.
Special diet: Inform when booking.
Program
Day 1
You start this fantastic week by being introduced to the horses that are known as Australian Stock Horses. This introduction also includes some information on how to handle the horses and tips on specific riding techniques.
In the afternoon, you will be driven to Widgee where you will be staying the next two nights. Your hosts are Gerard and Kath Lafferty who are keen horse people involved in the sport of campdrafting. It is a horse property offering comfortable country style accommodation and hospitality. Widgee is a rural village at the foot of the Great Dividing Range, the mountain range running along Australia's eastern seaboard. The horses will be dropped off at our 640acre cattle property on the western side of Widgee Mountain before preceding the short distance down the road to Woolara Park. Around 6.30 p.m. you will be served pre-dinner drinks in the lounge before being served a wonderful dinner.
Day 2
After breakfast you will have​​ transport to Widgee where we will be riding out on the property to muster cattle and explore the trails. Today will also be an opportunity to learn a few campdrafting skills and advanced riding techniques if guests are interested. At 1:30 pm there is lunch on the deck at Edenview looking up at the peaks of Widgee Mountain. 4:00pm – Transport to Amamoor Lodge where you will have pre dinner nibbles/drinks followed by dinner.
Day 3
At 8.00 am breakfast is served and one hour later you are transported to the start point for the day's ride, Rossmore Rode. You will ride ' The Hanging Rock Trail' over 'Blacksnake Range' from Kilkivan to Widgee Valley. This ride also offers fantastic views and a changing landscape. You will follow an old stock route that was once used to drive cattle from Kilkivan to the local market in the town of Gympie. Today, the trail forms part of the of what makes up the annual Kilkivan Horse Ride, a popular point to point ride with more than 1,100 horses that is held over Easter and is known for its picturesque wildlife. Today, your lunch is a picnic that you have brought with you. The ride is approximately 4-5 hours long.
Around 4.00 p.m., you will arrive at your staying for relaxation and a short drive to look for kangaroos and wallabies. Dinner at 6.00pm.
Day 4
You begin the day with saddling up for a ride through the Amamoor State Forest. Full of Bunya Pines and amazing vistas. Arrive at the beautiful lookout with views to the ocean. At 1:30pm you have picnic lunch at Amama Park followed by a ride back to the Lodge.
Day 5
Around 8.00 a.m., breakfast is ready and it is time to have your bags packed and riding clothes on. One hour later you will depart for the Noosa Trail Network and the day's ride. After a few hours riding you can choose a place to enjoy lunch in the beautiful surroundings. At 4.00 p.m., you will depart for Noosa where you will check into a luxury resort hotel for the next two nights. Dinner is either at the hotel or one of Noosa's well-known restaurants.
Day 6
In the morning you leave for Noosa North Shore, part of the beautiful Great Sandy Bay National Park. You will ride through forest to the spectacular Laguna Bay and Teewah Beach for a memorable ride along the water's edge with fantastic beach gallops. Around 1.00 p.m., you return to Noosa for a light lunch and then back to your beautiful hotel. Here you can book a massage or other spa treatments or discover Noosa's famous 'Hastings Street' or why not continue to enjoy the fantastic beach. Around dinnertime, you will go to a well-known restaurant next to the scenic 'Noosa River' for a memorable dinner – a perfect end to a beautiful week's riding.
Day 7
Subject to when your flight leaves, you may have the opportunity to squeeze in a visit to the famous Eumundi Markets.
(The above program is subject to change due to local conditions)